Archived News
UNC adopts new funding model
Wednesday, April 27, 2022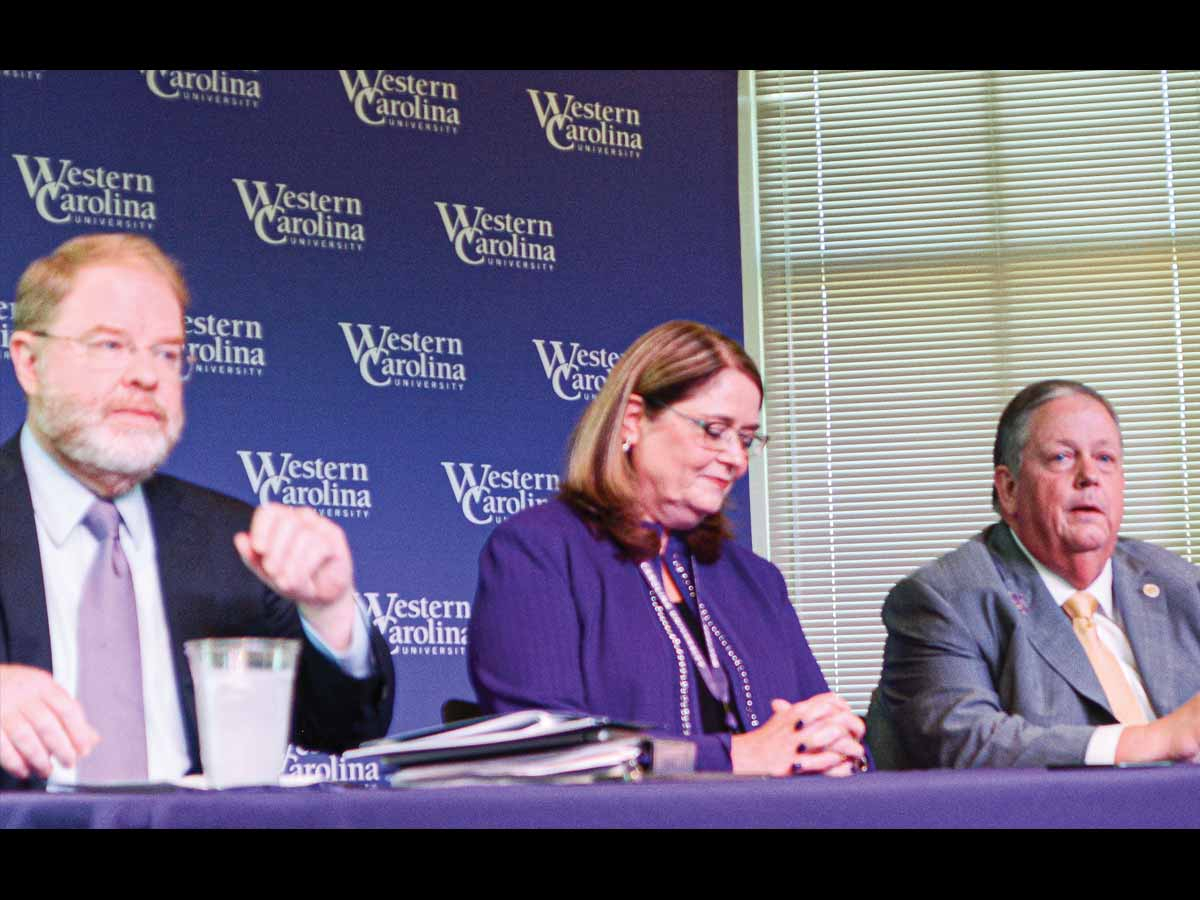 UNC System President Peter Hans (from left), WCU Chancellor Kelli R. Brown and Board of Governors Chairman Randall Ramsey take press questions following the April 7 meeting. Holly Kays photo
The decades-old model used to determine state funding requests for University of North Carolina System schools is set to change following a vote the UNC Board of Governors took during its April 7 meeting in Cullowhee. While the current formula looks only at total enrollment when determining funding, the new model will consider performance-based measures, as well.
"Our approach to this change is not static," Budget and Finance Committee Chair James L. Holmes Jr. said during the meeting. "This committee will continually consider changes to the model and recommendations from this board and other concerned individuals as we consider this to be a beginning, not an end."
In use since the 1990s, the current model simply looks at the change in enrolled credit hours compared to the previous year and uses various multipliers related to the cost of delivering those credit hours to arrive at a funding request.
But, said Western Carolina University Vice Chancellor for Administration and Finance Mike Byers, "simple" would be an incorrect description of the current four-part model.
"It was a fairly difficult thing to explain, which is part of the reason it needed to change," he said. "You couldn't get through an elevator speech with the average citizen and explain how the funding model works. You really need a few hours."
The new model has just two steps. First, determining the change in performance-weighted student credit hours — completed hours only, not merely enrolled hours like in the old formula — and then multiplying that figure by appropriation per credit hour, which is a figure based on a percentage of the national average.
When the new model was first proposed, WCU used it to calculate what its state funding would have been for the past five years compared to the existing model. Overall, Byers said, it was "basically a wash."
"In our view, this new funding model isn't alarming us or making us concerned about the appropriation per credit hour," said Byers. "Some of the unintended consequences concern us."
Chief among those potential unintended consequences is the effect on graduate education. The current model incentivizes graduate education, much more than the the new one.
The current model weights instructional cost based both on subject — delivering an engineering degree costs more than delivering an English degree, for instance — and on degree level. For example, while the formula estimates that a single instructor could be expected to teach 709 credit hours of undergraduate English courses, that same instructor would be expected to deliver only 170 credit hours of master's-level instruction or 116 hours of doctoral instruction.
The new model weights completed credits based only on subject and does not consider degree level — universities would get the same funding for an undergraduate English credit as for a doctoral English credit.
While the model doesn't fund graduate education at a higher level as a matter of course, graduate education for STEM and health professions will continue receiving more funding than undergraduate education in those fields "to recognize the additional cost of delivery as well as workforce needs of the state, except for schools of medicine, dentistry, pharmacy and veterinary medicine, which shall not be included in the funding model calculation," reads a description of the model included with the Committee on Budget and Finance agenda. "These programs will be required to make a separate appropriation request for class size changes."
"They key is, how will that change everyone's behavior?" said Byers. "That's what concerns me is that if we and other regional institutions — Wilmington, Charlotte, Greensboro, App, the works — we've been taking care of the undergraduates, and if the largest schools decide they want to stop focusing so much on graduate education, especially given that it's not funded nearly at the same level by the state as it used to be, will they increase their undergraduate enrollment at the expense of the regionals?"
There are only so many high school graduates available in North Carolina — with demographics predicting that number to drop in the next few years — so increased competition from large schools like UNC Chapel Hill and N.C. State could cause problems for smaller institutions like WCU.
Byers is also uncertain about how the performance-weighting mechanism will pan out. Each school will have different performance measures, and those have not yet been determined, though Byers expects they will "closely resemble" the metrics used to evaluate chancellor performance. At WCU, those are the four-year graduation rate, degrees conferred compared to total student population, average cumulative student debt at the completion of a bachelor's degree and cost per degree.
The current funding model speaks only to how much more or less funding a school should get compared to the previous year based on changes in enrollment. But under the new model, performance metrics would be applied to 100% of the funding. That significantly raises the stakes, as well as the possibility that unexpected circumstances beyond the school's control could mean failure to meet those benchmarks — and deliver a smack to the budget that would dig the hole even deeper.
"In the new model, if you fail to meet these performance metrics, you don't get 100% of the prior year's appropriation," said Byers.
Though Byers has reservations about the new system, he said that overall, the model is "probably good," and he applauds the Board of Governors' cautious approach in implementing it. This coming year, the UNC System will run the numbers under both the old and new funding model, and institutions will be able to choose whichever result is most favorable to them.
"We're going to do a year with the training wheels on so that nobody has to be worried that we've got the funding model in perfect condition," Byers said. "And that way the new funding model, we'll get a year to try it on. The system can make adjustments to it if it sees that there are problems."