Archived News
Maggie aldermen vote to remove zoning board member
Wednesday, April 06, 2022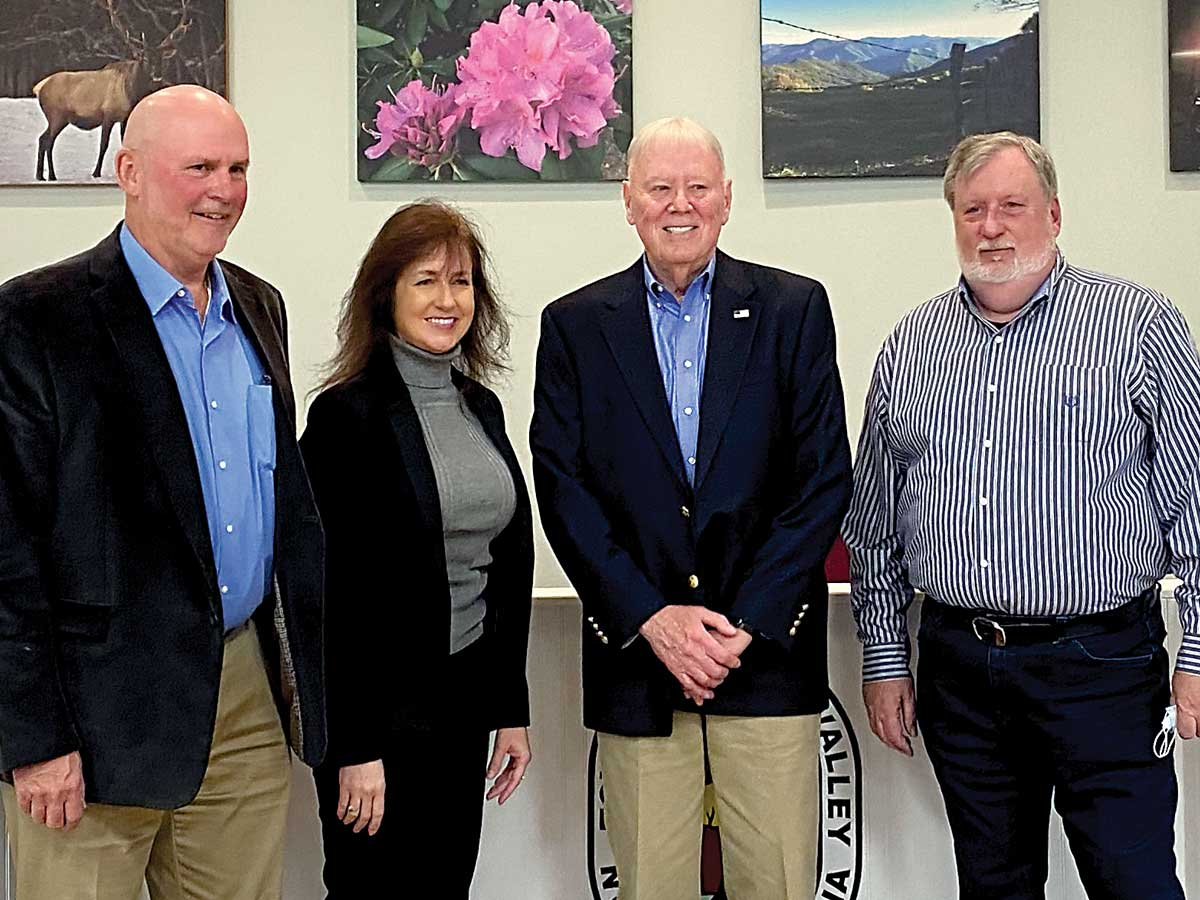 Board members, from left, John Hinton, Tammy Wight, Jim Ownes and Mayor Mike Eveland
During the regularly scheduled Maggie Valley Board of Aldermen meeting on Tuesday, April 6, Alderman John Hinton made a motion to replace Allen Alsbrooks on the zoning board of adjustments. After less than five minutes of discussion, the motion passed, 3-2, a common vote margin in Maggie these days, with Jim Owens and Mayor Mike Eveland joining Hinton in the majority and Tammy and Phillip White voting against the removal.
"I'm a little disappointed in the partiality of a fellow board member on the board of adjustments," said Hinton during the meeting. "For some of the postings that I've seen on social media and some of the comments made here, I'd like to make a motion that we replace Allen Alsbrooks on the board of adjustments."
Hinton brought the issue to the table at the end of the meeting during "other business," a time when board members and town staff can bring up any business that was not on the agenda or discussed during the meeting that they feel is relevant.
"It's very disingenuous and dishonest to bring it up under other business," said Phillip Wight.
Board members had not discussed the issue previously at the March 31 agenda setting meeting or any other public meeting.
Jim Owens echoed Hinton's statements about partiality as his reason for voting to remove Alsbrooks.
"I think there's been issues," said Owens. "I agree with John's assessment. We've had some great applicants that we can work with going forward but I think there are issues and there have been issues."
Tammy Wight urged her fellow board members to be more specific in their complaints.
"If we're going to make a decision, I want to be able to make an intelligent decision," she said.
"He's shown the partiality," said Owens. "He was asked to recuse himself before. I think his comments about the direction the board's going, the fact that we are not doing the right thing, period, certainly doesn't look to me like he's got the growth of Maggie Valley in his mind correctly."
In his statement, Hinton brought up Alsbrooks's activity on social media, which Alsbrooks openly admits using.
"They just don't like the fact that I'm calling them out and I'm challenging them," Alsbrooks said. "They don't like that. I get on social media and dispel mistakes."
"I've never seen him do anything out of line on that board," said Tammy Wight. "And I don't think that we should take social media comments into consideration here, and if we do, I think we're all gonna have some issues."
Tammy Wight suggested discussing the issue at the next agenda setting meeting, but Mayor Eveland said there was already a motion on the table and called for a vote.
In response to his removal from the board, Alsbrooks told The Smoky Mountain News, "it's typical of the direction this board is headed."
Alsbrooks has previously served Maggie Valley as a member of the planning board and was in his second term on the zoning board of adjustments when he was removed. He regularly speaks in public comment sessions and during public hearings regarding zoning decisions before the board of aldermen. Many of these occasions have been contentious over the last several months.
The zoning board of adjustments is a quasi-judicial board in charge of issuing special use permits, granting variance requests and hearing appeals to zoning decisions.
According to Town Manager Nathan Clark, removal of this kind is something that happens very rarely, with board members normally serving their entire term. The only other time Clark recalls something like this happening in Maggie Valley was when David Williamson was removed from his post as planning board chairman in November.
"The members serve at the pleasure of the board and the full faith and confidence of the board," Clark said.
Leave a comment
2

comments
When three huge, voracious, and intellectually challenged fish thrash around in a very small pond and stir up the sludge from the bottom, they create a toxic environment. Because that's all they know how to do. And then they wonder why they can't see clearly through all their crap.

Monday, 04/11/2022

Let's correct a lie:

Jim Owens: ""He's shown the partiality," said Owens. "He was asked to recuse himself before. I think his comments about the direction the board's going, the fact that we are not doing the right thing, period, certainly doesn't look to me like he's got the growth of Maggie Valley in his mind correctly.""

Actually, Mr. Owens, if you ever bothered to attend that meetings or read our minutes you would know I initiated the conversation to be recused. For the first case on our agenda I had attended the prior planning board meeting but did not speak on the case. I let Chairman Banks know I attended and asked if my fellow board members would rather have me sit out on the case. They voted that I should...and I left the dais. Once the case hear and adjudicated I returned to my seat for the next case.

The next case was brought forward for a Special Exception by as very close friend and one whom I have offered support in their business since they moved to our town. To remove any misconception of impropriety I, again, spoke out to Chairman Banks and let him know I did need to be recuse from this case. And again, my fellow board members voted to have me sit this case out. Once it was adjudicated I returned to the dais and made the motion to adjourn the meeting as our business was complete.

Thursday, 04/07/2022