Archived News
Commissioners advance new Haywood jail project
Wednesday, April 06, 2022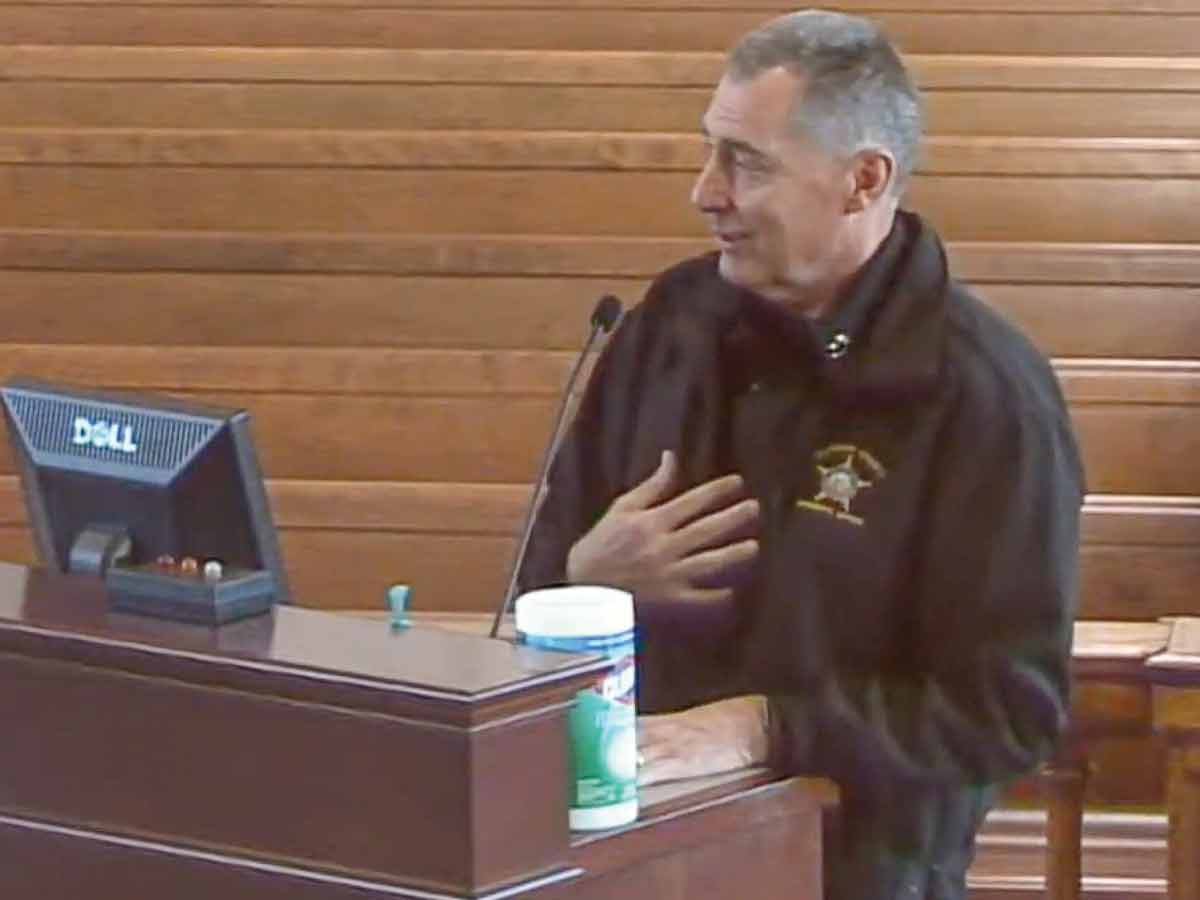 Haywood County Sheriff Greg Christopher addresses commissioners during an April 4 meeting. Haywood County photo
Haywood County commissioners took an important step forward on April 4 by selecting Moseley Architects of Charlotte as the preferred firm to handle architectural and engineering services for the county's proposed jail expansion project.
"Through the conversations, most are comfortable with the product Moseley provides based on their experience through expansion," said Bryant Morehead, Haywood County manager.
Four bidders responded to the county's RFQ last December. From the four, a panel of 10 people, including members of county law enforcement and the county's IT, finance and facilities departments, selected Moseley over Hemphill-Randall, also of Charlotte.
"[Because of] the number of jails that they've worked on in North Carolina, the design features that offer greater efficiency and some of the maintenance issues from the design, we think Moseley would offer a better product in the long term for Haywood County," Morehead said.
Outgoing Haywood County Sheriff Greg Christopher told commissioners that he'd called around to other sheriffs who either went through or currently work in a Moseley build and said he'd gotten lots of positive feedback.
Commissioner Tommy Long added that he thought the Moseley designs offered better officer safety, something Christopher said was particularly important, especially when moving inmates.
The motion passed by commissioners only authorizes the county to enter into negotiations with the firm, so nothing's yet set in stone, but it appears to be headed that way.
During preliminary budget discussions back in February , Morehead said the county would likely enter the bond market later this year, seeking financing for the build.
The proposed jail expansion project originated almost 18 months ago, when Haywood County Sheriff's Office Chief Deputy Jeff Haines presented the results of a jail capacity study to commissioners.
During that presentation, Haynes revealed that the average daily jail population had grown steadily since 2015, and that it was headed nowhere but up through projected population growth stretching out to 2045.
As in other counties, the 149-bed Haywood County Detention Center regularly hits capacity, causing sheriffs to scramble to find beds for inmates in other facilities. Transporting inmates is dangerous, and expensive.
There was some initial resistance to the idea of jail expansion, with harm reduction groups advocating more money for mental health and substance abuse treatment over jail capacity increases.
When proposed, the project was projected to cost at least $16 million, however, due to inflation and ongoing supply chain issues in the construction industry, the market price at the time of construction isn't quite certain.