Archived Arts & Entertainment
Bestselling author of 'Dear Martin'
 comes to Waynesville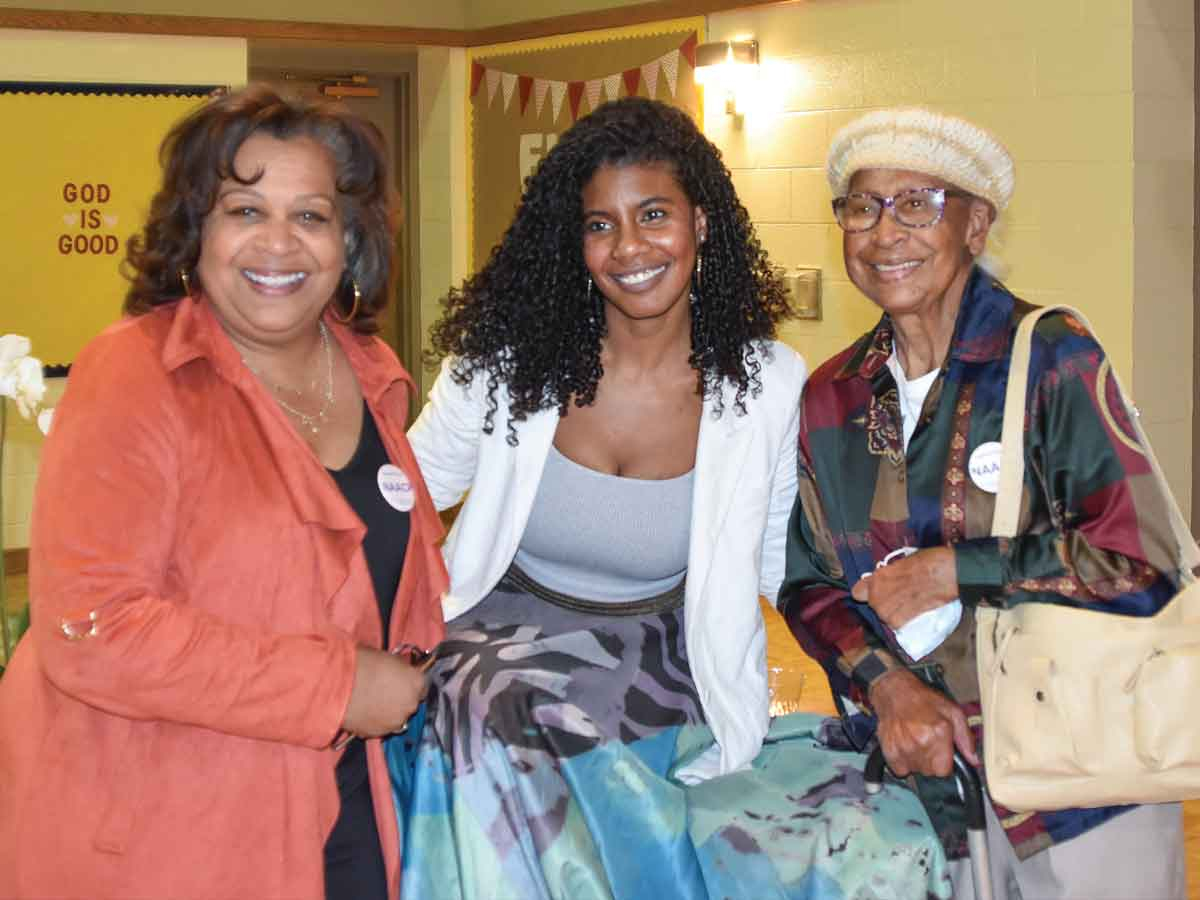 Nic Stone, author of 'Dear Martin' with Carol Eggleston, Vice President of the Haywood County NAACP (left), and laTice Eggleston (right) at the First United Methodist Church welcome event in Waynesville last Thursday. Hannah McLeod photo
Almost everyone wants the best for themselves, the people they love, the acquaintances they encounter and even the billions of people on this earth they will never meet.
However, there are stark differences between people who want the best for others and those who are making change to create a better world for others; between the people who want the best for others, and those who are willing to challenge their own thoughts and beliefs, examine their own biases to ensure they are doing what they can to make the world better for others. One vital difference is the willingness to sit with the discomfort of injustice long enough to demand the change needed to rid the world of that injustice.
Last Thursday night, over 300 people gathered in the Hemlock Auditorium at Haywood Community College in Clyde to engage in an open, honest and at times uncomfortable conversation about race in today's world with New York Times bestselling author Nic Stone. Moderator Chris Cox didn't shy away from asking the hard questions.
"A lot of us don't like questioning the status quo because that makes us uncomfortable," said Stone during the event. "And who likes being uncomfortable? I don't even like being uncomfortable. I've lived a life of discomfort — I'm a black woman. However, I don't like it. So, when people are able to choose their comfort over being uncomfortable, [they will]. But sometimes you can't avoid being uncomfortable and it's important to be OK with being uncomfortable."
In January, the young adult novel "Dear Martin" was pulled from a 10th grade English class at Tuscola High School after one parent complained about excessive profanity and innuendo in the book. This teacher had used the book in her curriculum in previous semesters; however, after the parent complained to administration and the Haywood County School Board, Superintendent Dr. Bill Nolte decided to pull the book from the class.
In describing his reasoning for pulling the book, Nolte cited the use of profanity and innuendo, as well as the fact that the book had not been listed on the syllabus.
"The intended educational message or purpose of the book was being diminished by the way it was written, by the amount of profanity and innuendo," Nolte told The Smoky Mountain News at the time.
In a follow-up interview , Stone took issue with this assessment of her novel but not with the parent who lodged the complaint. She said the language she used throughout the novel is authentic to high-schoolers in today's society.
"I spend a lot of time in both middle and high schools, and I think if parents were to spend some time in a high school, they would either be appalled, or they would be reminded of their own youth. The innuendo piece is interesting to me because there's actually not a single mention of sex in the book at all."
"I don't fault the parents at all," said Stone. "We're all just trying to do our best when it comes to raising our kids."
In the aftermath of the book getting pulled, Allison Lee of Blue Ridge Books and News reached out to Stone in hopes that she would come participate in a talk about her novel and the incident at Tuscola High School. Stone jumped at the opportunity and the conversation that precipitated proved to be complex and fruitful.
When the community caught wind of the planned event with Stone, pieces started to fall into place. An outpouring of interest resulted in a venue change to accommodate a larger-than-expected audience. According to Lee, the crowd at Thursday's event was at least four times the size that of any other event put on by Blue Ridge Books and News.
"It has made us aware as a bookstore that we do have an audience and a concern in our community for challenging literature," said Lee. "Oftentimes, people assume that the books that really make people think are current event, or nonfiction books. But I think oftentimes, for both students and adults, it's the novels that move us beyond where we are and make us see someone else's point of view."
The First United Methodist Church in Waynesville planned a welcome reception for the author. In doing so, the church created a space where community members could meet with the author in a more intimate setting than that of the program planned for that evening.
"Offering radical hospitality to all, especially when dealing with difficult topics, is part of our mission," said Seymour. "'Dear Martin' deals with issues that we are committed to discussing, such as systematic racism. When those conversations are happening in our community, we want to be present."
According to Katie Seymour, director of children's ministries at FUMC, there was a steady line of 10-15 people waiting to meet Stone throughout the entire two-hour welcome reception.
"We always want to have an open table at which hard conversations can take place," said Seymour. "Race relations at a national and community level is one of those hard conversations. We believe that keeping this conversation going and making sure everyone is welcome to be part of it honors the progress we've made as a nation and community and pushes us forward."
Stone relished the warm welcome, saying in an Instagram story, "I have to say, the amount of support that I am seeing from the people here has been astonishing. And honestly it has restored my faith in people with all the [book] banning. Sometimes it can be more than a little disheartening, but being here is reminding me that despite the fact that there are people who want to stop certain stories from being told, there are also people who are really pissed off about that and who are truly fighting for the stories that other people wanna silence. There are people fighting to make sure those stories are heard. So shout out to Waynesville, shout out to Blue Ridge Bookstore and y'all are just amazing."
When Lee took to the stage Thursday evening to start the program, a quick hush fell over the crowd that seconds before had been abuzz with excited chatter. Seats were filled with guests of all ages. Dozens of current and past educators were in the audience. Everyone, even the elementary aged students in attendance, listened attentively to the conversation that unfurled, captured both by Stone's magnetic, brilliant nature and the depth of the subject matter.
Chris Cox, author and professor of English and Humanities at Southwestern Community College moderated the event, asking Stone insightful questions about "Dear Martin," book banning and race relations in today's world before opening the floor for questions from the audience.
Throughout the conversation, Stone and Cox explored the symbolism and representation behind several characters central to "Dear Martin" — Justyce, his mother, SJ, Quan, Jared, and more.
When the floor was opened for questions, one member of the crowd asked whether Stone had a special teacher in mind when writing the character of Doc, a teacher in the novel. The book is in fact dedicated to that special teacher.
"To Mr. Casey Weeks," the dedication reads. "Consider this my quietus."
"Casey wigs was my 10th and 11th grade English teacher, and this book is dedicated to him," said Stone. "I was the only black kid in his class, and I also have never felt so welcomed and validated in a space. He's one of the reasons I write. He was the first teacher to ever tell me that I was good at writing. And his mode of teaching was very Doc-like. He respected us as thinking beings. That changed so much of our lives."
Stone shared that for her, the progression of the novel hinged on one quote from Doc which, after she wrote it, helped her to understand Justyce's story.
In the book, Doc says, "you can't change how other people think and act, but you're in full control of you. When it comes down to it, the only thing that matters is this: If nothing in the world ever changes, what type of person are you going to be?"
"If you remember nothing else that this silly woman is saying to you, remember you get to decide what you believe about yourself," said Stone.
Stone also answered questions from Cox about her style of writing. She described how she is deliberate in mixing up styles throughout the book, from classic prose to pure dialogue to hand-written letters and more, all to hold the attention of young adults and anyone else who may pick up her book. In the days of social media, attention spans for many people are noticeably shortened, especially young people, she said. She uses the different writing style to hold readers' attention.
Stone and Cox explored difficult topics like why books that deal with race and the queer community are banned at higher rates than any other books; why, in the book, Justyce's mother would not want him to date white girls; how Dr. Martin Luther King, Jr.'s words have been appropriated and maligned to fit people's agenda today; why some white people will tend towards shame in conversations about slavery; how anyone can be a better ally in the fight for liberation; and central to the night, why hearing stories about experiences other than one's own hold such value.
Near the end of the program, two questions from the audience dealt with the intersection of the work for rights within the queer and trans communities as well as that of the impoverished Appalachian community.
"There's equality, there's equity and there's liberation," said Stone. "And I see these as levels. So, if you think about equality, that's everybody getting the same thing, the exact same thing, but not everybody needs the exact same thing. So, in order to give everybody exactly what they need, we have to move into the space of equity. However, there is another space where everybody has what they need. So, you don't have to give anybody anything. Right? That's what the idea of liberation looks like to me."
Stone went on to say that there is a need to break down the idea that "me gaining means you losing."
"There's a Dr. King quote, 'none of us is free until all of us are free.' That's so true. I think it can be really hard for people to grapple with the idea that your freedom is tied to mine. If I'm not free, you not free.
Cox asked Stone about the ending of "Dear Martin," which, without spoiling anything, involves some deep reconciliation.
"I thought maybe you were addressing the issue of reconciliation as a kind of final prayer," said Cox.
"Yeah, I couldn't write a book that is constantly referencing Dr. King and end it in with a person holding a grudge," said Stone. "The forgiveness piece was really big there. It's important that we give people the space to mess up because in doing that, we're also giving ourselves the space to mess up."
Following the event, Waynesville attorney Mark Melrose gave out free copies of "Dear Martin" to any students in attendance who wanted the book.
"The conversation can't stop here. This has been a really great night and it's been a great day and I'm so thankful, but we want this to continue," said Lee.
During her short time in Waynesville, Stone met several community stakeholders. Among them was Pigeon Community Multicultural Development Center Program Director Tausha Forney. Stone plans to collaborate with Forney and the Pigeon Center in the future.
"We are looking so forward to working with Nic Stone; she is another voice we want to make certain our students are exposed to through her work and her presence," said Forney. "Her willingness to share her time with us speaks volumes about her commitment to educating, as well as making sure people of color are able to see themselves in her work. Through our collaboration I'm sure we will continue to empower students and families in our community."
The overall tone of the conversation Thursday evening, the community engagement to make the event happen and the reception from guests in attendance was described by one attendee as "uplifting."
"At the end of the day, compassion, it just feels good," said Stone. "So, care about each other. Even, especially when it's people that are different from you. People you don't understand. They're still people."
Leave a comment
2

comments
Well written Hannah!

Wednesday, 03/30/2022

Well written Hannah!

Wednesday, 03/30/2022