Archived Arts & Entertainment
Into the fold: Blue Ridge Craft Trails foster community, tradition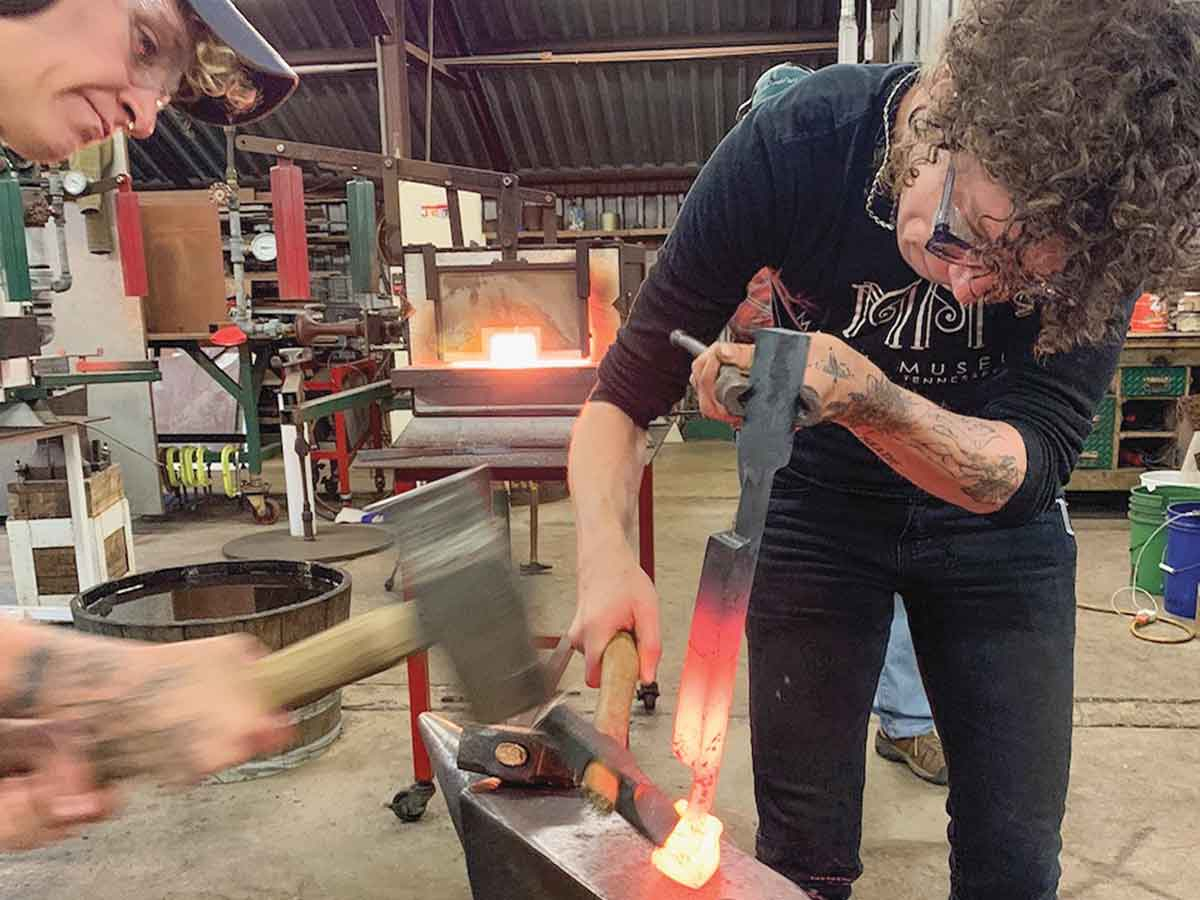 Rachel David, of Red Metal, is a blacksmith, sculptor, designer and maker.
The studio space of blacksmith Rachel David is vast. Inside an enormous old hay barn there is equipment everywhere – massive hammers, a forklift, tools, wires, tables, cabinets, machinery that is incomprehensible to the non-smith layman.
In black attire, with grease-stained hands, muscular and weathered from years of perfecting her craft, David blends into the surroundings of her shop. It almost looks like the two sprung up from the mountainside together. Like they've always been there, always will be.
In reality, David just recently finished renovating the space, and even more recently joined the newly completed Blue Ridge Craft Trails.
With the culmination of the Blue Ridge Craft Trails project, 310 artist studios, galleries and arts organizations in 25 Western North Carolina counties and the Qualla Boundary have become connected in a web of tradition.
"Western North Carolina is one of the most distinctive cultures in the United States," said Angie Chandler, executive director of Blue Ridge National Heritage Area. "We have amazing craft artists and galleries with such variety and creativity. They are ready to welcome locals and visitors alike."
The project was created in an effort to attract visitors to small towns, connect makers with buyers, bring economic development to the region and preserve traditional and contemporary craft as a living tradition in Western North Carolina.
"Our heritage area was established to preserve traditional contemporary craft as a living tradition in Western North Carolina," said Chandler. "When you think about it, art is an inspired response to the mountains, foothills, forests and fauna around us. Craft is in our cultural DNA."
One artist along the Blue Ridge Craft Trails, David is a recent transplant to this area from New Orleans, making a home for herself and her business, Red Metal, in Waynesville. In addition to family ties, it was the history of arts and crafts in the Appalachian region that drew her to the mountains of Western North Carolina. She was quickly welcomed into the fold of the artist community here.
First, the Center for Craft in Asheville reached out, then the Haywood County Arts Council, then the Blue Ridge Craft Trails.
"This is why I wanted to be here, because there's so much support," she said.
David has always been a creator. Raised by two artists, creating was something that came to her instinctually. In college, she discovered metal work and immediately clicked with the medium.
"I learned how to weld, and the teacher there said, 'if you hit heated metal and hammer on it, you'll get it to do what you want it to do,'" said David. "I just really fell in love with blacksmithing."
After learning the craft at a few different colleges, David honed her skills while working in New Orleans. In 2005, Hurricane Katrina struck the city, altering the course of millions of lives. When David evacuated after the storm, she embarked on a road bike trip from Asheville to Eastern Kentucky. This would be the first time she fell for Appalachia.
"I just fell in love with these mountains and everything here," said David. "There were so many amazing makers and friends and super creative, super smart weirdos up here that I just always thought about."
She would remain in New Orleans for several more years, a magical city by her own estimation, until relocating to Western North Carolina in 2020, to an old hay barn on Hyatt Creek. Now, the barn sports a brand-new steel frame inside its old, existing structure. A new roof provides shelter for David's work on her craft, as well as her continuing work to renovate the property. One day, she hopes to make space in the remaining existing structure for more artist studios; welcoming more makers into the fold.
If manipulating metal to do as one pleases isn't enough, David is constantly exploring the historical and cultural implications of her trade. She understands the ways in which blacksmithing helped to spur industrialization, which in turn spurred the transatlantic slave trade and other imperialist scourges of global capitalism. As a person who works in a field that is dominated by cisgender, heteronormative white men, David feels a responsibility to be a harbinger of change in the industry, to make space for artists of all backgrounds who haven't had the opportunities she has.
"In my work, I try to represent that," said David. "There's both an environmental and a social aspect of colonization, or industrialization leading to colonization, and spiraling that into this giant global capitalist institution that we live in."
In the literal sense, it was blacksmiths who made the shackles intended for human beings during the transatlantic slave trade. When David was living in New Orleans, she was tasked with making shackles and pikes for the 2016 mini-series "Roots," chronicling the history of an African man sold to slavery in America, and his descendants.
"It's really important to reckon with that," said David. "I never heard people talking about it, and it seems so obvious to me. People talk about, 'these are the farm tools, these are the weapons, these are things that blacksmiths have made.' But it's important to reckon with the fact that we also made the shackles, we also made the stuff that is bad. And a lot of times enslaved blacksmiths were forced to do that work."
For David, part of reckoning with that history involves educating the next generation. She is passionate about providing space and learning opportunities for people who may not typically have access to the metal working world.
One of her latest endeavors is a set of gates, commissioned for the Renwick Gallery, the craft gallery of the Smithsonian Museum, for its 50th anniversary. Her work will exist alongside that of the two other artists commissioned for gates at the gallery — Albert Paley, who was commissioned when the gallery opened, and Marc Maiorana, who was commissioned for its 40th anniversary. David has been able to include several other artists in this project, continuing her work of bringing others into the fold.
In a presentation following the completion of the Blue Ridge Craft Trails project, Chandler described how the craft tradition in this region combines the influences of Cherokee, European, African and other cultures.
"The craft story in North Carolina begins with the Cherokee, who have made their home in the mountains for thousands of years," said Chandler. "Today, the Blue Ridge Craft Trails make it easy for travelers to locate, learn from and buy the work of Cherokee crafts people."
In 1946, the Qualla Arts and Craft Mutual in Cherokee was the first Native American craft cooperative in the United States. It remains the oldest in existence today.
Throughout the craft movement of the early 20th century, women were at the helm of cultivating and preserving Appalachian craft traditions. The John C. Campbell Folk School was started by two women, Olive Dame Campbell and Marguerite Butler. Pendland School of Craft was also founded by a woman. In 1929, Lucy Morgan started the school in order to teach women to weave and offer them a way of making money for their family. Francis Goodrich founded the Southern Highland Craft Guild in 1930. She wanted to cultivate high quality craftsmanship and sell goods made in the Southern Highlands of North Carolina.
The annual Craft Fair of the Southern Highlands is just one of the many searchable events available in the database of the Blue Ridge Craft Trails. The fair will celebrate its 75th anniversary this summer.
"Throughout its history, North Carolina has inspired all kinds of artists and offered places to learn, engage and explore," said Chandler. "Now, the Blue Ridge Craft Trails is a new tool to help you find them."
The 25 counties that make up the Blue Ridge Craft Trails are divided into four regions, the far west, the central mountains, the foothills and the high country to Yadkin Valley. The website contains itineraries for each region including dining, shopping and outdoor opportunities outside of artist attractions. Artists in each region are listed on the site with geographical information, as well as information about the artist, or attraction and their craft.
"The diversity of craft along the 310 stops that we currently have is one of my very favorite things about the Blue Ridge Craft Trails," said Program Manager at Blue Ridge National Heritage Area, Brandon Johnson.
Laurel Parham-Martinez, of Bijou Jewelry, is a master jeweler.
Laurel Parham-Martinez is another artist along the trail. She grew up in and around the furniture store her parents owned in Western North Carolina. Next to the furniture store was a pawn shop and inside that pawn shop was a jeweler who made and restored jewelry. As a child, Martinez would sit with this jeweler and watch her work, fascinated by the craft. Before she was old enough to work with metal, Martinez would imitate the jewelers work by making rings from the tiny metal strips within twist ties.
Fast forward twenty years and Martinez owns her own jewelry store and workshop in Highlands called Bijou, where she is able to work solely from exclusive, commissioned orders.
"I was born in the Appalachians," said Martinez. "I have been in the south most of my life and I really resonated with the Western North Carolina area. I just thought it was beautiful. Nature is one of my inspirations and I guess gravity pulled me here."
This year, Martinez found inspiration outside of her usual commission work and created a line of jewelry that mirrors the resilience she sees all around her.
"Everyone you know goes through very difficult times," said Martinez. "Our lives are compilations of difficult things. We have generational hurts. We come into this world innocent, and we are unaware of all that stuff, but it gets piled onto us, even as children. I started realizing things are not important. It's the people, it's the relationships that are really important. So, we're going to go through things. If you have a piece of jewelry, that is your staple, you tend to wear it the most, it's intrinsic. Metal is great because you can touch it and remind yourself, oh yeah, I have an awareness today."
Martinez wants her customers and anyone who may get gifted a piece from the resilience line to be reminded, every day, of how loved they are and how resilient they are.
Martinez learned the tradition of craft in Appalachia during her time at John C. Campbell Folk School. Some traditions had existed here for thousands of years among the Cherokee people, other traditions were brought to these mountains by European settlers and enslaved Africans.
Blue Ridge Craft Trails offers one more community for artists like David and Martinez to be a part of. One more thread connecting the makers and crafters of this region to the heritage of Appalachia, the local communities that support them and the visitors and tourists learning about the area and purchasing craft goods.
"Being part of that heritage is a legacy for me to pass down," said Martinez. "I feel like it's important to keep those traditions. It's important to keep the sustainability aspect of consumption from local makers. Having a voice, having a platform like the Blue Ridge Craft Trails can help."
To learn more visit blueridgeheritage.com/blue-ridge-craft-trails/
Leave a comment
1

comment
So glad that David is making space for teaching! These traditions need to be kept alive and passed down. Certainly, we put new twists to them, but we're adding to generations of learning and skill. Keep up this good work!

Honored that my work in in Trackside Studios, newly recognized by BRCT.

Saturday, 04/02/2022