Archived News
Rooted in home: Cherokee's newest Beloved Woman reflects on life of service, learning and tribal identity
Wednesday, March 02, 2022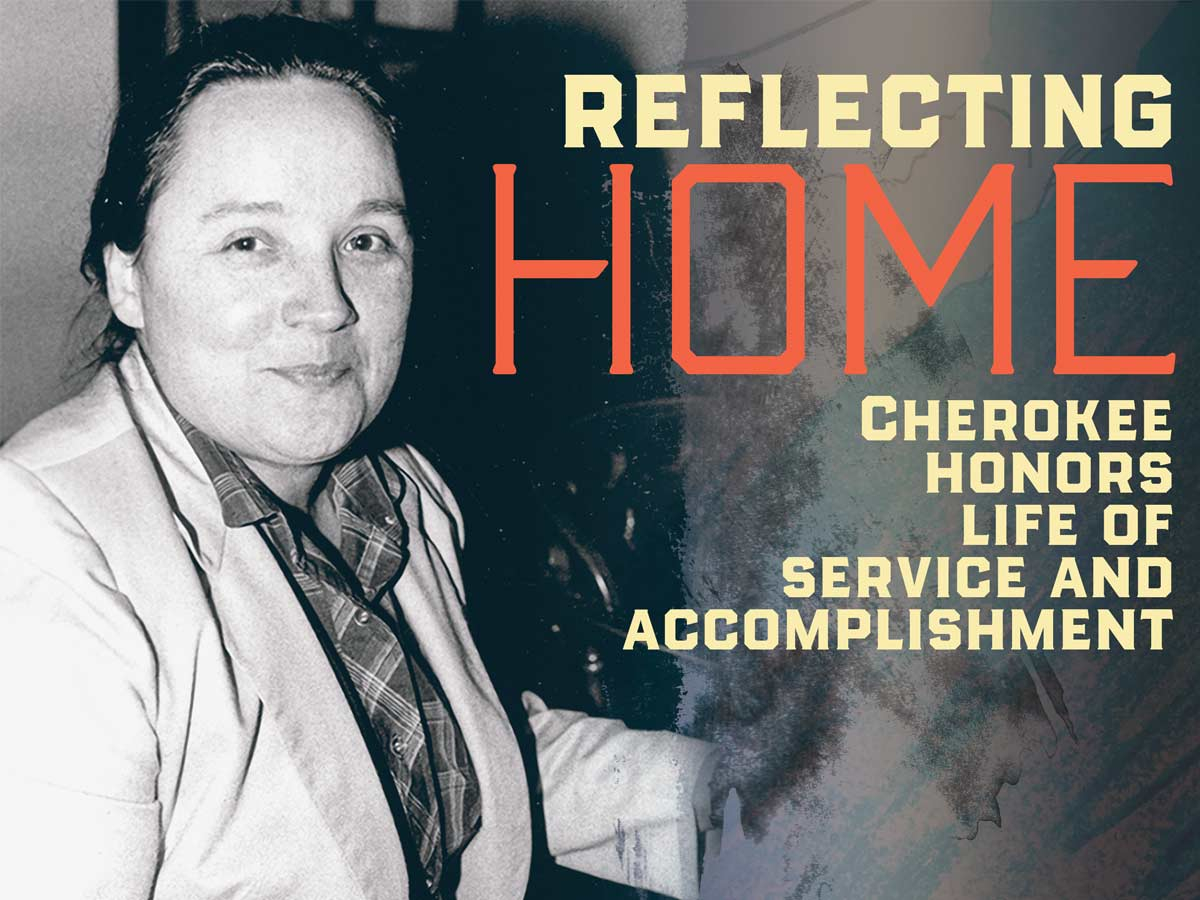 Carmaleta Littlejohn Monteith has taken countless flights to innumerable destinations during her 86 years on Earth, so she no longer recalls exactly what year it was when she found herself on a flight to Los Angeles making what would later prove to be memorable small talk with the man who settled into the seat beside her.
"I said, 'Where's home?' You just ask,'" Monteith recalled, sipping a hot drink at Qualla Java during an interview skillfully sandwiched into her packed calendar of commitments and connections.
"He said, 'I don't know.' It was such a strange thing."
The man was part of a military family, which explained his answer. But to Monteith, who was born in Cherokee's first hospital and raised in a tightknit community united by ancestry and tradition, it sounded like a foreign and unsettling way to go through life.
She'd done plenty of traveling through the years, but she always knew where she was from, where she belonged.
"I had such a drive to move back, all of my life," she said. "You can't recapture your youth, and I wasn't trying to recapture my youth, but I wanted to have some of the same experiences. We had our church and we had community. We had the school, and those were the things that heavily influenced our lives."
Tribal Council Chairman Richard French presents Carmaleta Monteith with a blanket during her Beloved Woman induction ceremony at the Yellowhill Activity Center Thursday, Oct. 7, 2021. Scott McKie B.P./One Feather photo
•••
In May 2021, a unanimous vote from Cherokee Tribal Council made Monteith one of three living people to be named a Beloved Woman of the Eastern Band of Cherokee Indians, alongside Ella Bird and Myrtle Driver Johnson .
The highest honor a tribal member can receive, the title of Beloved Man or Beloved Woman was traditionally reserved for valiant warriors who had grown too old to fight. They would return home to an honored place in their tribe, serving their community in new ways once they left behind the field of battle. In modern times, the title has come to recognize people whose lives are an outstanding demonstration of Cherokee core values and cherished characteristics.
During the May meeting, person after person came to the podium to tell their stories about Carmaleta Monteith, and to express their absolute certainty that nobody deserved the honor more than her.
Monteith speaks with a student at Marist School in Atlanta, where she was a dean from 1985 to 1998. Marist School photo
•••
Monteith is humble about her life of accomplishment, seeing herself as a reflection of the loving support system that's surrounded her all these years.
"I've always had three or four things going on at one time, and much of it is because of, I think, my mother's work ethic and just being the oldest," she said. "You're just expected to be 'little mom.'"
Monteith's mother, Ruth Sneed Littlejohn, was as industrious as they come, constantly working to care for her five children while her husband Isaac was away, which was the case more often than not. During Monteith's childhood there were few opportunities for year-round employment in the mountains, and Isaac would go to cities in midwestern states like Ohio and Illinois, working as he was able and coming home when he could. But travel was expensive, especially when Monteith, the oldest of the family, was young. He wasn't home very often.
Meanwhile, Ruth worked as a phone operator at the Bureau of Indian Affairs and was a skilled craftswoman who owned her own gift shop. She did intricate beadwork and taught her children to do the same, and they sold the finished pieces at the store. Customers would visit Ruth's shop specifically because of her high-quality work, said Monteith, who still completes complex beadwork today, often as gifts for family members.
"She was canning or growing food the rest of the time," she said. "She would get up, five o'clock in the morning and go out. If some apples had fallen or tomatoes were ready to be picked, she would can two or three things each day."
Monteith followed her mother's lead. Throughout high school, she maintained three full-time jobs each summer — making beadwork, serving in her aunt's restaurant, working a gift shop owned by another aunt — until she got recruited as a dancer when the Unto These Hills Outdoor Drama started in 1950. The job paid $35 a week, far more than she could have pulled in beading necklaces.
Monteith also followed her mother's example in her thirst for knowledge.
"She always bought books," Monteith recalled. "We couldn't afford a set of encyclopedias, but we had them."
Like all the other kids in Cherokee, Monteith went to the Cherokee Boarding School — but unlike most of them, she didn't live there. The family home was three-quarters of a mile down the road, so every day she walked to school, did her lessons and came back home.
"I think one of the better things that happened to me while I was there was I was detailed to a lady named Gertrude Flanagan," Monteith said.
Like nearly all the teachers at the school then, Flanagan wasn't Cherokee. But she had a respect for the culture, and especially for the traditional crafts associated with it. She would bring in "remarkable artifacts or creations of our people," Monteith recalls, leading the young girl to become "addicted" to baskets. She and Flannigan developed a close relationship — the teacher would "just kind of ask for me all the time," said Monteith. Once a month the school would play a movie for kids who had perfect attendance, and Monteith would clean out the popcorn machine the following Monday. She'd dust the displays of baskets and pottery Flanagan maintained, run errands, and help her with whatever else she needed.
In return, Flanagan helped to build Monteith's self-confidence and encourage her to pursue the things she wanted out of life. Monteith was always reading, and when she played school with her cousins, she was always the teacher. By the time she was 10, she knew that she wanted to go into education when she was older, and Flanagan encouraged her to transfer to public school, where the curriculum would better prepare her for college.
Monteith had tried public school before. Once, in elementary school, she transferred to Whittier Elementary, but after just a couple days she'd had enough. She came back to Cherokee.
"But high school, I had decided I was going to stick it out," she said.
Monteith was one of four Cherokee kids who got bussed over from Cherokee to Swain High School. It was a hard transition. They encountered resentment from the school community at Swain, and some of her classmates dropped out.
"But I was determined I was going to finish there, and I did, and became very active in the life of the school," she said. "In fact, I met my husband. We were high school sweethearts."
Max Wayland Monteith was not Cherokee, but he was the love of her life. They married while still in high school, and he died in January 2017 after 63 years of marriage. Five years have passed since then, but Carmaleta still tears up when she talks about him.
"You never get over it," she said.
Monteith sits on the porch of their home in Atlanta with her husband Max and sons, Wayland and Tracy. Donated photo
•••
As high school graduation loomed, Monteith faced a gargantuan life change that would take her farther from her hometown than she'd ever been before. She got a full ride to Brigham Young University in Utah, and the young girl who had never been farther away than Asheville hitched a ride with a cousin to Provo, Utah, and set out to become a college student.
It was harder than she'd expected. Desperately homesick, Monteith completed only one term before returning to Cherokee and getting a job at the dime store in Bryson City.
But she stayed out for only a quarter before resuming her college career, this time closer to home at Western Carolina University , and launching a fierce attack on the course catalogue. Discovering that the school didn't charge more per semester for large course loads, Monteith saddled herself up with 30 credits per term, graduating in 1956 with a bachelor's degree in science education.
"The only thing I regret is in the syllabus there's always extra reading, all these in-depth things you could do," she said. "Well, I didn't have the time, so the depth of study is what I sacrificed."
But Monteith was far from finished with her education. She and Max lived apart while he spent two years in the U.S. Army, stationed in Atlanta. He left with an immediate offer to work for AT&T, also in Atlanta, and after graduation Monteith went to join him.
They lived in Atlanta for 45 years. During that time, Monteith had two sons, earned two advanced degrees, pursued a career in education, and was an active member of various boards related to education and Native American issues.
Immediately after moving to Atlanta, Monteith enrolled in Emory University's Master of Education program, her tuition paid through the National Science Foundation .
But then she started volunteering at the reading center — and realized she wanted a shift in discipline. Monteith had been an avid reader since childhood, consuming books by flashlight or candlelight before the home had electricity. The importance of reading and writing connected with her both personally and culturally as she reflected on Sequoyah , the Cherokee man who became the only person in history to develop a written language solo.
She realized she wanted to enter the school's Institute of Liberal Arts to study history and literature.
"My professors at Emory kept saying, 'You've lost your mind. You're switching fields? What are you doing?'" Monteith recalls.
But she knew what she wanted. Monteith completed her master's degree in 1961 and would later go on to obtain a Ph.D. in American Studies, also from Emory, in 1985. When Monteith graduated from WCU, only 5.8% of women were earning college degrees and only 2,000 Native Americans of any gender were enrolled at all, according to the resolution that named her a Beloved Woman. Even today, only 0.003% of Ph.Ds are held by Native Americans.
Monteith's achievements defied the odds, many times over. But she credits her support system — and especially her husband — with making that possible.
"I had so much support from people around me — 'Go for it,'" she said. "My husband's my number one. He never asked me, 'When is dinner? Do I have a clean shirt?' None of that."
Even as she reached for more within the academic realm, Monteith flourished professionally. After two years teaching at a public elementary school, she got a job at a private preparatory institution, The Lovett School , and continued as a classroom teacher through 1975. After that, she started working in administration, first as science department head and later as dean of math and science.
She stayed at Lovett for 25 years. Both her sons went to school there, and she watched entire families grow up, with former students sending their own children to enroll at Lovett.
Then, one day Monteith quit. In a meeting, the headmaster was listing off everything he wanted staff to do for the year ahead, and Monteith heard herself say she wouldn't be back next year.
The statement shocked her as much as it did her boss.
"I didn't know things like that happen to people," she said, "But it did, and he (the headmaster) said, 'What are you going to do?' And so, he followed me around and he brought me a ripped-off legal pad thing with a bigger salary and I said, 'You didn't hear a word I said. It's not about the money. I just need new experiences, new things.'"
Monteith figured that would be her exit from education, but shortly thereafter the devout Southern Baptist was recruited to Marist School , a Catholic prep school in Atlanta. She stayed for 13 years, serving as dean of studies, dean of faculty and interim head of school.
Then, just as had happened at Lovett, certainty settled that it was time for a change.
"One day it just hit me — time to move back to Cherokee," she said. "And because my husband was from Bryson City, it was home to him, too."
Monteith (right) presents a photo lap quilt to North American Indian Women's Association founder Marcella LeBeau, at LeBeau's 100th birthday party in Eagle Butte, South Dakota. Donated photo
•••
Monteith had been away for 45 years, but Cherokee never stopped being home, and her identity as a Cherokee woman never stopped being central to who she was.
Monteith has been a member of the North American Indian Woman's Association since 1970 and served on the National Park Service Trail of Tears Advisory Committee from 1992-1998. She was also one of the founding officers of the Georgia Commission on Indian Affairs. Her academic publications focused on native issues as well — a 1998 article titled "Doctors, Lawyers, Indian Chiefs: Indian Identity in the South" published by Southern Anthropological Society after she presented at their annual conference, a 1984 piece in the Journal of Cherokee studies titled "Literacy Among the Cherokee in Early Nineteenth Century," an unpublished dissertation in 1985 titled "The Role of the Scribe in Eastern Cherokee Society, 1821-1985.
But her most significant continued connection to Cherokee was personal. The Monteiths often made the four-hour drive through the mountains to attend various family events, and Monteith remained involved with the Yogi Crowe Scholarship Fund that her mother founded. They never missed the fair, and Monteith instilled a sense of identity in her sons as well. Her younger son Tracy is a software engineer at Microsoft and drove the Cherokee syllabary's inclusion in Microsoft Office — the first tribal language with that distinction.
"There were just so many connections," she said. "I always knew we would be here, my husband and I did."
When she left Marist in 1998, Monteith was in her mid-60s, and any reasonable person might have interpreted her move back to Cherokee in 2001 as a statement that retirement had begun. But at 86, Monteith still juggles a schedule that would rival that of a person still in the throes of a career.
"When I came home, I didn't want a job and I still don't want a job, but I look forward to Fridays just as if I did have a job," she said, laughing.
People close to Carmaleta describe her as someone who is always in the background of anything important happening on the Qualla Boundary. She chairs the Cherokee Indian Hospital Authority and has been on the board since it began in 2002. She's a member of the Yogi Crowe Scholarship Fund Advisory Board, and she's been on the Cherokee Youth Center Advisory Committee since 2003 and the Yellowhill Community Club since 2004.
Among myriad other local organizations she's served are the EBCI Internal Audit Board, Oconaluftee Institute for Cultural Arts, EBCI Economic Development and Downtown Revitalization Committee, Watershed Association of the Tuckasegee River, YMCA Blue Ridge Assembly and Southwestern Community College Board of Advisors.
That list is far from inclusive and doesn't touch on her extensive work with Cherokee Central Schools , which began when, shortly after she returned from Atlanta, the school board called and asked her to help them find a consultant to develop curriculum for the young school system. She couldn't find anybody, so she agreed to do it herself.
But Monteith didn't stop there.
"I went out and got millions of grant dollars," she recalled, "because my sons said, 'Mother, you're going to make these recommendations to the school board; they've got a limited budget, and they'll say we can't implement this.'"
Current Principal Chief Richard Sneed was a high school teacher when Monteith went on her grant-landing blitz. During the May 2021 meeting when Tribal Council voted to grant her the Beloved Woman title, he took the podium to recall how he was doing a hydroponic unit with his students when Monteith took it upon herself to write a grant that allowed the school to buy 120 "really amazing" hydroponic grow sites.
"When she sees a need, she immediately does the work to fulfill the need," he said.
Sky Sampson, who nominated Monteith for the Beloved Woman title, said that it's pretty common to reach out to some program or another on the Qualla Boundary only to find out it's Monteith, behind the scenes, orchestrating all the moving parts. It's a statement that echoes an observation Vice Chief Alan "B" Ensley made during the May 2021 Tribal Council meeting.
"She's the lady behind the scenes that makes everything happen for all of us," he said.
Monteith (third from right) stands with board members of the Yogi Crowe Scholarship Fund, which supports Cherokee graduate students. Donated photo
As director of WCU's Cherokee Center , Sampson's job is to reach out to and involve the Cherokee community in what's happening at WCU. In many ways, her vocation reverberates the values that she credits Monteith with instilling in her, when Monteith was assigned to be Sampson's mentor as part of the Jones Bowman Leadership Award Program .
"She's definitely full of wisdom and knowledge, but she's also a thriving, successful human being in both worlds — both the tribal world and the typical European society world," said Sampson. "She's successful in both. And that's kind of what I wanted to be."
At the same time, said Sampson, Monteith is a humble person with a selfless nature — the epitome of what Sampson thinks of when she thinks of a Beloved Woman.
"She has obtained this selfless leadership level that little girls and young women should all strive to be in the community," she said. "Obviously you want them to be full of integrity and be able to represent and be humble, and just constantly giving to others over themselves each and every day."
When she looks at her life, Monteith sees what others have given to her before she sees what she has given to them.
"The accomplishments that I'm getting credit for, they aren't just what I did," she said. "You have to have a team and others to get anything done."
Monteith credits her team — her husband, her sons, her extended family, her tribe — with spurring her past each consecutive milestone and inspiring her to be the best version of herself possible. In retirement as well as throughout her professional life, she's worked to spur others on too, past what is easy, convenient or comfortable and on to what seems impossible but, in reality, is not.
"We have such bright, talented young people, but levels of expectation to me are not high enough," she said of present-day Cherokee. "We're allowed to slide by."
For Monteith, sliding by was never an option. She fought her circumstances and her natural shyness to build an exemplary life rooted in relationship, community and Cherokee identity. Now she works to help others do the same.
"We're not islands unto ourselves," she told her community in May 2021. "It takes a family. It takes everybody in the community to achieve things."