Archived Arts & Entertainment
In search of a sense of community: Highly-anticipated pub opens in Waynesville
Tuesday, February 22, 2022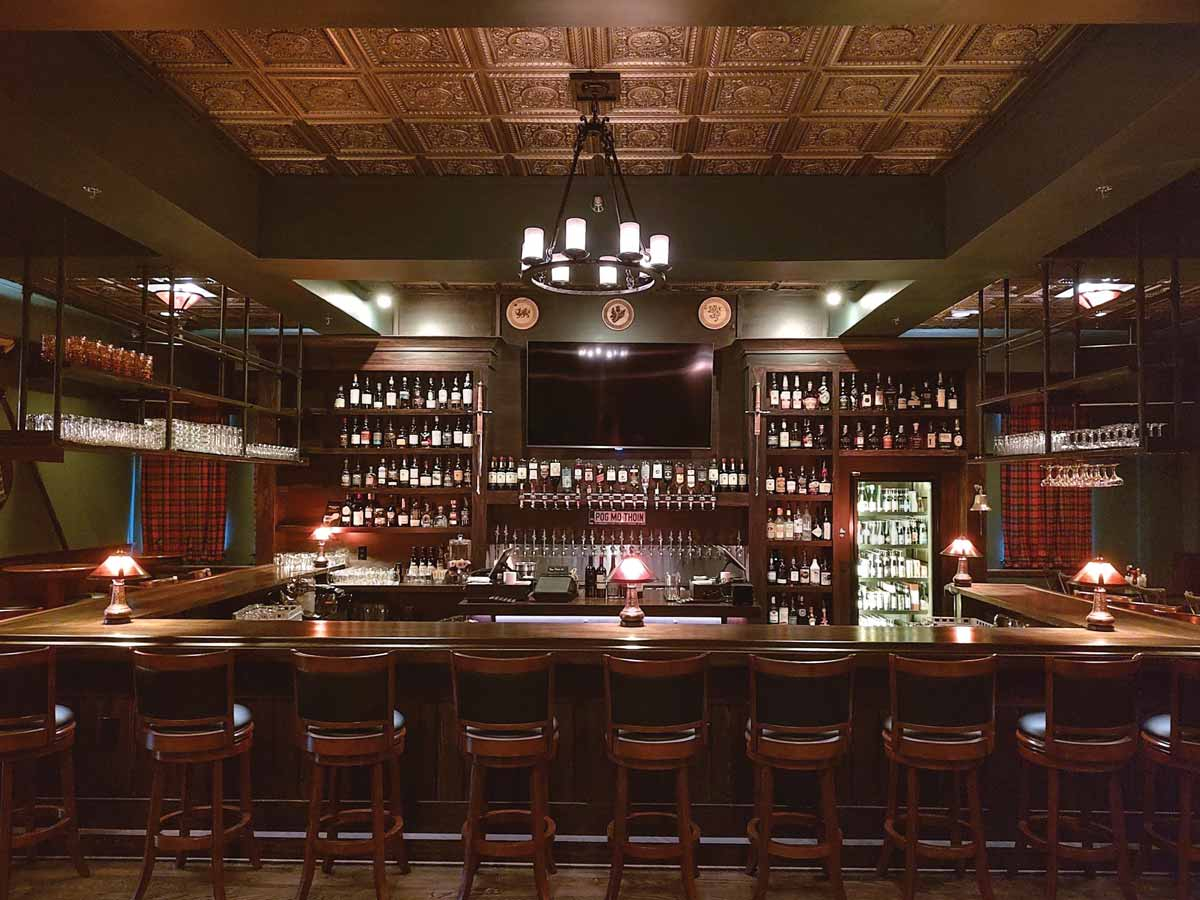 The upscale bar at The Scotsman in Waynesville. (photos: Garret K. Woodward)
Serendipity is a word Makyia Blair has been using a lot lately.
"I'm a firm believer in that everything happens for a reason," Blair said. "And, so far, everything that's happened has been serendipitous — it's just worked out that way."
Sitting at the end of the dimly-lit bar at The Scotsman Public House in downtown Waynesville last Thursday afternoon, Blair is dealing with a wide-range of intense emotions. Alongside her husband, Scot, the couple has spent months extensively renovating the space, which was formerly The Gateway Club (also the first floor of the former Masonic Temple).
"Last night was our 'soft opening' and it was kind of a whirlwind," Makyia noted. "My first thought was, 'How do we know this many people already?' Everyone we've met so far was here and it was beautiful to see it all unfold. It was also really emotional, knowing how much we've put into this space to make our dream a reality."
Originally from Washington State, Makyia went to college for creative writing. But, upon graduation in 2008, she quickly found herself in the food/beverage industry during the crippling economic collapse that year.
Makyia Blair, co-owner/general manager of The Scotsman.
From there, she left behind the seemingly never-ending rainy days of the Pacific Northwest and traded it in for the signature sunshine of San Diego, California. And it was in Southern Cali where Makyia rose through the ranks of the storied San Diego craft beer and culinary industries, eventually crossing paths with Scot.
Hailing from rural Illinois, Scot joined the Marines after high school, soon to be stationed in San Diego. Following his military service, he dove deep into the food/beverage scene of the city, ultimately parlaying itself into the opening of his own brewery/restaurant.
"And when the pandemic hit, I was laid off from my craft beer sales rep position, only to start working for the family business alongside Scot," Makyia said. "There were so many ups and downs and unknowns when COVID hit, especially with the protocols and closures in California. So, we were able to leave the business behind, to take our investment of time and money elsewhere — and we did."
With a blank canvas in front of them, Makyia and Scot started looking around the country as to where they wanted to put roots down next. In an almost "Goldilocks & The Three Bears" fashion, they came across a place not too hot, not too cold, something that was just right, in terms of the physical and economic landscape offered — Western North Carolina.
"We had traveled through this area for our honeymoon, and Scot had been coming to the Smokies since he was a kid, so he knew the beauty of this region," Makyia said. "Something about this place felt right, and we started looking around for a property to launch our next idea — a Celtic-style pub. Then, we stumbled across this building through a simple Google search."
Once the building at 37 Church Street in downtown Waynesville was discovered, Makyia and Scot jumped at the opportunity for a fresh start. They packed everything up in California and headed for Haywood County, only to immediately rent the first floor of the building and begin the long renovation process on a beloved space that had sat empty for several years.
The "Green Room."
Checking the time on her smart phone, Makyia knows the doors to The Scotsman will be officially opening to the public for the first time within the next couple of hours. The Thursday afternoon rush will soon be here.
It will be a maddening vision of people and conversations, interactions and reactions all occurring in real time. With The Scotsman now in motion, the business has already been happily embraced by the community — this vibrant beehive of humanity and a highly-anticipated addition to Waynesville's ever-growing culinary and social scenes.
"With everything that's gone on in the world these past two years, it seems crazy to be opening a business, let alone a pub," Makyia chuckled. "But, being behind the bar counter and interacting with people is what I enjoy doing. I love making a connection with customers and bonding with my co-workers. We want to provide that second home to this community — that feeling where everyone is welcome and belongs here."
Want to go?
A Celtic-style pub, The Scotsman Public House is now open at 37 Church Street in downtown Waynesville.
Featuring a wide-array of British Isles pub fare on its menu, there's also an extensive draft/bottle beer and fine spirits list. Live music and other events will also be hosted onsite.
Operating hours: 4 p.m. to midnight Monday through Thursday, 4 p.m. to 1 a.m. Friday, noon to 1 a.m. Saturday, and noon to midnight Sunday.
828.246.6292 or scotsmanpublic.com.
Leave a comment
1

comment
Anxious to ck it out shortly.

Saturday, 02/26/2022