Archived Arts & Entertainment
This must be the place: Rock and roll is here to stay, come inside where it's okay
Tuesday, February 22, 2022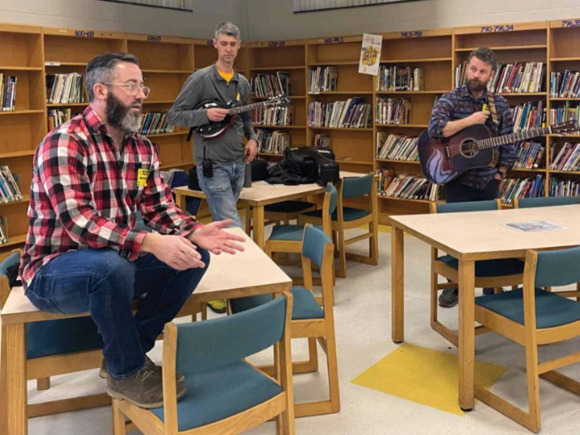 Garret, Barron Rogers and Jon Stickley.
It was that familiar smell that conjured a slew of memories.
Around 8:15 a.m. last Friday, I pulled my truck into the parking lot across the street from Waynesville Middle School. It was "Career Day" and I was asked by a friend, who works for the district, to come in and talk about being a journalist, more so about finding somewhat stable ground in the elusive realm that is the music industry.
I agreed to it, to not only help my friend out, but also jump into the deep end of an opportunity to get outside of myself and my daily reality, if but for a single morning spent standing up there in the middle school library and talking to eighth-graders about "the road to the here and now," and how I wake up each day excited to provoke the chaos of my existence — personally and professionally.
Park the truck. Grab my bag (filled with samples of numerous publications we put out here at the newspaper). Stroll across the parking lot. Brave the cold morning breeze. Wait for the cars to pass by and ignore the crosswalk. Up the steps to the entrance. Head to the office to get the "Visitor Pass."
And it was that familiar smell that conjured a slew of memories. It's the scent of an old building used by a lot of people, that "school smell," you know? Floor polisher. Dusty old gymnasiums. Shelves of aging books. Who knows? Maybe it's more memories of the sights and smells of my old middle school, still active way up on the Canadian Border.
All of these dots of humanity bouncing throughout the hallways and classrooms. It's an overwhelming energy to those who don't immerse themselves in that organized chaos on a daily basis. The subtle hum of countless overhead fluorescent lighting rigs. Bells ringing. Endless voices ricocheting off concrete walls.
Get the "Visitor Pass" and be directed to the vast room that is the library. I was to host three morning presentations in front of three separate groups of eighth-graders. Seeing as I knew they'd be bored out of their young minds if I just stood there and babbled on, I asked a buddy of mine, renowned guitarist Jon Stickley, to come and play a few tunes for the kids, maybe speak about his career as a professional, touring musician.
Jon saunters in, guitar in-hand. Unbuckles the case and tunes up. We make small talk as the first group sits down. About 18 teenagers, all staring at you, either out of curiosity or boredom. Suddenly, I experience flashbacks of the attitudes, the trials and tribulations seen and felt by my peers when I was at that age in that school some 1,100 miles due north.
But, then my instincts kick in. The years of substitute teaching before I was able to become a full-time teacher. As does my genuine love and passion for public speaking, all those times stage emceeing big concerts and giving extemporaneous speeches at the drop of a hat at some random public function where they needed "someone to just say a few words."
It was a whirlwind morning of back-and-forth questions to Jon and myself, where we chatted about our respective paths to where we stand today, with sturdy and steady footing in the rollercoaster business that is the music industry and journalism world — often choppy waters where you need your wits about you, let alone a keen sense of self to navigate into safe harbor.
By the second presentation, Waynesville Middle School Assistant Principal Barron Rogers swung by. Turns out he and Stickley knew each other and have jammed together several times in the past. It just so happened Rogers had his mandolin in his office, to which he grabbed the instrument and played with Stickley throughout the presentations.
What was surreal during the sessions was how much I did and did not have in common with the modern-day teenager.
Crazily enough, we actually all pretty much liked the same music. Tyler, The Creator. Kacey Musgraves. Selena Gomez. But, also all the old rock bands and hip-hop acts that were new acts I listened to when I was their age over 20 years ago — Puddle Of Mudd, Alice In Chains, Nirvana, Stone Temple Pilots, Jay Z, 2Pac, etc.
And then, I found myself trying to explain to them what MTV used to be, where it was the place you watched the latest music videos, before the advent of YouTube. I went on to say how MTV's popular program "Total Request Live" is what sparked my interest in not only being a journalist, but also working in the music industry, in general.
I reminisced about getting home after school when I was in eighth grade just in time to watch the newest videos being premiered from the TRL studios, and how a by chance visit to MTV studios in Times Square when I was in high school forever shifted the trajectory of my life.
And as I spoke more on the TRL experience, about being in that studio, it really brought me back to that starting line, when I was just a kid and wanted to somehow, someway figure how to find my place in the music industry — to be surrounded by the songs and artists I loved and admired, and to pursue a career where I sincerely enjoy what I do each day.
Some 16 years later, I'm still a journalist, where I love this gig now more than ever before. I now work deeply in the music industry. And I remain a contributing writer for Rolling Stone magazine — my number one dream in life, ever since I was that teenage kid pouring over each issue, cover to cover.
After the last presentation that morning, I exited Waynesville Middle School and headed back into my daily reality as a journalist, in search of stories through the power of the written word. Hopping back into my truck, I turned on the engine, but not before I looked into the rearview mirror — at the school, at the face staring back at me — and shook my head in awe of, well, nothing and everything.
Life is beautiful, grasp for it, y'all.
Leave a comment
2

comments
Love it G....you're a natural. Full steam ahead. Xo

Thursday, 02/24/2022

Love it G....you're a natural. Full steam ahead. Xo

Thursday, 02/24/2022