Archived News
Masks now optional in Haywood schools
Wednesday, February 16, 2022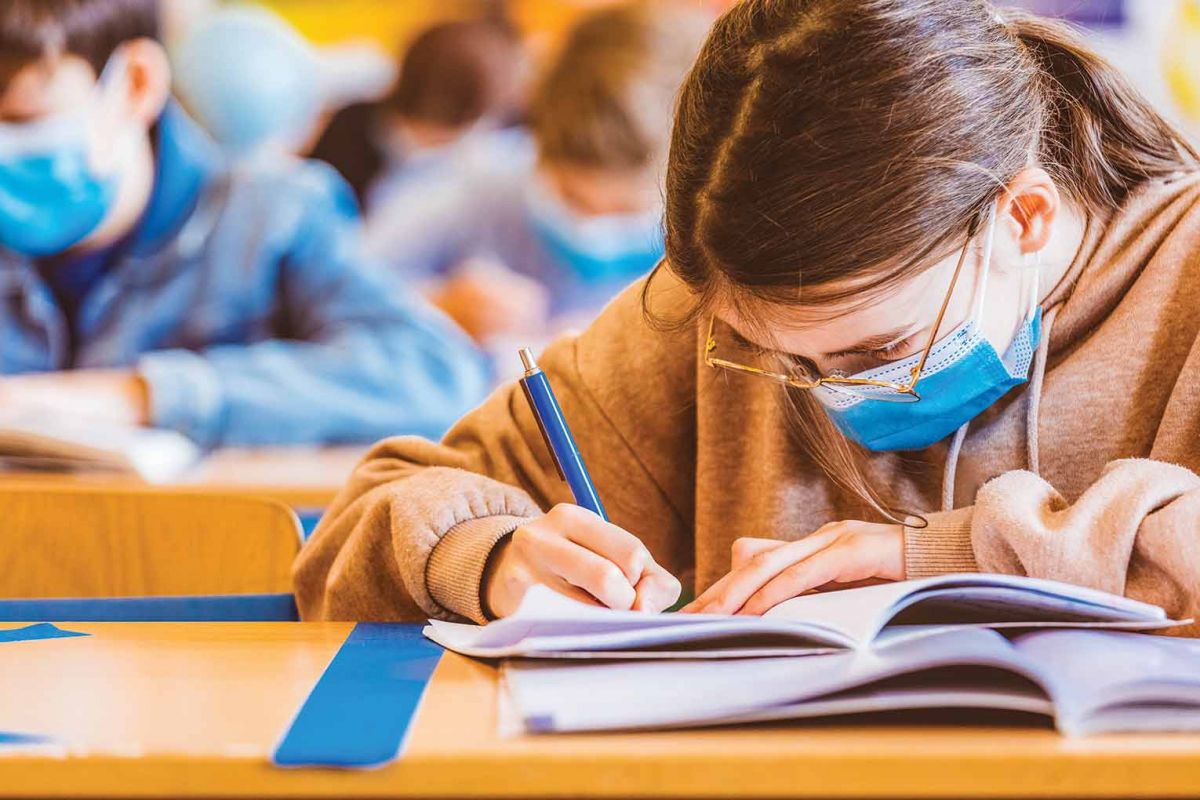 Masks are optional for students and staff of Haywood County Schools after the school board voted last night to remove the pandemic restriction that had been in place since August 2021 following public comment heavily in favor of doing so.
"Tonight, the Haywood County School Board voted to make masks optional for all students and staff effective immediately, Feb. 15, 2022. We would like to thank the Haywood County Health Department for their assistance through the pandemic," said Associate Superintendent Dr. Trevor Putnam.
Students and staff will still be expected to follow the 5+5 quarantine model adopted at the special called board meeting last week following a presentation from Haywood County Medical Director Dr. Mark Jaben and Public Health Director Sarah Henderson. Students and staff who test positive can either isolate for five days and return to school wearing a mask on days six through 10, or isolate for 10 days and return to school as usual. Contact tracing will be eliminated as of Feb. 21.
This decision comes as COVID rates have been declining in the region, though Haywood County still has a two-week positivity rate of 25.7% — higher than the 17.8% statewide rate and the highest rate in The Smoky Mountain News' four-county coverage area.
In a scathing press release issued around 9 p.m. yesterday, Haywood County Emergency Services railed against the decision.
"Directly opposing the health department's best-practice recommendation, the board has opted today to go against its previously endorsed approach to masking to move to a masks-optional policy," said the release. "Downward trends hold promise that we could get to acceptable levels soon, but case rates, test positivity, and an overwhelmed health care system remain at or near the peak of prior surges—too high to prematurely remove measures."
In making the decision, said the press release, Haywood County School "assumes full and total responsibility for medical decision and outcomes that result from their decision" and "acknowledges that they are now the ones best able to assess the impact on health, wellbeing and medical needs for the school system."
The StrongSchoolsNC Public Health Toolkit still recommends universal masking indoors in areas of high or substantial transmission, as defined by the U.S. Centers for Disease Control and Prevention. According to the CDC, Haywood County currently has a high transmission rate.
School boards are currently required to vote on their mask policy at least once per month.
Twenty-five people signed up to speak in public comment at Tuesday's meeting, and most wanted masks to become optional for students and staff. Only one parent asked the board to follow the recommendations of the North Carolina Department of Health and Human Services for COVID protocols.
Several parents complained that forcing students to wear masks in school was no longer fair or relevant because people are not forced to wear them almost anywhere else. A few pointed to the recent Super Bowl as an indicator that outside school walls, the country is moving on.
Still others claimed that masks don't work, and in fact perpetuate other illnesses. This is the same argument that many parents were making during the height of the pandemic before vaccines and widespread testing were available.
A common tactic among almost all parents and members of the public pleading for optional masks was to take a shot at the integrity of the board members.
"My recommendation to y'all is to stand up and be a man and vote," said Cody Henson. "Wake up, school board. County commissioners, wake up. If you don't stand up and have a backbone for the people of this county, I will personally run against y'all."
His assertion that school board members should "stand up and be a man," is fair, only because all nine members of the school board are in fact men.
This may have been the first meeting at which young students came with their parents to speak directly to the school board about masks. At least four students in elementary and middle school took to the podium to plead with the board. Some alongside their parents, some on their own. One said only, "you are smothering us."
Two other elementary students compared their fight for making masks optional to that of the civil rights heroes they were learning about in school — Dr. Martin Luther King Jr. and Rosa Parks.
When the time came for a decision about mask policy, David Burnette immediately made a motion to make masks optional. Jimmy Rogers seconded the motion, which passed unanimously with no discussion on the matter. The decision was met with applause and screams of joy from the crowd at the board meeting.
The Jackson County Board of Education is set to consider a similar action during an emergency meeting called for 6 p.m. tomorrow. According to the meeting announcement, the purpose is "to allow the Board's members to receive an update on the recently updated State guidance regarding face coverings in schools, and to consider action in response to changing circumstances, including modifications and/or amendments of prior decisions."
Public comment will not be included on the agenda, but the meeting is open for attendance on location at the Jackson County Schools Administrative Office or online at bit.ly/JCPSBoard021722.
Leave a comment
1

comment
Only took almost 2 years to do the right thing... disgusting!! Masks DO NOT WORK against Covid.

Thursday, 02/17/2022