Archived News
Clear trends emerge in partisan voter registration
Tuesday, February 08, 2022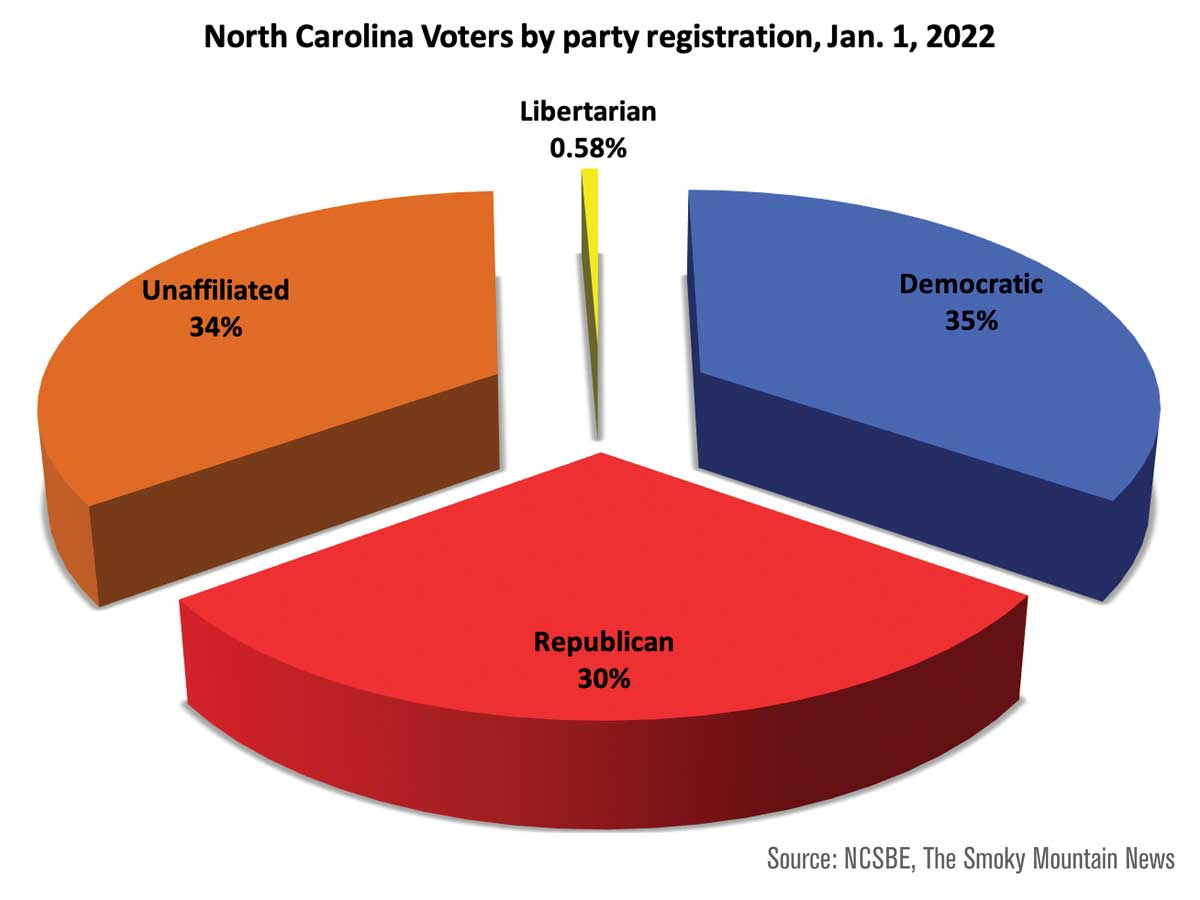 Two years ago, The Smoky Mountain News took a look at statistical data on the party affiliation of registered voters across the state and in the seven westernmost counties, from Jan. 1, 2016 through Jan. 1, 2020. It was great news for Republicans, and the exact opposite for Democrats.
Two years on, Western North Carolina's political landscape continues to evolve, but as registration trends become more apparent over a six-year period from 2016 through 2022, it's no surprise that one party is doing a good job of reaching rural voters and one is not.
How Republicans and Democrats adjust to those trends over the next nine months will go a long way in determining the 2023 makeup of the U.S. House and Senate, as well as the North Carolina General Assembly, various county commissions and county sheriffs' departments.
As much as North Carolina presents itself as a half-Republican, half-Democrat state it's actually not – it's more like a third, a third, a third.
Unaffiliated registrations have soared across the state since 2016, and now make up the second-largest group of voters in North Carolina at 34% after surpassing Republicans in 2018.
"There are more and more Republicans on a national level and on a state level that are going unaffiliated, especially after the events of Jan. 6 and the mess that was the Trump years," said Matt Ballance, North Carolina Democratic Party chair of the 11th/14th Congressional District. "I think we've seen more and more Republicans feel disenchanted with their party, and that's led to the huge spike in unaffiliated voters."
Over that same period, Democrats have watched their base erode by more than 5%. Although 35% of North Carolina voters still identify as Democrats, if trends continue they'll soon drop into second place, probably sometime this year. Republicans remain a distant third with 30% of all registrations.
It's also worth noting that the fourth option — Libertarians, who have been on N.C. ballots since the 1970s — outpaced all three other registration options, with growth of 71% from 2016 to 2022. However, they still amount to less than 50,000 people, with Dems, Republicans and unaffiliated registrations all well above 2 million.
"With everything that's happened in the last 20 years in terms of the way that the parties have moved in different directions, I think it's very safe to say that a lot of our more rural voters in the extreme western part of North Carolina have found that they identify more with some of the issues that are pushed by the Republicans," said Ballance.
Republican registrations have grown by more than 11% statewide since 2016, but have seen explosive growth in the west. That's important, because as Karl Rove told The Smoky Mountain News back in July, the huge Republican margins racked up by Republican Reps. Madison Cawthorn and Patrick McHenry help balance out heavily Democratic districts down east.
In North Carolina's seven westernmost counties — Cherokee, Clay, Graham, Haywood, Jackson, Macon and Swain — Democratic registrations are down almost 24% since 2016, with Republican and unaffiliated registrations both up by a similar amount.
Jackson County fared the best for Democrats, losing just 9.5% of its Democrats since January 2016. Cherokee and Graham counties fared worst — each lost around 40% of its Democrats. Clay lost more than 30% of its Democrats, while Haywood and Swain counties were both about average, experiencing a 24% decrease in Democrats.
Conversely, Clay and Haywood counties saw the biggest jump in Republican registrations, right around 30%. Macon County now has 26% more Republicans than it did in 2016, as does Jackson.
Roxan Wetzel is the interim second vice chair of the NCGOP's 11th Congressional District — at least until the state convention on April 2 — and also serves as chair of the McDowell County Republican Party. Wetzel has seen the shift firsthand in McDowell, where Dem registrations are down by a third and Republican registrations are up around 20%. She thinks she knows why voters there are leaving the Democratic Party.
"The Democratic Party's left them," she said. "It has absolutely left them if you're not a socialist. McDowell County was solid blue until 2012. That's when the switch happened. That's pretty recent history. Even on my own executive committee, the majority are former Democrats, but the values of the Democratic Party do not align with their personal values."
Wetzel has also witnessed the surge in McDowell's Republican registrations over that time, and has a theory as to why, exactly, her party is growing there and across the state and region.
"President Trump ignited the nation. More voters than ever before turned out to vote in support of him, regardless of who now is currently sitting in the White House," she said. "He really ignited people who weren't ever engaged before. We're working to educate them, to have them understand the structure and how that they can plug in and how they can make a difference."
But who's igniting Democrats? Both Ballance and Wetzel intimated a disconnect between national Democratic Party messaging and the core beliefs of rural Democrats in a place like Western North Carolina. That disconnect hurts local Democrats, especially on law enforcement and Second Amendment issues.
Zeb Smathers, now in his second term as Canton's mayor after four years as an alderman, has achieved some degree of success as a moderate Democrat and has his own views on what's behind the lopsided voter registration trends — especially the surge in unaffiliated voters.
"I do believe that there is a moderate majority in this country," Smathers said. "I see it time and time again. I hear it from Democrats. I hear it from Republicans. There is a moderate majority in this region, in this state, in this country, and I think at some point there are going to be leaders from both parties that will go out there and really have an opportunity to change things and lead and make this country a better place for people who are sick of the partisan divide."
Smathers also has his own ideas on how Democrats can stave off the demographically induced electoral disaster that awaits his party if they don't get their act together this year, or by 2024 at the latest.
"I don't expect help or assistance or the national Democratic Party to provide a playbook to do that. I think in some regards, whatever your political stance is, whether you're a Democrat or a Republican, I've seen this firsthand — Western North Carolina wants leadership. They want results," Smathers said. "There's a time for politics, but I think each political party has an obligation to go to people, to listen to their issues, even with people that they necessarily don't agree with, and have the audacity to find common ground."
Leave a comment
2

comments
Socialism is defined as Social Security, Medicare, public schools, public bridges, roads, airports, sea ports, public libraries, national, state and local parks, subsidies to farmers, oil and gas interests (former) tobacco growers, car manufacturers, steel manufacturers and many, many other uses of tax dollars. Now, does that sound like such a bad way to describe Democrats?

Monday, 02/14/2022

Socialism is defined as Social Security, Medicare, public schools, public bridges, roads, airports, sea ports, public libraries, national, state and local parks, subsidies to farmers, oil and gas interests (former) tobacco growers, car manufacturers, steel manufacturers and many, many other uses of tax dollars. Now, does that sound like such a bad way to describe Democrats?

Monday, 02/14/2022