Archived Arts & Entertainment
Runnin' wild: A conversation with Railroad Earth
Wednesday, January 19, 2022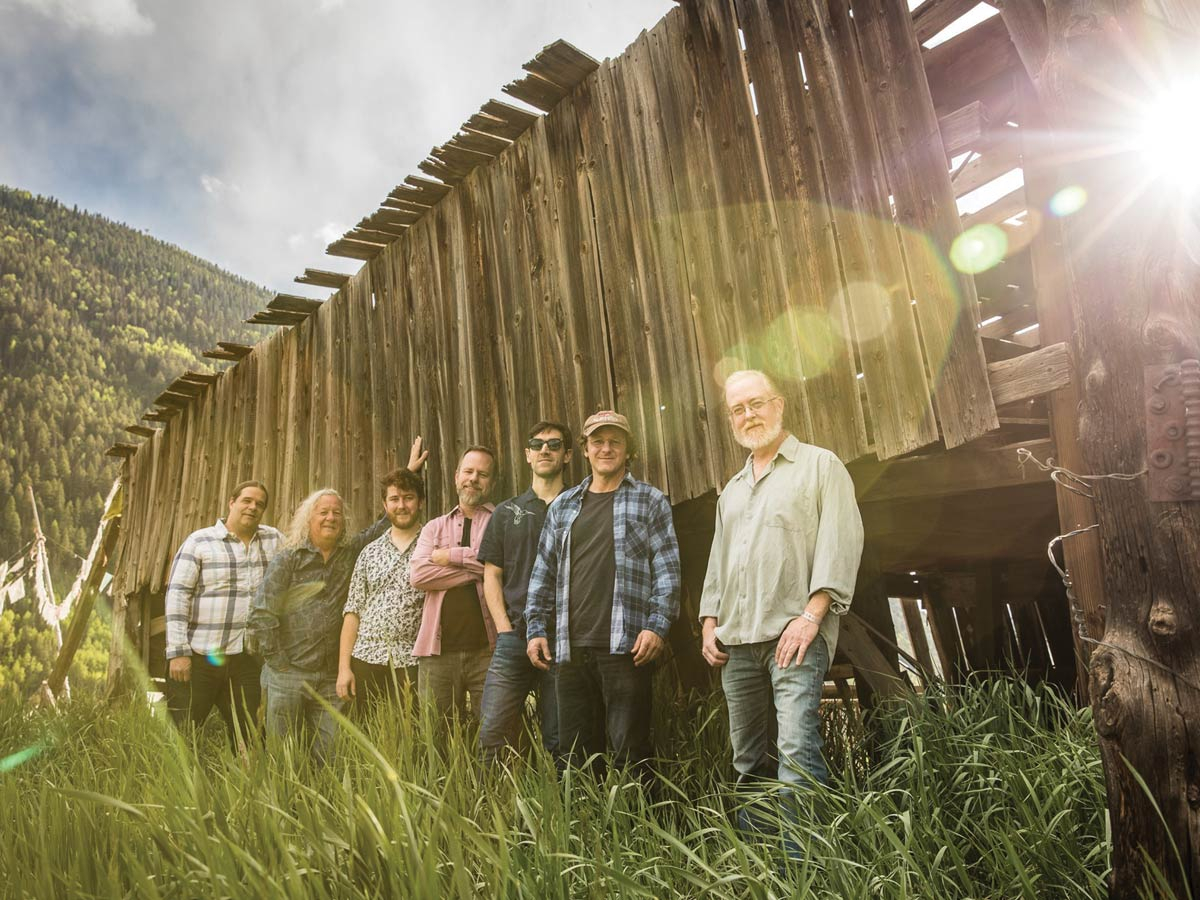 Railroad Earth. (photo: Shredded Elements Photography)
In the realm of string and jam music, few acts are as intricately varied as Railroad Earth. Recently crossing over the 20-year mark together, the ensemble is a rich, vibrant blend of bluegrass, roots and folk music, all swirling around a multifaceted penchant for deep improvisation within a live performance.
The group is a meandering, unrelenting entity, this sort of band of melodic pirates rolling along the high seas of the music industry, never once pulling into a safe harbor amid the unknown waters of its own ever-evolving intent.
The true fire and grit of Railroad Earth resides in its whirlwind concerts, this communal setting of gratitude and possibility amid the ancient act of songbird voices and acoustic instruments radiating out hope, love and magic into the endless universe.
And just before the pandemic and eventual shutdown in March 2020, The Smoky Mountain News sat down with violinist Tim Carbone and mandolinist John Skehan backstage at The Orange Peel in Asheville. The interview hasn't seen the light of day, until now.
Smoky Mountain News: In recent years, Railroad Earth has been mourning the untimely passing of founder/multi-instrumentalist Andy Goessling in 2018. What's been the big reflection on his contributions to the band?
Tim Carbone: Well, musically, Andy was most exquisite Swiss army knife that you could ever hope to have. A diamond-studded Swiss army knife. Whatever blade you took out, it was a really sharp blade and it worked great.
So, if he's playing dobro, he played the right part. Banjo, he played the right part. Guitar. Saxophone. Flute. Penny whistle. Pretty much, you name it, he took it out and he had a signature sound on that instrument that was immediately identifiable as him — and we've lost that.
It's kind of like the musical glue that you weren't sure you even needed. But then, if you took it away, the house of cards would be in danger of falling.
SMN: With the band approaching 20 years together, what are some of the things that stick out from those early days?
TC: Well, I do remember something about having eight people in a hotel room, in a van all around the country, memorizing every square inch of Interstate 80 from New York to California. [Laughs].
John Skehan: Four people, two on the floor, two in beds. Two hotel rooms night after night, sneaking in those airbeds and pillows by the front desk. There was certainly a feeling then of not having any idea that we would get to where we are now, or even where we got to a few years ago. It really felt like kind of a lark, because we hadn't really planned it. Just hop in the van, go on a tour and see what happens.
And we have a lot of adventures and a lot of fun. It was a very much more exhausting and kind of crazy traveling experience [back then], but with all these weird, fun connections and people that we've met, that are still tight friends to this day.
SMN: Even in the beginning, it was always about adventure.
JS: Well, it had to be an adventure because we had no money. We had no place to stay or if we did get rooms, we'd cram into something or sneak into some odd thing. You know, the song "Elko" is a true story that came from the fact that Elko, Nevada, was just about the first eight-hour stop outside of California. And we finished our first eight-week tour in California with no plan other than to drive back to New Jersey.
And the hotels rooms are really cheap [in Elko]. We were all exhausted and we were just going to get a good night's sleep, so we could keep driving across the country. But, we walked in and it's a casino, and there's free booze if you're gambling. Our soundman put $20 in a video poker machine, pressed it once, and all of a sudden won $500 — and the night went from there.
SMN: And even before all of that, some of you had been in other bands for years, touring around and trying to make it work.
TC: I had a band called Kings in Disguise [with Andy Goessling] before Railroad Earth. And in the six months prior to Railroad Earth, it became painfully obvious to me that there we're a couple of members of [Kings in Disguise] that just were not able to either able to, or willing to, tour. And if you can't tour, you cannot be a successful band. So, I came to grips with that.
And then, Railroad Earth started to happen over the course of that summer of 2000. The idea for it was something that kind of evolved quickly into John and a bunch of other people jamming to see if maybe something could happen. Andy put together all of these jam sessions at his house. I remember them being very loose and congenial.
And when [lead singer/guitarist] Todd [Sheaffer] came around, we started forming stuff around his songs. When you add a really great songwriter and a great singer into the mix, suddenly things quickly coalesced.
By the end of the summer, essentially the people that were left standing [from those jam sessions] were the core members of the band, Unbeknownst to us, it just sort of happened — we were off and running.
JS: There's something, too, I think in the direction that Todd's songwriting was taking at that time. And I don't know if it was being around the palette of acoustic instruments and these jam sessions that we were having. But, I'll say the tone of his writing, both in the music and the tone of the lyrics, seemed to fit with acoustic instruments.
[And now 20 years later], I think it's the ebb and flow. I don't know if we ever could have envisioned this, or certainly ever could have envisioned losing Andy and being in a different place now. But, things are continuing to work and evolve — we're feeling very good right now.
Want to go?
Acclaimed jam-grass/roots act Railroad Earth will hit the stage at 8 p.m. Thursday, Jan. 27, at The Orange Peel in Asheville.
Tickets start at $29.50. Doors open at 7 p.m. For more information and/or to purchase tickets, go to theorangepeel.net and click on the "Shows" tab. To learn more about Railroad Earth, go to https://railroad.earth, call 828.398.1837 or visit This email address is being protected from spambots. You need JavaScript enabled to view it..