Archived News
Canton aims for all-abilities playground
Wednesday, January 19, 2022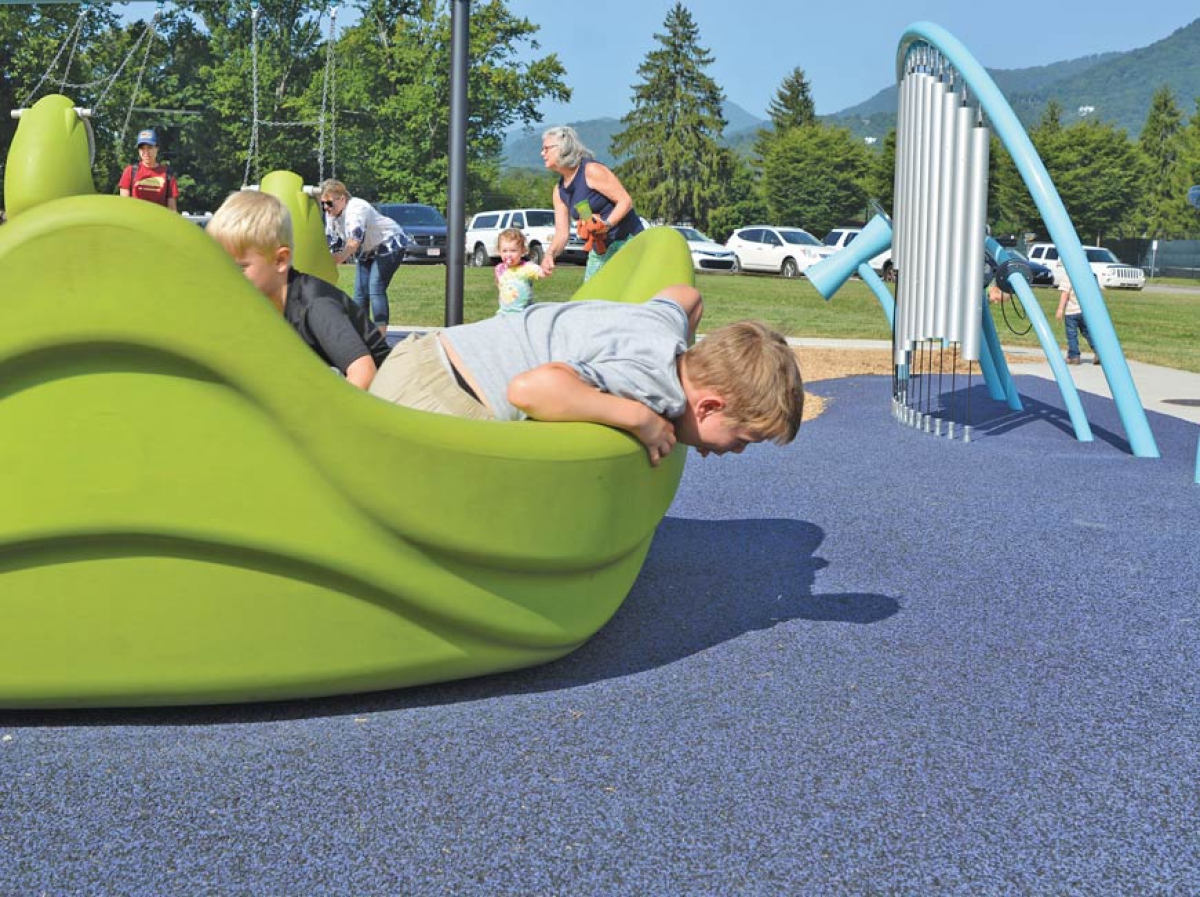 All-abilities playgrounds, like this one in Waynesville, ensure everyone can play. Cory Vaillancourt photo
As Canton focuses on rebuilding town facilities damaged by the flood, elected leaders there aren't just looking to put things back the way they were — they're hoping to make some major improvements.
"We're building back the hometown of tomorrow, and I can't think of anything better than to be at the forefront of that than a larger, modernized, new playground that definitely leans into accessibility," said Canton Mayor Zeb Smathers. "Any time any child comes to our playground with smiles and laughter, whatever they're dealing with at home gets just a little better."
Like much of Canton, the playground at Recreation Park suffered extensive damage during flooding last August. Smathers and Canton's town board reiterated their support for the playground rehab during a Jan. 13 meeting.
"He's very passionate about getting the playground up and going and making it an inclusive playground so children with various abilities and skills can participate and with their families," said Eva Hansen, a member of the Waynesville Kiwanis. "Because we had such a role in the Waynesville playground effort, [Smathers] gave us the opportunity to consider participating in a collaborative effort with Canton and our board agreed."
Kiwanis is a club dedicated focused on improving the lives of children and has chapters arounds the globe.
Hansen and Kiwanis indeed played a major role in Waynesville's all-abilities playground in the spring of 2017, after a study from N.C. State revealed that there may be around 1,000 kids in Haywood County with special needs for whom a regular playground may be too overwhelming. At the time, the nearest inclusive playground was more than 90 minutes away by car.
All-abilities playgrounds incorporate design features centered around mobility and texture, for children — and their caregivers — who may have limited physical abilities or sensory issues associated with autism spectrum disorder. Sometimes, regular playgrounds end up segregating children with special needs from their peers.
"Playgrounds are a great equalizer because all children are looked at by other children as playmates," Hansen said. "They don't have a clue of who your family is, how much money you have, where you go to church, if you go to church, your politics, anything like that. It's just, 'Let's play.' It's a great way for kids to engage with others from a variety of backgrounds and that's what we're seeing in Waynesville."
Waynesville Parks and Recreation Director Rhett Langston drove the project for the town and was instrumental in securing a $90,000 Connect N.C. Bond grant. Hansen, along with Marti Peithman and other members of Waynesville's Kiwanis Club, spearheaded outside fundraising .
Not only did Kiwanis donate $10,000 towards the Waynesville project's $160,000 phase one cost, but it also entered the project into the national Kiwanis' "Legacy of Play" contest, an online voting competition against 50 other proposals from across the nation.
Although Waynesville finished first, with more than double the votes of its nearest competitor, Kiwanis awarded the $25,000 prize to another project. After a $25,000 contribution from the Evergreen Foundation and $500 from Pepsi, the town's cost ended up being only about $23,000 and the park was completed in August 2018.
Landscape Structures Inc., the design firm associated with the contest, ended up gifting the town a $6,800 piece of equipment in recognition of the massive outpouring of support the project received, with heavy press coverage and votes coming from as far away as Japan.
Plans for the Canton project — including footprint, amenities and layout — are still very much up in the air, but Hansen said they're considering the annual "Legacy of Play" contest once again.
"We're researching that contest and to see what opportunities there are for the future," she said. "We're also exploring other resources in the area throughout the state."
A raffle will be conducted by the Waynesville Kiwanis, sometime over the next four to six months. Those who wish to help with Kiwanis' fundraising effort are encouraged to contact Hansen at 910.494.4435.