Archived News
Waynesville inclusive playground approved
Wednesday, October 04, 2017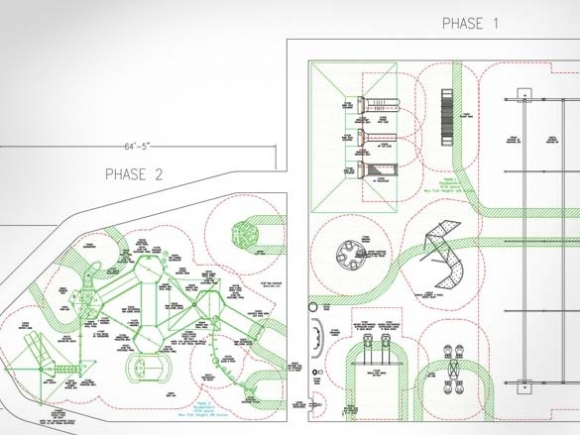 Play, it is said, is the work of children.
But a substantial population of disabled kids who've up until now been excluded from playing with their peers — peers of all ability levels — will soon have much work to be done.
Waynesville's pursuit of an inclusive playground that caters to those with physical and mental conditions that make standard playgrounds too extreme, too unsettling or too inaccessible is almost complete.
It's been a long journey, but its ultimate realization is demonstrative of how a town striving to build a rich sense of community can prevail when the public and private sectors work together.
All together now
The inclusive playground, which will be located adjacent to Vance Street, should be complete before Thanksgiving.
An old softball diamond — with its accompanying scoreboard, chain link fence and press box — will come out, after public input during the recent Recreation Master Plan process revealed that the sport had diminished in popularity.
The Waynesville Board of Aldermen approved final schematics for phase one of the project Sept. 26, and Waynesville Parks and Recreation Director Rhett Langston turned in a check request Sept. 29.
"Once we get that in to the company, it takes about three or four weeks for them to build and get it here," Langston said. "Then it will take about a week-and-a-half to install it, so I say a conservative estimate is early to mid November and it should be in."
What they're building first and foremost is a park that is accessible to children who have mobility challenges; a rubberized surface, handrails, sunshades and smooth grades will contribute to the ease of mobility and safety when the occasional spill occurs. Phase one also includes two "zip line" style activities, several slides, swings and spinners.
But what they're also building is a sense of community.
"It will meet the needs of a lot of children that we haven't been able to meet, and bring more people here to Waynesville," Langston said.
A recent study from N.C. State said that there could be more than a thousand special needs children in Haywood County who might utilize the playground; taking in to account that there isn't another such playground within a 90-minute drive of Waynesville, it's supposed that thousands more in adjacent counties could also use it.
That greater regional impact is what led in part to the park's entry in a contest this past spring.
Back in May, Waynesville Resident Marti Peithman brought to Langston the annual Kiwanis "Legacy of Play" contest, which invited participants to pitch a project and conduct an online voting contest for a chance to win $25,000 in free playground equipment from Landscape Structures, Inc.
Running from May 16-31, the contest drew almost 50 entrants from across the country; Langston liaised on behalf of the town with a small group of volunteers dedicated to winning the prize.
Despite finishing with more than double the votes of the second place entry, another town was selected as the winner — something that has happened before and is no reflection on the quality or feasibility of the entry.
Peithman said at the time that she was proud nonetheless.
"We certainly raised awareness of our special needs community," she said. "We should be proud of ourselves for running such a well-organized campaign that really got our message out."
And did it — the contest received heavy coverage from multiple news outlets both in Haywood County and points beyond, and received votes from as far as St. Maarten and Japan.
Luckily, Waynesville's project didn't need the money as badly as some of the other entrants did; Langston was instrumental in helping the town win a $90,300 Connect N.C. Bond grant.
"Rhett has been the most valuable and instrumental person in this project," said Mary Beth Brown, a physical therapist with Haywood County Schools who also helped with the contest. "He has dedicated a significant amount of time heading the project up, writing grants, meeting with the town and making sure that it runs smoothly."
Waynesville's Kiwanis Club contributed $10,000 to the effort, on top of a $25,000 contribution from the Evergreen Foundation and $500 from Pepsi.
Perhaps the most satisfying contribution — in light of the disappointing contest loss — was from Landscape Structures, which ended up giving the project a wholly unexpected $6,800.
Phase one's total cost as billed stands at $158,879; with all the public sector contributions, the Town of Waynesville itself only needed to kick in $22,575, or about $2 per resident.
The payback on that for the public will come when people from outside the area learn about the park, spend dollars locally while they use it and perhaps consider moving closer to it — bringing their jobs and businesses with them.
"I think it's very, very important," Langston said. "We've already made some strides in other areas such as our skate park and disc golf course. We get a lot of people from other areas that will drive here to participate in those activities, so I think this is another one of those things, but this one will be even larger. There is nothing like this within a 90-mile radius."
That the park might become an attraction in the economic development sense is one thing, but that particular aspect has always been secondary to the community-building that's always been at he heart of the endeavor.
"Overall we're very excited about what this means to the community and the fact it will also educate children to play together regardless of their abilities," Langston said. "It's a great idea because it's teaching everyone to work together and play together and participate together. For a community that's something invaluable to have."