Archived News
Leaps and bounds: Changes coming fast in Frog Level
Wednesday, January 12, 2022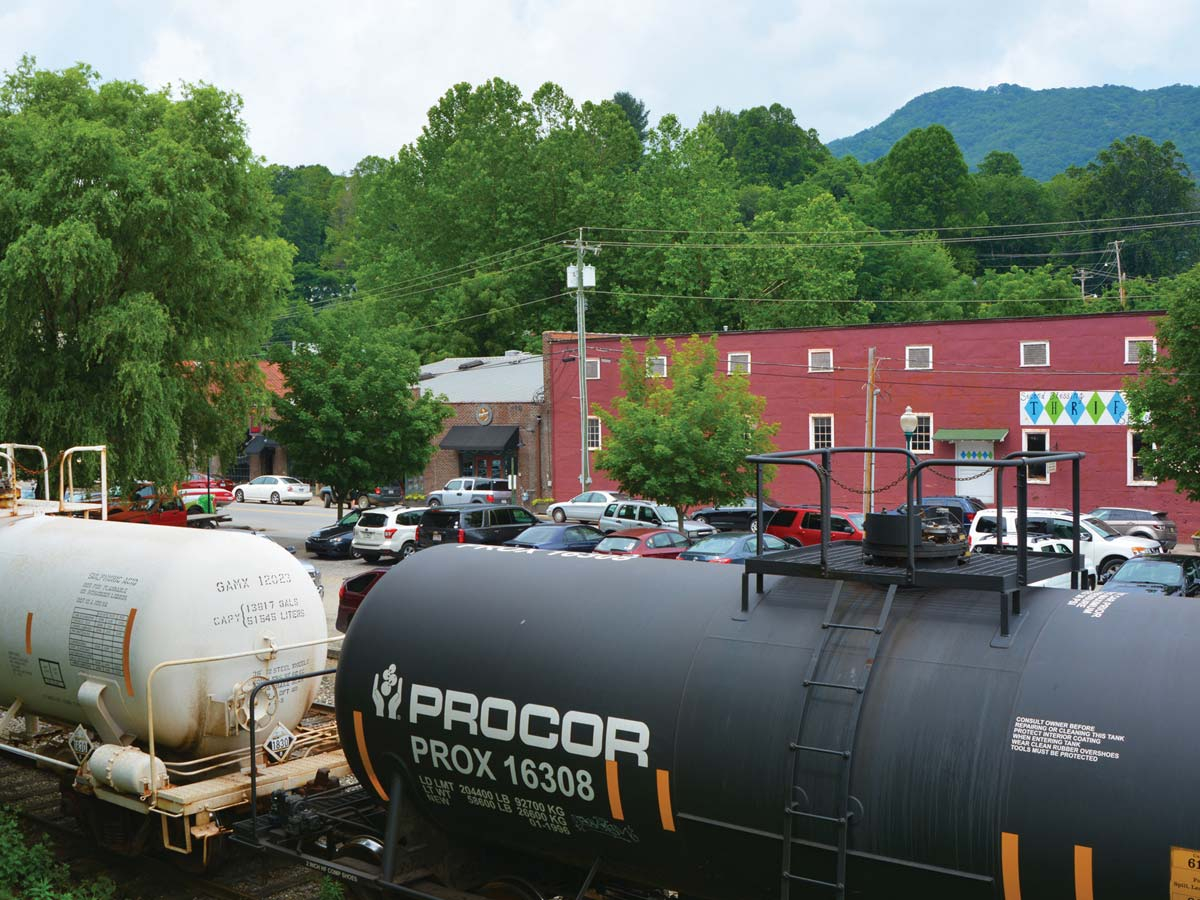 As one of Waynesville's three "urban" cores, Frog Level holds an identity as distinct as any other. Of late, that identity has not been all that good.
Frog Level remains Haywood County's most visible reminder of ongoing poverty, homelessness, drug addiction and mental health crises. The buildings look just like the people — empty, broken, falling apart in slow motion.
Revitalization is right around the corner, but replacing the faith-based charities that many rely on for basic needs may prove to be a much longer journey.
Open Door closes
After more than 25 years of ministering to the physical and spiritual needs of Haywood County's most vulnerable citizens, a Frog Level institution will close its doors for the last time before Feb. 1.
"I'm really excited about the rebirth, and what the next 25 years will bring," said Long's Chapel Pastor Chris Westmoreland. The Open Door and Second Blessing Thrift Store are both ministries of Long's Chapel.
Established on Sept. 9, 1996, The Open Door served an average of 1,000 hot meals a week from its Commerce Street dining room and was the largest distributor for the MANNA food bank west of Asheville.
When the COVID-19 pandemic emerged, along with its ensuing closures, Open Door prepared meals and distributed them by van to the unsheltered and food-insecure, using the Saint John's Catholic Church parking lot as a base.
Now, the operation serves on average 1,200 hot meals a month and more than 1,000 overnight bags that serve as a supplement for breakfast and or dinner. The Open Door also distributes 5 to 7 tons of groceries per month but topped 16,000 pounds this past December.
Also closing up shop is the Second Blessing Thrift Store, the social enterprise located adjacent to the Open Door that provides some revenue toward the operations of the Open Door's food distribution ministry.
Frog Level Brewing hops
As one door closes, another door opens for another Frog Level institution.
Frog Level Brewing co-owner Travis Crisp told The Smoky Mountain News on Jan. 10 that when the space currently occupied by the Second Blessing Thrift Store and the Open Door was offered to them by the building owners, they jumped at the chance to expand their popular brewery.
"We're taking over that space," Crisp said. "It just felt right."
It just felt right — right next door. The expansion will give FLB almost an entire city block, but for Commerce Street mainstay Panacea Coffee Company, and will dramatically increase capacity.
Plans aren't formalized so no opening date is yet projected, but there are a few things of which Crisp is certain.
One is related to the higher cost of aluminum, and supply chain shortages. Crisp said they're forced to order larger quantities of cans, at higher prices, and don't have enough room in their current building to store them all. He pays for warehouse space in Asheville. Soon, he won't.
Another is that the empty lot behind Second Blessing will become a parking lot, alleviating a growing issue in Frog Level.
An entrance off of that parking lot into the existing outdoor creekside area behind FLB will keep pedestrians off of Commerce Street altogether and provide for more outdoor space.
There's also, says Crisp, the strong possibility a music venue could be incorporated into the expansion. Crisp and his wife Morgan co-own 7 Clans Brewing and purchased FLB from founder Clark Williams in March 2020.
The Door's still open
The Open Door has been the subject of controversy at times, much of it undeserved.
Hundreds of people — most with jobs and homes of their own — utilize the dining room or grocery service each month because they can't make ends meet consistently, but detractors zeroed in on a service-resistant population and blamed the ministry for attracting regional vagrants to Frog Level.
A 2019 Smoky Mountain News survey of people gathered for Sunday morning breakfast at the Open Door revealed that of the 21 diners present, 10 were born and raised in Haywood County, and the 11 who were not had been in the county for 19.4 years, on average.
Most of the neighborhood trouble attributed to the Open Door, according to Westmoreland, did not take place on the property. That reputation, however, will follow the Open Door to its new location, which is still undetermined.
Westmoreland cited other relocation challenges common to all of Western North Carolina, including limited available real estate and exorbitant rents, as major issues that will affect where the Open Door and Second Blessings ultimately locate.
"We'd like to keep the thrift store and kitchen together," said Laura Shepherd, manager of the Open Door. "That helps us because our volunteers help serve both entities."
Shepherd said the current operation takes up 15,000 square feet, but they're looking for somewhere in the neighborhood of 8,000 to 10,000 square feet for the new location.
Key to the ministry's success was its central location, which allowed greater access for the unsheltered and for people without vehicles. Only about 2% of people utilizing the dining room or food bank are actually homeless, Shepherd said.
That's one reason the Long's Chapel campus on Old Clyde Road isn't the most ideal permanent location for the Open Door, although Westmoreland said it is an option.
Second Blessing is expected to transition to internet sales in the interim, and will soon have a website up for shoppers. First United Methodist church in Waynesville will provide kitchen space so that Open Door can continue its mobile food delivery services at the coldest point in the year.
"We put all the food in hot boxes, and we go and set up," said Shepherd. "Starting this Friday, we'll be serving Fridays at Grace Episcopal from 11:30 a.m. to 12:30 p.m."
That's the plan, for now and until the Open Door and/or Second Blessing finds a new home.
"It's a bit scary, to have no firm or definite plans, but I'm excited about this nomadic journey," Westmoreland said. "It's weird for a pastor to say this, because it's such a pastor line, but God is working on this, and we need to be open to what He's going to do. We'll do our part and trust that God will do his."
You can help
The Open Door and Second Blessings Thrift Store seeks volunteers to help vacate their spaces prior to the expiration of their lease on Jan. 31. Workdays are planned for Jan. 22 and Jan. 27-29 from 9 a.m. to 2 p.m. Volunteers need simply to show up at 32 Commerce St. The Open Door is also looking for some temporary storage space for use during the transition, to house large equipment like refrigerators, freezers and clothing racks. If you can help with that, email This email address is being protected from spambots. You need JavaScript enabled to view it..