Archived News
Spoof Awards 2021: The Person of the Year Award
Wednesday, December 29, 2021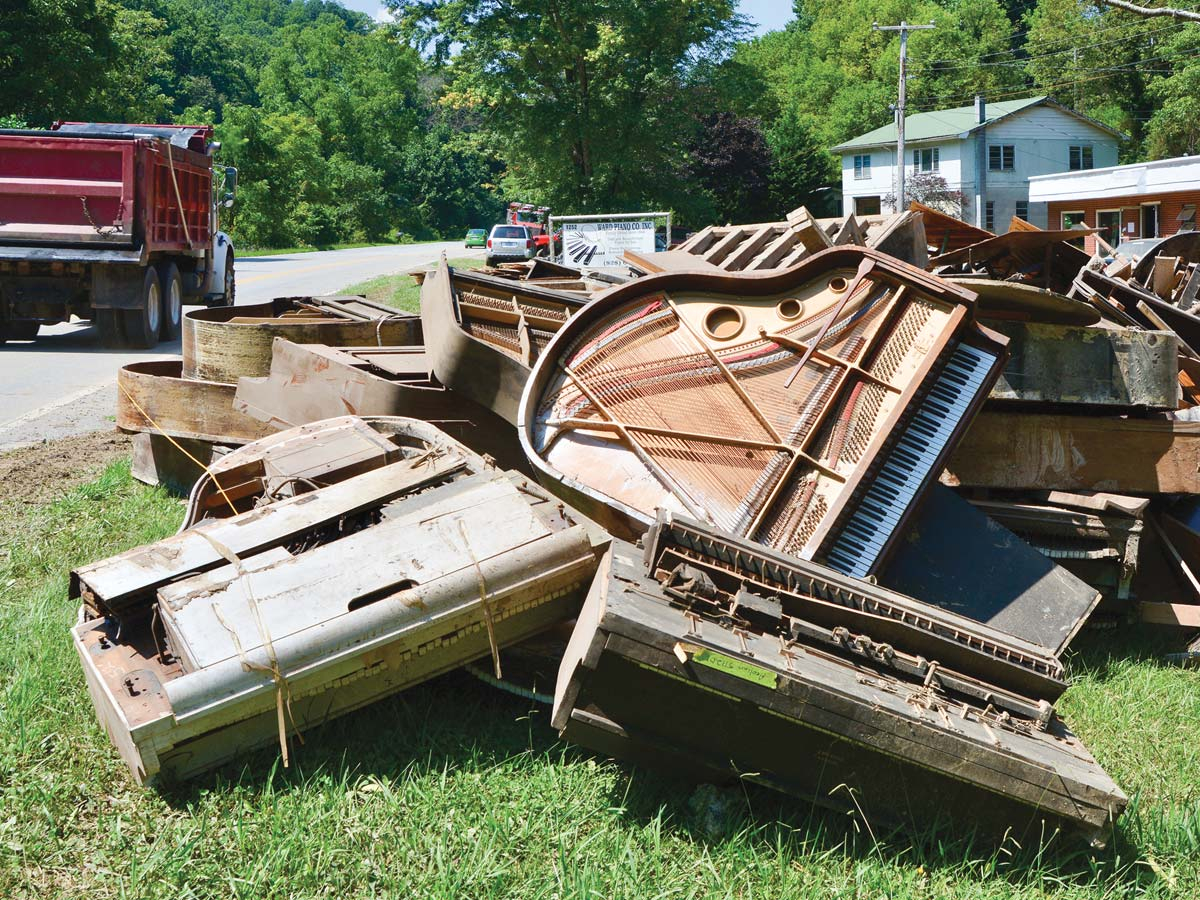 Pianos piled outside of the Ward Piano Company in Canton are a testament to the devastating floods in Haywood County last summer. Cory Vaillancourt photo
This year was a challenging year in so many ways, but that was especially true in Western North Carolina.
While still dealing with the remnants of a global pandemic as well as the greatest threat to American democracy since the War of 1812, residents of Haywood County (and, to a lesser extent, Buncombe County) were also subjected to flash flooding that killed six and displaced hundreds.
On Aug. 17, heavy rains began to fall and by late that afternoon, dozens of people in Bethel, Canton, Clyde and Cruso were already trapped.
Fire, EMS and law enforcement agencies sprang into action as elected officials worked up the chain of command to secure resources and aid. Volunteers and churches immediately began setting up temporary shelters and processing donations of food, clothing and personal hygiene products. Restaurants, bars and musicians quickly scheduled fundraisers. Private citizens – rather than run from the mucky mess that coated the eastern part of the county – ran towards the devastation, helping strangers shovel mud from flooded basements and recover family heirlooms, like photo albums, that had been washed away in the furious floodwaters.
Such was the outpouring of support in this tight-knit region that at one point, Haywood County officials had to ask people to stop donating items because there wasn't enough space to store them. In the end, nonprofit Hope for Haywood raised more than $1 million towards recovery efforts, and a charity concert hosted by Haywood County's own Balsam Range embodied the "grit and grace" of a county that's used to being kicked when it's down, but ultimately refuses to stay down.
Chances are, you're one of the people mentioned above—– a first responder, an elected official, a volunteer, a donor, a concertgoer, a business owner. You didn't have to help. But you did. You're the reason this community is now stronger than it was before the flood, and the reason why there's now a real, enduring meaning to the hashtag, #HaywoodStrong.