Archived News
New Register of Deeds in Jackson County
Wednesday, November 24, 2021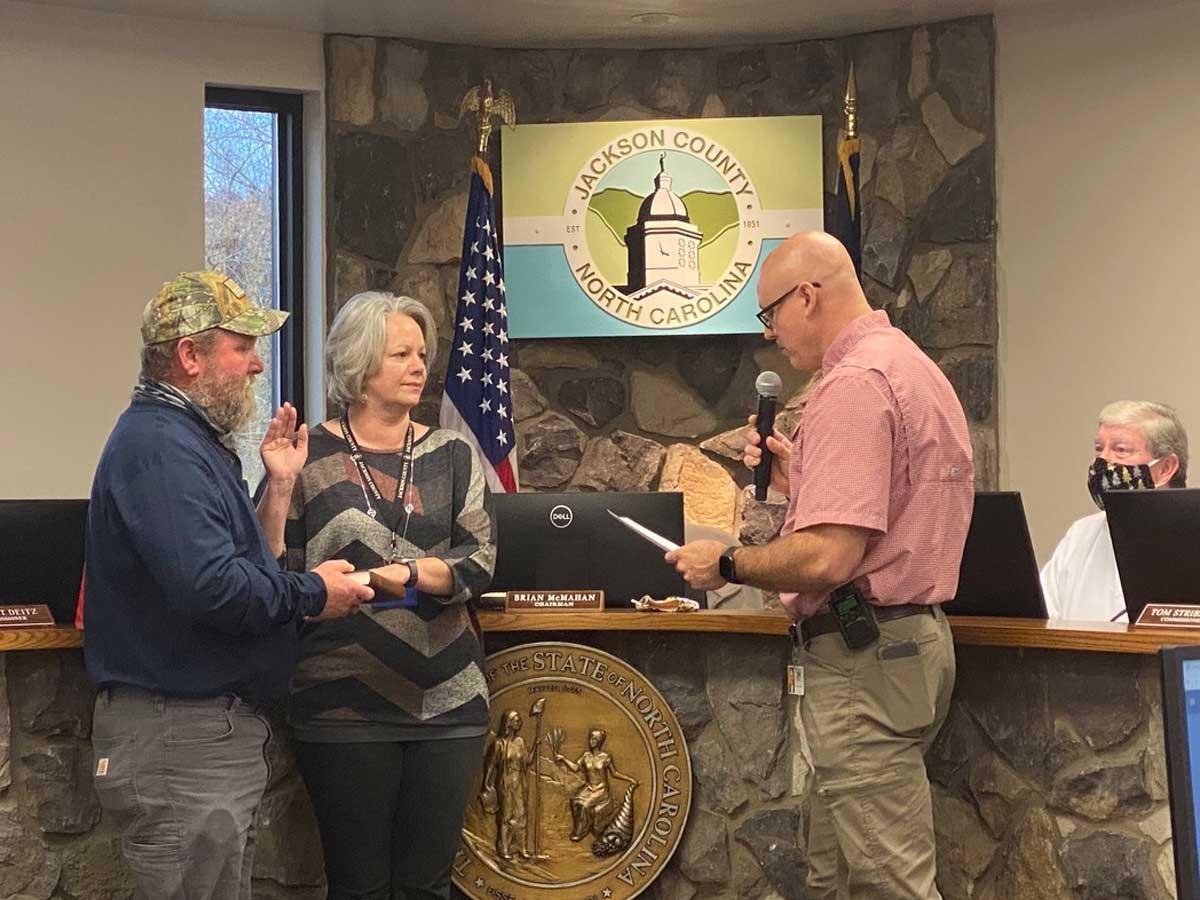 Shandra Sims is sworn in as register of deeds by Jackson County Commission Chairman Brian McMahan.
Shandra Sims will serve as the new register of deeds for Jackson County after being sworn in Thursday, Nov. 18. Her appointment was approved unanimously by Jackson County Commissioners.
"Thank you guys, it's an honor and a privilege to be in this position and I just want to continue serving the citizens of Jackson County and doing what we've been doing," said Sims, addressing the small crowd in attendance as she was sworn in.
Sims previously served in the position of Deputy Register of Deeds for Jackson County and worked alongside outgoing Register of Deeds Joe Hamilton.
Hamilton, a Democrat, retired from the post in October, after which it fell to the Democratic Party of Jackson County to select a candidate whose appointment would be ratified by Jackson County Commissioners. According to North Carolina statute, when a vacancy is created in the position of register of deeds, the party of the outgoing register of deeds is responsible for selecting a candidate to fill the vacancy.
"The Jackson County Democratic Executive Committee met on Nov. 16, 2021, to consider a nomination to present the county commission. The committee followed the process prescribed in its state parties plan of organization, section 12.08 2.01 to 2.02 and selecting the person to recommend on his behalf. I'm pleased to recommend Ms. Shaundra Sims as our choice to complete the term of Joe Hamilton. She was chosen by acclamation," said Travis Cody Lewis, Chair of the Jackson County Democratic Party in a letter to the board.
Hamilton had served as register of deeds in Jackson County since 1998.
Sims is from Jackson County. She grew up in Webster and now lives in Cullowhee. She began working in the Register of Deeds office part time in 1994 and had been the deputy register of deeds for 21 years at the time of her appointment to register of deeds. Sims does plan to run for election to the office in 2022.