Archived News
Corbin will run for re-election to Senate, not NC-14
Monday, November 22, 2021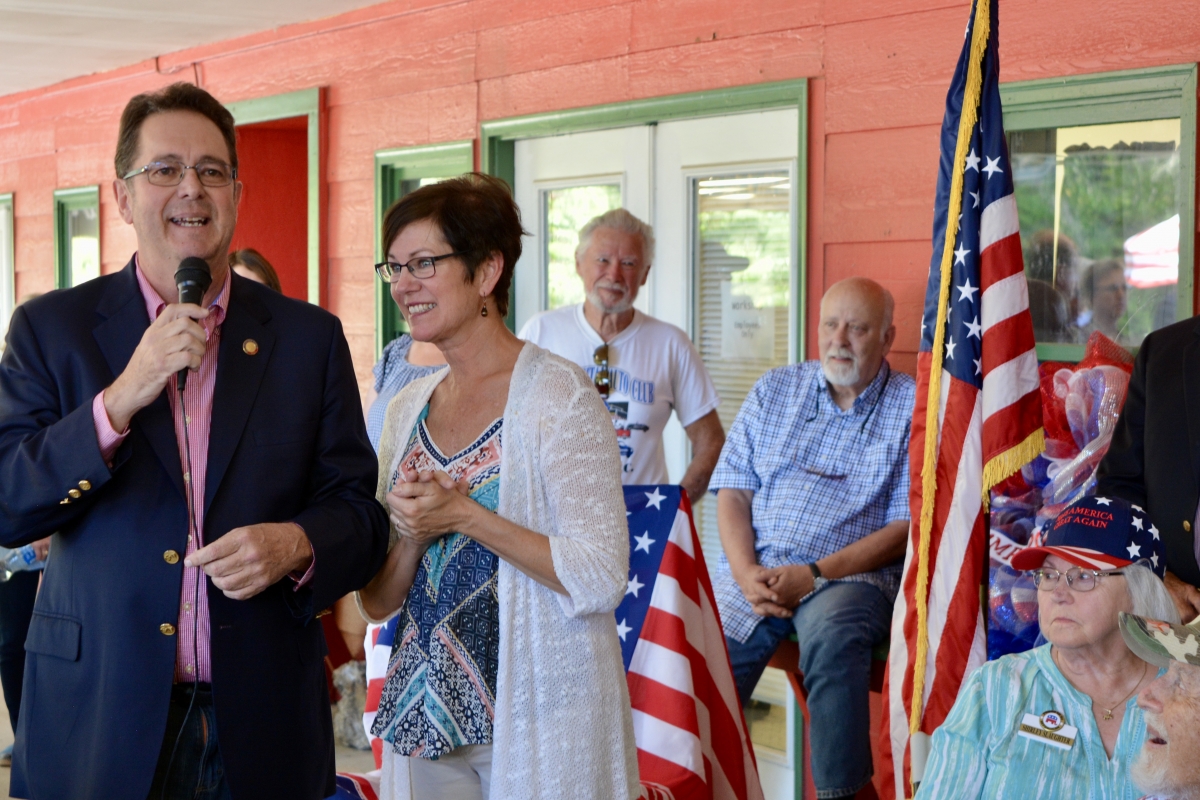 Kevin Corbin (left) announces his candidacy for Senate District 50 in September, 2019.
Cory Vaillancourt photo
Saying that he feels he can "offer more to the citizens of Western North Carolina as a senator than as a freshman congressman," Franklin Republican Kevin Corbin has removed himself from the milieu of Republicans supposedly seeking the 14th Congressional District seat.
Corbin is in his third term in the North Carolina General Assembly and his first in the Senate, after years of service as a Macon County commissioner and school board member. During his two House elections, he won with vote totals above 72%.
Last year, Corbin took the Senate seat of retiring Franklin Republican Jim Davis with 66% of the vote in a district that comprises much of the 14th Congressional District.
"I thank all those involved for helping to craft this decision to seek re-election to the N.C. Senate and not make a run for Congress at this time," Corbin said in a statement Nov. 22. "I'll not say 'never,' but just not now."
That decision came on a very short timeline, as Corbin said he was unaware of Rep. Madison Cawthorn's post-redistricting plan to leave NC-14 and run in the newly drawn NC-13 until he heard about it in the media on Nov. 11. Filing for the 2022 elections begins Dec. 6 and ends Dec. 17.
After consulting with family, friends and political analysts from Raleigh to Washington, Corbin felt a win was "very likely" but that his prospects for continued service in the Senate would be more valuable to his seven-county Senate district, if he's re-elected next year.
"My freshman term in the Senate has been extremely successful and I have worked extremely well with representatives — [Karl] Gillespie, [Mike] Clampitt and [Mark] Pless — that have House seats within my current seven-county district," Corbin said. "Through hard work and relationship-building, we have brought more capital improvements to this district than we even thought possible just a year ago."
The current Republican Primary Election field stands at four, after NCGOP District 14 Chair Michele Woodhouse declared her intent to run on Nov. 18. Wendy Nevarez, Bruce O'Connell and Rod Honeycutt all launched their campaigns months before Cawthorn's announcement.
A trio of senators, Deanna Ballard (R-Watagua), Chuck Edwards (R-Henderson) and Ralph Hise (R-Mitchell) are still rumored to be interested. Ballard and Hise were drawn into the same Senate district, so a move by one of them would make sense.
Six Democrats are also vying for the seat, which based on 2020 vote totals for Donald Trump, is still a +8 for Republicans.