Archived Outdoors
Canton's catalyst: Chestnut Mountain aims for April open
Friday, November 12, 2021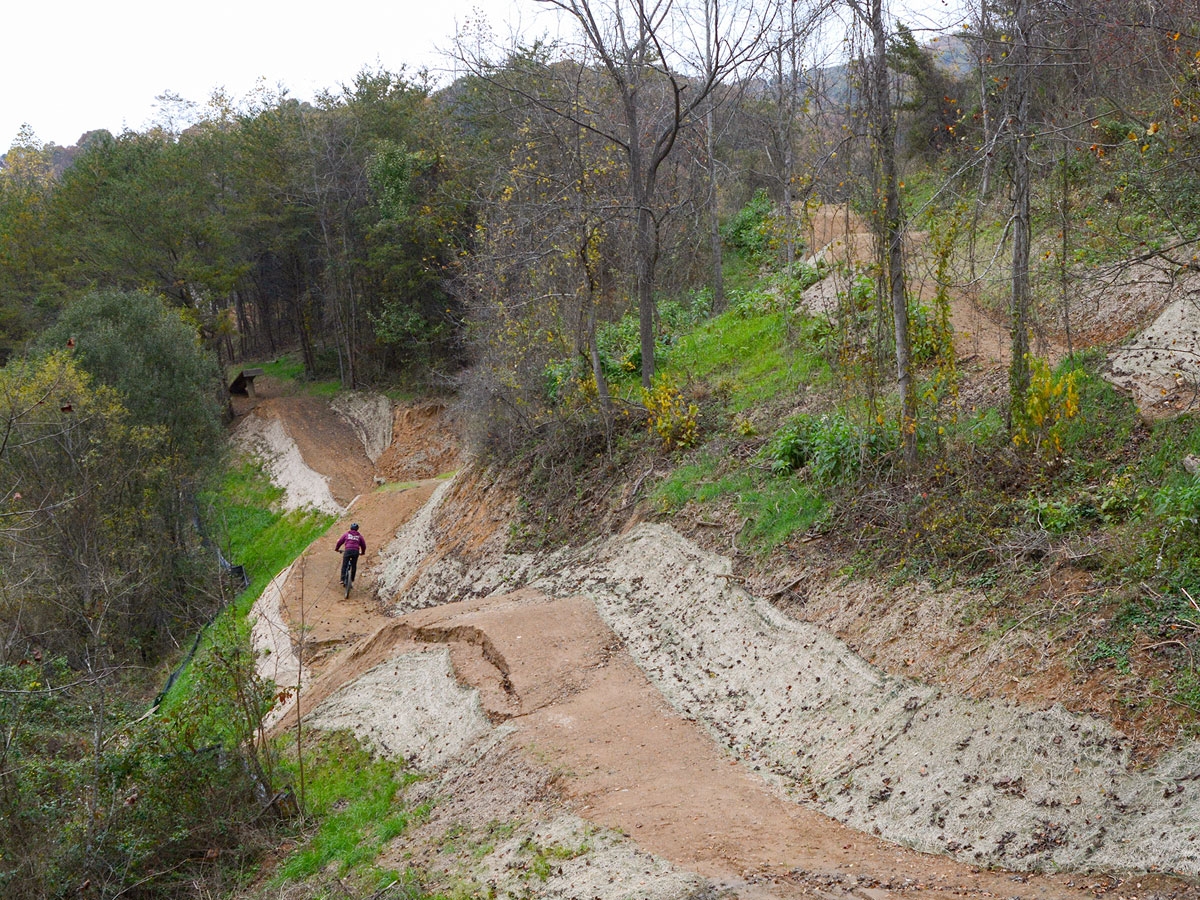 After weathering a flood and a lingering pandemic, the Berm Park bike skills course is expected to open to the public this spring. Holly Kays photo
Seth Alvo makes defying gravity look easy. Pushing off on his mountain bike, he gathers speed on a rolling portion of Berm Park's double black diamond trail, careening around a curved berm until it joins a vertical wall. The bike lifts off the berm and, for just a moment, rolls perpendicular to the wooden boards before a solid landing again submits it to gravity's rule.
"I've been doing wall rides since I was a kid," said Alvo. "So it just feels kind of natural. But I think the best way to describe it is you have to get comfortable orienting your body in the same direction as the wall."
Alvo, an Asheville resident who also happens to be the most popular mountain bike YouTuber in North America, hopes that kids and adults regionwide will soon start developing a similar comfort with mountain bikes and the possibilities they bring when Berm Park — a bike skills park within Canton's larger Chestnut Mountain property — opens this spring.
"They're already doing it the right way in other parts of the country," Alvo said of public bike parks in general. "We know what works. And so we're excited to demonstrate it here and to show how everybody can be happy if you just do it the right way, and you plan from the start."
Building Berm Park
When Alvo first started his Patreon account in 2016, his YouTube channel Berm Peak was still young, and he depended on his supporters' monthly subscriptions to help pay his bills. But as the channel grew, attracting ads, sponsorships and deals with companies, Alvo started questioning whether he should continue pocketing the Patreon money. Eventually, he decided, it was time to put his money where his mouth was and use the $4,000 coming in each month to build a public bike park. He approached Canton with the idea, and town jumped on it.
Alvo had wanted to open the park this fall, and while Berm Park itself is all but done, there are a few final touches and administrative green lights to go before welcoming the public.
Funded by Alvo's Patreon subscribers — as well as dedicated sponsors for each of the five trails — the "park within a park" is designed by Asheville-based Elevated Trail Design . With a set-up analogous to a downhill ski resort, Berm Park consists of five short trails of varying and clearly marked difficulty levels, with climbing trails leading back to the top. The idea is that riders will do multiple loops per visit, honing their skills with each circuit.
The park aims to be enjoyable for all riders, from children trundling around the flat beginner's loop at the top to pro riders shooting off a 10-foot drop while performing mid-air tricks. Within each circuit, riders face choices that can make the loop harder or easier, depending on their skill level, with strategically placed "squirrel catchers" — a term for intimidating-looking obstacles designed to scare off unprepared riders — keeping bikers from getting too far down loops they're not ready for.
"You make those (squirrel catchers) safe, but intimidating," Alvo said. "And then they're like, 'OK, maybe I'm not ready for all that.' But it's surprising how few people get overconfident."
Setbacks from Fred
Berm Park will be the first attraction to open on the 450-acre property known as Chestnut Mountain Nature Park, but it will be far from the last. Last year, the Town of Canton completed a master planning process for the property that calls for miles of backcountry trails, overnight shelters, picnic areas, a greenway trail, event lawn and more — all located adjacent to U.S. 23 just over 2 miles from downtown.
"As a town, we recognize that it's an unbelievable opportunity," said Town Manager Nick Scheuer. "It's 2 miles and a quarter from downtown, and the impact that it can have on us and the quality of life can't be overstated."
After two years of behind-the-scenes planning, The Southern Appalachian Highlands Conservancy bought the property in June 2020 from the previous owners, Canton Motorsports LLC, intending to transfer it to the Town of Canton within a year for development as a recreation park in partnership with Haywood County. Excitement quickly gathered around the project, and while the ownership transfer is not yet complete, the town has maintenance and construction agreements with SAHC to move forward with development while the bureaucratic wheels continue turning.
Before transferring the property — and allowing public access to it — SAHC has to raise money to pay off the final $214,000 of its $3.52 million project cost, and the state has to approve the conservation easements SAHC is proposing for the property. The conservation easements are currently in the state's legal review process, said Conservation Director Hanni Muerdter. SAHC also wants Canton to complete an operations plan guiding day-to-day activities before handing over the deed.
"I don't think we can say a definite date at this point," she said, "but 2022 is when by all means we hope it will be open, and we're just working on the steps to get there."
Those steps suffered a setback in August, when record-setting floodwaters swept through downtown Canton, destroying homes, businesses and millions of dollars-worth of town infrastructure. Though Canton residents were spared the human death toll that affected nearby Cruso, the aftermath was devastating — and for town officials, all-consuming.
"We haven't been able to put as many resources — whether that be time or money — into Chestnut Mountain because we're deep in that recovery process," said Scheuer. "Between myself and our finance director, we could spend 100% of our time on flood recovery at this point."
The floodwaters also impacted the park directly. Tropical Storm Fred compromised an emergency access bridge over Hominy Creek, stripped gravel from the newly completed parking lot, triggered at least three landslides on the property and destabilized Berm Park's brand new trails — Elevated Trail Design had to come back and repair them.
The flood also challenged town leaders' ability to devote the time necessary to move the project forward and caused uncertainty in the town budget. In June, Canton's board approved a 2021-2022 budget that included $300,000 for development at Chestnut Mountain, but with more than $10 million in damage to town infrastructure, Scheuer was reluctant to spend those funds.
"While we feel comfortably optimistic about being able to utilize those funds in the next few months, we're still in the wait-and-see period, because we have to make sure we understand what FEMA will reimburse us for," he said.
But the flood also underscored the value of the Chestnut Mountain project. The raging waters destroyed many facilities at Canton's in-town recreation park and damaged its pool. The town is working to get those amenities back online, but it's slow work due to the manifold processes required to secure reimbursement from FEMA. Chestnut Mountain isn't constrained by that kind of bureaucracy.
"It is one of the only recreational facilities that we have that we can anticipate opening up relatively soon," said Scheuer. "A lot of them is just a hurry up and wait situation with FEMA."
Seth Alvo, the Asheville YouTuber who spearheaded the Berm Park project, flies off one of the course's most impressive obstacles. Holly Kays photo
Funds for Chestnut Mountain
The full vision for Chestnut Mountain will take about two years to build out, but if all goes as planned visitors will see new amenities added throughout 2022.
Right now, said Scheuer, it looks like the property will open to the public in April or late spring, giving access to Alvo's Berm Park project, with additional hiking trails likely opening a couple months later.
Earlier this year, the town completed a new parking lot alongside U.S. 23. A decorative arch over the robust bridge originally built to handle trucks hauling NASCAR racecars leads to the climbing trail that hikers and bikers alike will use to reach the main trailhead 200 feet above. Before the park opens, the town will build a bikes-only descent trail to prevent downhill cyclists from colliding with pedestrians.
Funding from the Haywood County Tourism Development Authority paid for the existing entrance sign, and Canton is applying for additional grants for wayfinding signs within the trail system, as well as marketing efforts to get the word out about Chestnut Mountain and nearby Canton.
Then there's $30,000 that Haywood Waterways Association received from the Pigeon River Fund and $177,000 from the N.C. Land and Water Trust Fund for creek restoration, invasive plant removal and development of creek access points. Stream restoration is important not only for ecological reasons, but also for recreational reasons. The streamside portion of the park will be the centerpiece of the frontcountry development — to get it ready, Haywood Waterways recently led a litter pickup event there.
The town has also requested hundreds of thousands of dollars in additional grant funding, planning to use the budgeted $300,000 for parts of the master plan that grants won't cover.
If awarded, a $500,000 request from the N.C. Parks and Recreation Trails Fund could prove pivotal for the project. Chestnut Mountain did not receive funding in the first round of awards issued in 2021, but due to the state government's continued failure to pass a budge, the level of available funding hasn't changed in the past year. If a new state budget passes soon, Scheuer is hopeful that recent funding packages from the federal government will mean growth for PARTF funding.
"The conversations we have had with the PARTF staff have been that if the PARTF budget gets funded at the projected budget amount and if we ever get a state budget, then there's an opportunity to have projects like ours funded," said Scheuer.
If fully funded, the requested $500,000 would pay for trails, overlooks, a frontcountry pump track, a picnic pavilion with restrooms, a playground and additional signage. The town has also applied for a $100,000 N.C. Recreational Trails Program grant for backcountry hiking trails and single-direction mountain biking trails on the property.
"I think that Chestnut Mountain will be actively worked on for the next two years, but if we got the PARTF and RTP grants, that could accelerate and we could build out the majority of the park within the next year," Scheuer said.
In addition to funding its master plan, the town is also scoping out possibilities for the 3.3-acre parcel it bought adjacent to the Chestnut Mountain property. It currently holds a small white building and decrepit parking lot, all of which will eventually be bulldozed to make way for a new enterprise designed to complement the park.
"I can't speak too much to it at this point in time, but we've been approached by multiple interested parties," said Scheuer.
Ideas include turning the property into a restaurant, brewery, bike shop or visitor center, and the town has approached various nonprofits about potentially funding a low-cost bike rental fleet to lower the sport's barrier to entry. Whatever happens, the town plans to retain ownership of the property and rent it through a long-term lease.
'A new Bent Creek'
The Berm Park project has given Alvo a new perspective on the luxury Ferrari and Lamborghini cars he occasionally sees on highway cruises. All told, the Berm Park trails — not counting Canton's contributions like master planning, access trails and parking — cost about $220,000, similar to the price point of a luxury car.
"Why would somebody ever buy a car that costs $200,000 when you could build a park?" he said.
A park is more impressive than a car, and more permanent, he said — plus it benefits the whole community, from young to old.
Alvo, who has an 8-month-old daughter, is particularly enthusiastic about Berm Park's potential to benefit kids. A Nov. 1 study from JAMA Pediatrics found that early in the pandemic, average daily screen time — not including virtual school — more than doubled from the pre-pandemic estimate of 3.8 hours per day to 7.7 hours per day. Other studies suggest that screen time remained high even after quarantine restrictions lifted, the paper said.
Though most of his YouTube subscribers are in their 30s or thereabouts, younger fans are "disproportionately stoked" about Berm Park, Alvo said.
"I love single track, and I love the natural experience if you're going for that," he said. "But if you're trying to talk a kid into not being on their iPad and you're like, 'Hey, want to get really sweaty and climb for three hours?' it's a tough sell. So this is a way easier way to get into it."
It's not just about bikes, though, or even just about kids.
"Though some of the biking trails will be completed first, this Chestnut Mountain Nature Park is planned to not just have biking trails, but other experiences for different people, ages, families, schools and abilities to enjoy getting out into the 450 acres of forested landscape," said Muerdter. "Walking/hiking-only trails are also planned, as well as a lower-elevation experience for people to enjoy the area around Hominy Creek."
And key to it all is accessibility. Chestnut Mountain is just 2 miles from Canton, and 20 minutes from Asheville, right off a U.S. highway. It's the kind of place people can swing by to blow off steam after work, take their kids at the end of the school day — or budget a whole weekend to backpack the trail system.
It remains to be seen how the park will benefit Canton's economy and quality of life, but Scheuer expects it will be transformational.
"We're essentially bringing online a new Bent Creek or a new DuPont," said Scheuer. "It's an amazing opportunity to measure the impact."
Learn more
The town's full vision for Chestnut Mountain is outlined in its master plan, available at bit.ly/2NN10u6.
Help the effort
The Southern Appalachian Highlands Conservancy is still trying to raise $214,000 to cover its $3.52 million cost of acquiring the land. To donate, visit appalachian.org.