Archived Outdoors
Land trust closes on 448 acres for outdoor rec in Canton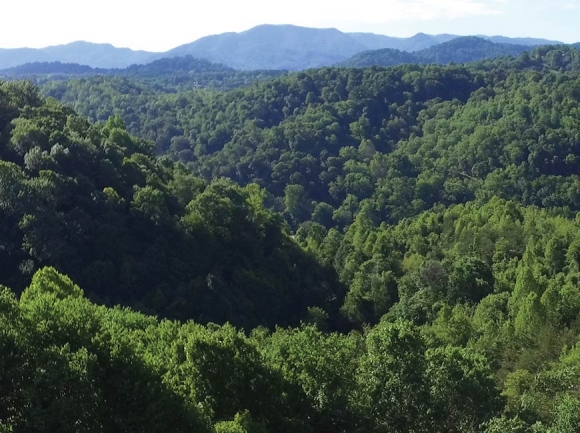 The 448 acres included in the purchase contains a variety of elevations and habitat types. Adams Wood photo
After a year of planning, the Southern Appalachian Highlands Conservancy has closed on a 448-acre purchase in Haywood County that it plans to gift to the Town of Canton as an outdoor recreation area.
"This property is dynamic, with a mosaic of habitat types — which is really good for wildlife — and different settings for people to enjoy various types of experiences on the land," said Hanni Muerdter, SAHC's conservation director.
The Chestnut Mountain property, previously known as the Canton Motorsports property, starts at 2,360 feet in elevation at U.S. 19/23 and rises to 3,400 at the peak of Chestnut Mountain. It contains pockets of mature hardwood forest with laurel and rhododendron, forested slopes facing a variety of directions, and an open field and early successional edge area beneficial for birds. Muerdter described the amount of wildlife activity on the land as "truly impressive."
Funding for the purchase includes grants of $1.2 million from the Clean Water Management Trust Fund, $25,000 from the Pigeon River Fund of the Community Foundation of Western North Carolina and $150,000 from the N.C. Department of Justice Environmental Enhancement Grant. SAHC will begin the process of transferring the property to Canton once it raises the $300,000 needed to pay back a bridge loan from The Conservation Fund that allowed SAHC to close on the property.
Environmental design firm Equinox will lead a public input process to help identify the best uses and highest outdoor recreational needs for the area, and the company Elevated Trail Design will help implement features identified by public input into a blend that works well for residents, visitors, the local economy, and conservation. An advisory committee of community members has been assembled to help guide the process, including public input.
To submit opinions on park use and design, fill out the survey at www.cantonnc.com by June 26, and to donate towards repaying the bridge loan, visit www.appalachian.org. To learn more about the project, read the previous story by The Smoky Mountain News at https://bit.ly/2xi0xlq.