Archived News
Newman, Gelbaugh triumph in Sylva elections
Friday, November 12, 2021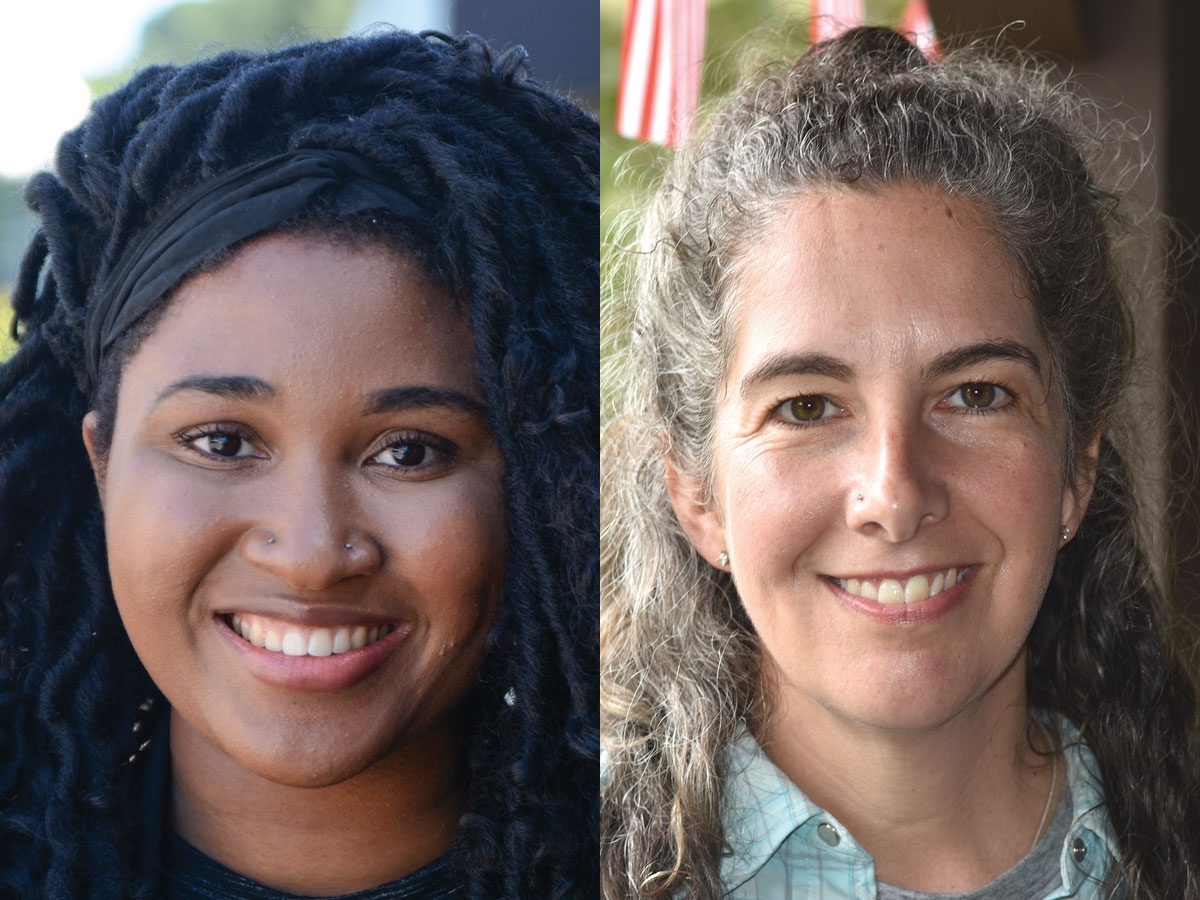 Natalie Newman (left) and Mary Kelley Gelbaugh.
Beating out two incumbent board members, Natalie Newman took the top spot in last week's Sylva Board of Commissioners election .
She and incumbent Mary Kelley Gelbaugh, who came in second, will serve through 2025. Mayor Lynda Sossamon ran unopposed and will also remain on the board.
"I did a lot of campaigning," Newman said. "We really tried to get my name out there and let people know who I am, and that's the biggest thing, I think, is name recognition — to let people see your name and know that you really want it. I think that's what it came down to."
Newman ran a write-in campaign in 2019, but this is her first time appearing on a ballot.
When new commissioners are sworn in at 5:30 p.m. Thursday, Dec. 9, she will become the first woman of color to hold elected office in Sylva. Danny Allen became the first African American to hold elected office in Jackson County when he joined the town board in 2001, said Town Manager Paige Dowling.
At 29, Newman is also one of the youngest — if not the youngest — people to win the position. However, Sylva has a tradition of electing younger people to its leadership board. Gelbaugh was 34 when she won her first election in 2013, and Commissioner David Nestler was 30 when first elected in 2015.
Unofficial Election Day totals had Newman in first place with 141 votes, or 29.38% of the total cast. Gelbaugh secured 125 votes in the unofficial tallies, edging fellow incumbent Barbara Hamilton by just five votes.
Carrie McBane finished fourth with 79 votes, and Luther Jones, whose decision to withdraw from the race came after the deadline to remove his name from the ballot, received 15 votes.
Results won't be final until the Jackson County Board of Elections completes its canvass, beginning at 11 a.m. Friday, Nov. 12. However, the ranking is unlikely to change. The margin between Gelbaugh and Hamilton falls outside the 1% distance required to trigger a recount, and the board will have only two provisional ballots and one absentee ballot to review Nov. 12 — not enough to overcome the five-vote separation.
While narrow, the results are infinitely more decisive than those of the 2015 and 2019 elections — both years, a coin toss was required to decide between two tied candidates. The 2021 election was more contentious than 2017, when Gelbaugh and Hamilton retained their seats after running unopposed.
Voter turnout clocked in a 16.5%, with 249 of 1,511 registered voters casting a ballot — slightly less than the 256 people who voted in 2019.
The next four years could well prove pivotal for the small town, not least due to the N.C. 107 road project. The new commissioners will see Sylva through a period that will include a hugely disruptive right-of-way process and the first year and a half of a construction process estimated to last three to four years.
Other key issues will include guiding trail development and tourism at Pinnacle Park, addressing ongoing labor and housing shortages, and continuing to shepherd Sylva through the ongoing COVID-19 pandemic recovery. The new town board will also inherit the deep divisions left behind following last year's debates about the proper framing of Confederate history and an ongoing conversation about what law enforcement should look like in the small town.
In a pre-election interview , Gelbaugh said that her top three priorities if re-elected would be to complete the sidewalk project on Skyland Drive, support businesses adversely affected by the N.C. 107 project, and improve affordable housing options. Newman named the Allen Street project, housing and labor shortage issues, and acting as a listening ear for community members as her top priorities.
Dillsboro, Forest Hills and Webster also held elections last week. All candidates in those contests ran unopposed.
The results
Natalie Newman 141 votes (29.38%)
Mary Kelley Gelbaugh 125 (26.04%)
Barbara W. Hamilton 120 (25%)
Carrie McBane 79 (16.46%)
Luther Jones 15 (3.13%)