Archived News
Guiney joins Sylva board with a coin flip
Friday, November 15, 2019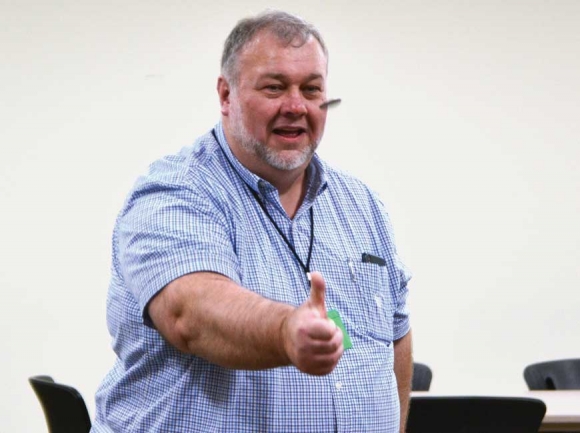 Elections Chairman Kirk Stephens throws a silver dollar in the air. Cory Vaillancourt photo
For the second time in three election cycles, a coin flip decided the outcome of a Sylva town board race.
After tying for third place with Carrie McBane, Ben Guiney took the last of three available seats on the board after winning a best-of-three coin flip against McBane.
There were three town board seats up for election in this year's race, with unofficial totals showing Commissioner David Nestler coming in first with 155 votes. However, the second through fourth-place finishers were much closer together, with Commissioner Greg McPherson drawing 110 votes and challengers McBane and Guiney tying with 106 votes, according to Election Day totals.
That tally meant that Nestler was the only one guaranteed a seat on the board as of election night. The count excluded some votes, such as provisional ballots, and the two remaining seats could easily have gone to McPherson, Guiney or McBane.
The Board of Elections met Friday, Nov. 15, to conduct a final count, approving three of the eight provisional ballots cast in Sylva and also finding that two curbside ballots cast during early voting and one absentee vote had not been included in the Election Day totals. This created a potential six-vote swing. By the end of the process, Nestler and McPherson had held onto their first- and second-place finishes, but McBane and Guiney remained tied for third, this time at 108 votes.
A coin flip, best out of three, was used to break the tie. While McBane called tails to win the first round, her next two calls of the silver dollar thrown by Jackson County Board of Elections Chairman Kirk Stephens were incorrect, causing the seat to go to Guiney. Guiney was not present for the coin flip.
"I'm really looking forward to working with the other board members to keep the momentum of Sylva moving the way it has been," said Guiney.
While she didn't win a seat on the board, McBane said she plans to say involved in local politics.
"What's next is that I get to go back to the work that I love, being a community organizer," she said. "What's next is that I continue or actually step up even more and check the processes that our local and county boards are doing. I make sure I show up at the meetings, and if it's something I don't understand or something I disagree with, then I need to make sure that I'm asking questions."
It's not the first time in recent history a Sylva town board race has been decided by calling heads or tails. McPherson won his seat in 2015 after a coin toss broke his tie with Charlie Schmidt. To Guiney, that's evidence that more Sylva residents need to get to the polls. Just 16.9 percent of Sylva's registered voters cast a ballot this year, with a countywide turnout of 16.57 percent in 2015 — Sylva-specific turnout numbers for that year are not available.
"I would love to see more turnout, and I don't know if there's anything the Sylva town board can do to get people more engaged and out there," said Guiney. "Folks are busy, but their local town board has a bigger impact on their life than national politics for sure."
The lackluster turnout came despite concerted efforts to the contrary. The well-funded group Down Home North Carolina endorsed three candidates in the race — Nestler, McPherson and McBane — spending money on advertising and door-to-door canvassers. Say No To The Road, a group organized around opposition to the N.C. Department of Transportation's plans for N.C. 107, also endeavored to rally voters, urging its supporters to cast their votes for candidates who would oppose the road plans. Of the six names on the ballot, McBane was the only one who fit that description, though the group also supported two write-in candidates who drew a combined 77 votes, according to official totals.
"It was interesting they couldn't rally more folks," said Guiney. "It was really that upswell of not wanting to redo the road, and in the town of Sylva I would have expected a higher turnout than that."
With Nestler and McPherson returning to second terms, Guiney will be the only new face on the board. He will replace longtime Commissioner Harold Hensley, who decided not to run for another term. Guiney is an emergency room doctor and a member of the town's planning board, though he will give up that seat upon taking office.
This year's winners will be sworn in during the town's regular meeting at 5:30 p.m. Thursday, Dec. 12, at the Sylva Town Hall.
Final results
Following a final canvass of votes held on Friday, Nov. 15, every candidate for Sylva town board picked up a few votes, though those changes did not cause any shift in ranking. Italics indicate winners.
• David Nestler, 160
• Greg McPherson, 111
• Ben Guiney, 108
• Carrie McBane, 108
• Luther Jones, 72
• Danny Allen, 68
• Natalie Newman (write-in), 41
• Charlie Beam (write-in) 36