Archived Outdoors
'Stronger than I thought': Wheelchair-bound tribal member takes cycle trip along Trail of Tears route
Wednesday, November 03, 2021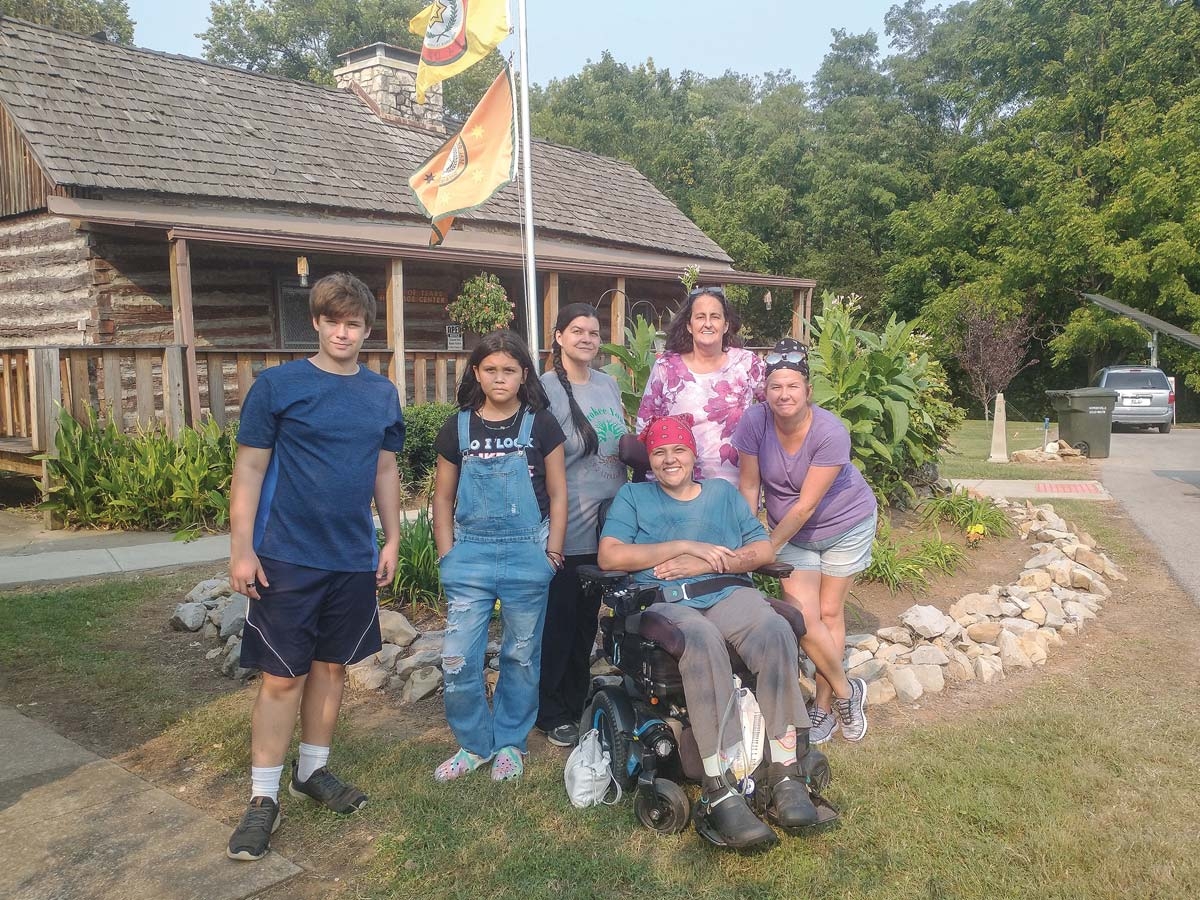 Maranda Bradley and her crew pose for a picture at the Trail of Tears Heritage Center in Hopkinsville, Kentucky. Donated photo
As the September start date for Maranda Bradley's long-planned bicycle ride along the Trail of Tears approached, its carefully woven threads began to unravel, and Bradley's nerves began to fray.
"Mentally I wasn't really in a good place as far as, 'Is this going to happen? What are we going to do?' because I had so many people just drop out on me," she said.
Every year, enrolled members from the Eastern Band of Cherokee Indians and Cherokee Nation cycle the 950-mile route once used to march thousands of Cherokee people from their Appalachian homeland to the prairies of Oklahoma. The three-week Remember the Removal trip is held every June following months of physical and cultural preparation for selected riders, and it was an experience Bradley yearned to have.
But Bradley's legs are paralyzed, the result of spinal cord injury sustained during a 2015 car accident. She uses a wheelchair to get around. Cycling the Trail of Tears seemed an impossible dream.
Incredibly, the pieces to make that dream come true fell into place. A pair of grants paid for a $5,800 handcycle, a bike that the rider powers with their arms rather than their legs. A friend of the family offered to cover the cost of a 14-passenger van for use as a support vehicle. And a providential wrong turn introduced her to a paracycling expert who adapted the new bike for her particular needs. Inspired, Bradley worked to get her body in shape.
Everything seemed set. She had the bike, she had the drive, and she had a whole team of people offering to see her through the month-long adventure. But as the date drew closer, support waned. People began to drop out of her entourage, and her fundraisers proved less successful than hoped. Finally it was down to Bradley, with her 9-year-old daughter and service dog, plus two aids and her good friend Sarah Buckey whose help was now more vital than ever with the smaller crew. But the friend, who would be traveling with her son, could take only 10 days off of work — not the month Bradley had originally planned.
"It didn't turn out as I wanted it to. Some of it, though, was better than I thought," she said. "If I brought back anything with me it was that I did it, I had a team of people that helped me accomplish this goal, and I'm stronger than I thought I was."
The shortened timeline made it impossible to bike the 950-mile route. Instead, the group drove as much of it as possible, stopping at key points to cycle specific trails. The trip began on Sept. 7 at Kituwah Fields in Swain County, a site revered as the birthplace of the Cherokee people. Skipping the typical Remember the Removal leg that dips down into Georgia, Bradley's crew went straight on into Tennessee, then through Kentucky, Missouri, Arkansas and to the trail's end in Oklahoma, arriving back home on Sept. 17.
Despite the uncertainty, it proved a magical experience.
"It was the trip of a lifetime," said Bradley.
Bradley and her daughter Kristin ride bikes together on the trip. Donated photo
That's not to say there weren't setbacks. From the malfunctioning U-Haul brake lights that delayed the group's departure to the busted van transmission that ended the trip abruptly as the group returned east through Chattanooga, Tennessee, transportation issues caused several stressful moments. While motoring along a trail at the historic Blythe Ferry site in Tennessee, Bradley's power wheelchair slipped, getting her stuck in the gravel. It took four people to get the 400-pound wheelchair back on the road.
The transmission blowout hit her especially hard.
"I cried — 'Why is this the end of our trip? This sucks,'" Bradley said. "But even in that trouble, that hardship, I learned that nothing can stop me."
Once again, her friends came together to help her, one with a AAA membership that greatly alleviated the cost of towing the van home, and another with a huge truck capable of bringing the stranded travelers back to Cherokee.
The trip had its high points, too — and they were incredibly high.
The crew stayed three days in Hopkinsville, Kentucky, where Bradley attended the first pow wow she'd ever been to, despite living in Cherokee, where such events are held regularly. The town also has a greenway trail and houses the Trail of Tears Commemorative Park , where Chief White Path and Chief Fly Smith are buried.
"This was a specific place where the (Cherokee) people camped out for a while, waiting to go on the Removal and from Kentucky," said Bradley. "It felt very spiritual."
Spiritual awareness was a linchpin of the trip, due both to Bradley's strong Christian faith and to the connection to her ancestors that the trek fostered. The Trail of Tears was a brutal experience for its original travelers — Cherokee families who were forced to leave the only home they'd ever known, to march through rain, cold, sickness and grief to an unknown land. Tens of thousands made the trip, and thousands died.
Bradley drew strength from their stories.
"I did cry a couple times on the trip because of the feeling of what our people went through. It's real hard to take that in," she said. "But they overcame things too, and I was like, 'I can do it. I can overcome this.'"
Bradley's "this" is different than that of her ancestors, but it's still hard. Being in a wheelchair changes your life, she said. Normal, everyday tasks like taking a shower or changing your clothes suddenly become formidable challenges. There are places you can't go, things you can't do. Being a single parent, while never an easy task, becomes even harder. As much as she wanted to go on the trip, it scared her too. Traveling in a wheelchair brings with it a type of vulnerability that other people don't experience — she faced a multitude of what-ifs.
But the drive, the stamina and the desire to overcome impossible odds that kept Bradley's ancestors going lives on inside her. And this life-changing adventure reminded her, once again, that time moves forward, and that you don't have to live mired in the weight of the worst thing that ever happened to you.
"It's part of life, it's part of what happened," she said. "But we're not going to stay there in the sadness. Keep moving forward — that's what I chose to do."

Leave a comment
5

comments
Easterseals UCP was thrilled to be able to offer the grant that paid for the recumbent bike for Maranda, and we are so proud of Maranda's accomplishments!

Tuesday, 02/07/2023

Easterseals UCP was thrilled to be able to offer the grant that paid for the recumbent bike for Maranda, and we are so proud of Maranda's accomplishments!

Tuesday, 02/07/2023

Maranda is one of the greatest people I know. Her amazing faith, determination and perseverance are just a few things that stand out...she is a beautiful life and a beautiful reflection of Christ.

Friday, 11/05/2021

Myself Dawn Goodwin was greatly impacted over this history I've been through Indian history In Alabama as a young child to drive this route thinking how many feet traveled this land so far away from their home roots many different tribes at this also not just Cherokee,Choctaw,Creek, I can go on their is more than this an those losing loved ones for weakness from hunger or getting sick because of this couldn't of been easy at all it was the greatest honor to be at my first pow wow there an hope to be at many more

Wednesday, 11/03/2021

Myself Dawn Goodwin was greatly impacted over this history I've been through Indian history In Alabama as a young child to drive this route thinking how many feet traveled this land so far away from their home roots many different tribes at this also not just Cherokee,Choctaw,Creek, I can go on their is more than this an those losing loved ones for weakness from hunger or getting sick because of this couldn't of been easy at all it was the greatest honor to be at my first pow wow there an hope to be at many more

Wednesday, 11/03/2021