Archived News
Between the lines: new districts, new dynamics
Wednesday, November 03, 2021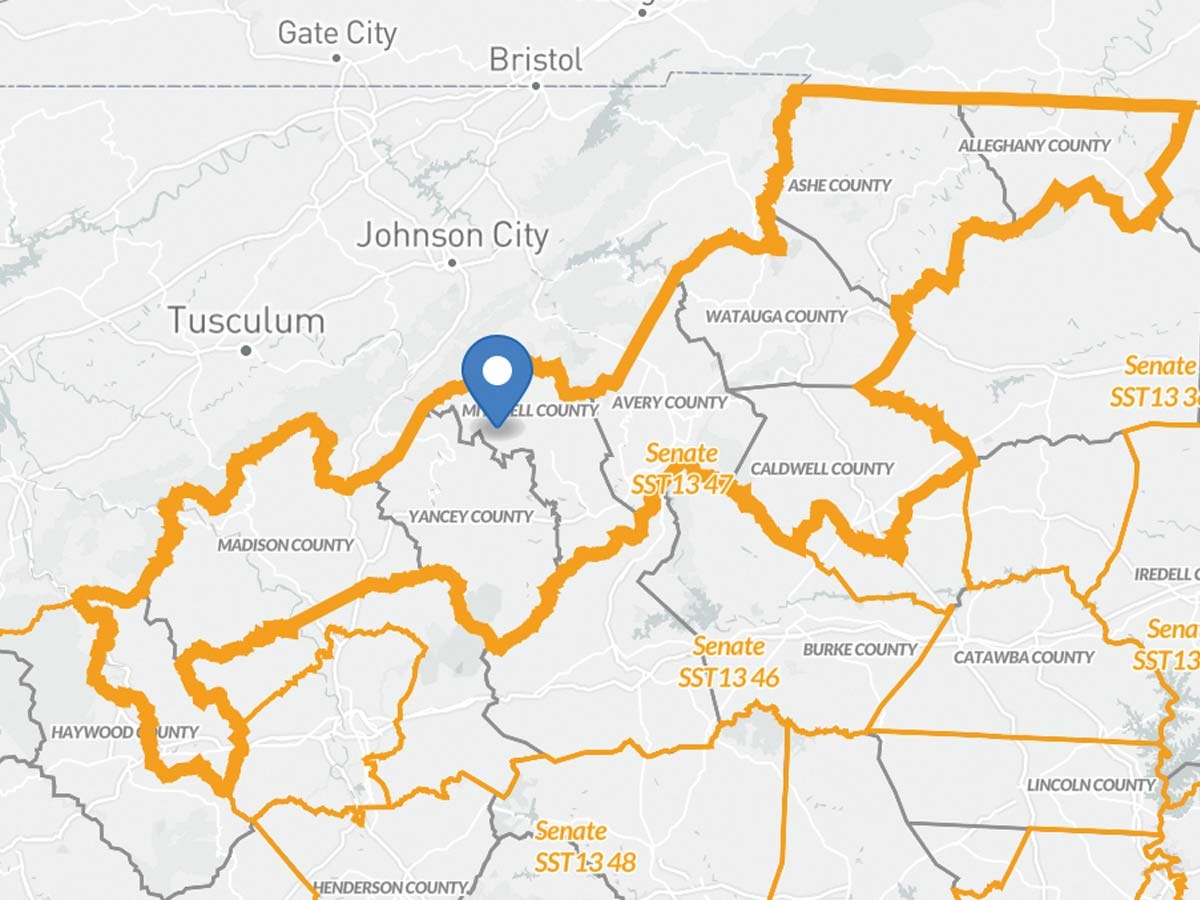 After more than a dozen public hearings and substantial study by the North Carolina General Assembly, the decennial redistricting process in North Carolina is more or less complete.
Action on a new set of maps could come as early as this week, but that may not be the end of it — a lawsuit has already been filed claiming the process is constitutionally flawed, and other lawsuits may follow after the General Assembly adopts the maps.
Now, as the Dec. 6 opening of the 2022 candidate filing period approaches, elected officials, potential candidates and voters will be watching closely to see what final tweaks appear and how they'll affect new districts, with new dynamics.
Source: https://northcarolina.redistrictingandyou.org
For centuries, the United States has carried out a census every decade, beginning in 1790 when the country's population was around 3.9 million people.
That number is most certainly inaccurate, because slaves at the time were counted as three-fifths of a person, and Native Americans weren't counted at all. But since that time, more accurate and equitable results have been implemented so as to inform the census' most basic function — determining the apportionment of federal and state representation.
North Carolina has long been held as an example of what happens when elected officials choose their voters — as opposed to voters choosing their representatives. For more than a century, it was Democrats. Over the past decade, it's been Republicans, who drew maps so convoluted that a court had to throw them out as racial gerrymanders back in 2019.
Seeking to avoid that scenario and lend some durability to the outcome, the General Assembly embarked on a months-long redistricting process marked with unprecedented transparency. That process is now nearing its end.
"They've got the potential maps out there, but there are a whole lot of them so this week they've said they're going to formally vote on which one of these potential maps they're going to select," said Dr. Chris Cooper, the Madison Distinguished Professor and Director of the Public Policy Institute at Western Carolina University. "Obviously they have to select three maps, a congressional map, a House map and a Senate map."
Cooper said that the House and Senate maps are pretty much locked in, thanks in part to something called the Stevenson Clustering Rule , which says that certain counties have to hang together because of population.
Due to Western North Carolina's geography, the Senate and House districts can't change too much, hemmed in as they are by state borders with Georgia, Tennessee, South Carolina and Virginia.
The far-western District 120, for example, is represented by Franklin Republican Karl Gillespie. Comprised of Cherokee, Clay, Graham and Macon counties, 120 won't change a bit.
Source: https://northcarolina.redistrictingandyou.org
It's a completely different story for districts 119 and 118, represented by Rep. Mike Clampitt (R-Swain) and Rep. Mark Pless (R-Haywood), respectively.
Currently, Clampitt's district includes Swain, Jackson, and a sliver running through the center of Haywood County, west to east. Pless' district includes the rest of Haywood County, along with all of Madison and Yancey counties.
As proposed, Haywood County will no longer be split between the two districts.
Instead, Pless' redrawn district will give him all of Haywood County. He'll also keep Madison County, but lose Yancey.
"I love them up in Yancey County. They're all great people. Anybody I've met up there has been good. It didn't really matter which party they were," Pless said. "I mean, I spent a fair piece of time up there. Everybody I've met I really liked. I hate to lose them, but I know this is the process."
Clampitt didn't want to comment on the proposed maps until they're adopted, but if they are, he would lose his sliver of Haywood, which runs up from Balsam in the southwest portion of the county adjacent to Jackson up through Waynesville and Lake Junaluska.
In return, he'd take on the whole of Transylvania County.
Electorally, not much would change for Republicans in either 118 or 119. Using Donald Trump's 2020 vote totals as a guide, Pless' new district would go from 65.6% Trump to 63.1%. Clampitt's new district would actually lean more Republican, from 56.1% to 56.6%.
What would change, however, is the fact that Haywood County currently has two members in the House. It's open to debate whether that's a good thing or a bad thing for constituents.
Source: https://northcarolina.redistrictingandyou.org
"It would make it much easier," Pless said. "In Haywood County, I already try to keep a rapport with the town of Waynesville and of course Lake Junaluska. Those are the big areas that I don't have but [if someone calls with an issue from Clampitt's Haywood constituency], I go ahead and find out the information and depending on what the situation is, I might just handle it or talk to Mike [Clampitt] about it."
Cooper realizes the benefits of having a de facto two-member delegation to the House but expressed concern for voters.
"I think generally it's viewed as not that good of a thing. On one hand, it makes for natural partnerships, so it makes for natural co-sponsors and that is good. But it's confusing to voters. It makes it where they're a lot less likely to know who their legislator is," he said. "In general, we think that split counties and split municipalities are worse for democracy just because they're more confusing. You take a really confusing system, and you make it even more confusing by splitting it up and then obviously every time we redraw lines, it confuses people once again."
It's also easier for county political parties to devote resources to just one candidate instead of two. If the change in Clampitt's map goes through, Haywood Republicans (and Democrats) will be free to focus on Pless.
Regardless, Haywood probably won't have two House members anymore, but if a surprising — and substantial — change to the Senate districts becomes permanent, it will soon have two senators.
Source: https://northcarolina.redistrictingandyou.org
Right now, the 50th Senate District is made up of the seven western counties, Cherokee, Clay, Graham, Haywood, Jackson, Macon and Swain. The proposed map would add Transylvania County to that list, but it would also break off a chunk of eastern Haywood County and put it into another district.
"Haywood County's been part of the 50th as long as anyone can remember," said Sen. Kevin Corbin (R-Franklin), who serves the district.
The proposed map would take from Corbin both Fines Creek precincts, White Oak, Iron Duff, Crabtree, North and South Clyde, and all six of the Bethel precincts. That's about 12,000 voters who went more than 71 percent for Trump in 2020.
The dividing line runs along a north-south axis just to the east of Lake Junaluska, effectively right through the center of Haywood Regional Medical Center campus, which means that visitors to the fitness center could park in one senate district and work out in another.
Importantly, the redraw puts all of Clyde and Canton in District 47, currently represented by Sen. Ralph Hise, a six-term Republican from Spruce Pine, in Mitchell County.
The proposal for Hise's own district is a radical remake. At present, it's a north-south district running from Tennessee to South Carolina, but the proposed District 47 starts in Haywood at the western end and runs northeast along North Carolina's northern border, terminating in Allegheny County just outside Galax, Virginia.
Source: https://northcarolina.redistrictingandyou.org
Losing Clyde and Canton doesn't sit well with Corbin.
"On the record, I'm not happy with that at all," Corbin said. "I'm trying to get it changed."
Indeed, neither Hise nor Corbin have anything to do with the proposal. Corbin stressed he wasn't upset with Hise, who he called a "stand-up guy" and a friend, nor would he have any problem handling Transylvania County.
"To me, that part of Haywood County that's now being put in with Ralph Hise's district doesn't make sense from a representative standpoint," said Corbin.
This past summer, Corbin played a substantial role in Haywood County's flood recovery efforts, both in the General Assembly and on the ground, in precincts he'll no longer represent.
"I cannot speak highly enough about Sen. Corbin's friendship and leadership during some of our darkest hours," said Zeb Smathers, Canton's mayor. "He was there on day one for Canton, Clyde and Cruso. Even though we're from different parties, I have no problem saying that."
Smathers said that he knows Hise personally and would have no problem working with him if it comes to that.
"To be blunt the idea that Canton and Clyde and other parts of our community have been ripped out of a senate district and put in with other counties with whom we don't share similar economics or challenges is ridiculous. People can look at these maps, whatever their party, and scratch their heads," Smathers said. "To be blunt, it seems once again Raleigh has chosen politics over people. Haywood County needs to remain in the same senate district."
If the split does become permanent, Corbin — much like the Clampitt/Pless duality in Haywood County — will still consider the county as a whole, regardless of that schism running down the fitness center parking lot.
"When the Haywood County commissioners come to me or the mayor of Canton comes to me with issues regarding Haywood County, I'm not going to draw a line and say, 'Hang on, I don't represent that area.' That just doesn't make sense to me. Whatever happens, we'll make it work," he said.
The introduction of Hise into the mix of Haywood County politics would also affect Pless, but not that much. Hise has been the senator representing Madison and Yancy counties, so Pless has worked with him before. Whether or not Hise ends up representing a big chunk of Haywood County, Pless will continue to work with him in Madison County.
"He's been there a long time. He carries a fair amount of weight. We have a good working relationship," said Pless. "He's very receptive. I can call him, email him, go to his office. He's very receptive to anything that people need."
Source: https://northcarolina.redistrictingandyou.org
Rep. Madison Cawthorn's current NC-11 includes 16 full counties, as well as roughly half of Rutherford County. In 2020, the 11th District showed up big for Cawthorn (54.5%) and for Trump (56.1%).
Due to North Carolina's population growth, it will gain another seat in the U.S. House of Representatives. A number of maps have been proposed for the new NC-11, which may also end up being renamed NC-14.
Two of the proposed maps remove Mitchell, Polk and Rutherford counties completely and add Watauga County, except for a small notch in the southwest portion of Watauga, home to nine-term incumbent Republican Rep. Virginia Foxx.
Each of these maps shaves 2.3 points off the Trump 2020 vote total in NC-11, making 2022 Republican victory a little tougher but preventing a potential matchup between Cawthorn and Foxx.
That little notch carved out for Foxx may seem like a textbook definition of gerrymandering, but under the priorities that currently exist, it's permitted because it avoids what's called "double-bunking."
Another map removes Avery County and more of Rutherford County — but not all of it — trimming the NC-11 Trump 2020 vote total to 55.4%.
Yet another map takes a different approach, removing Avery County but adding more of Rutherford County to NC-11, while splitting McDowell County right down the middle. This option would reduce the 2020 Trump votes to 55%.
Whatever the case, Cawthorn's district won't change much, and won't become any easier for Democrats to flip in 2022, or at any other time over the next decade. With the stakes that high, it's likely lawsuits over this congressional district — or any of the 13 others — will appear.