Archived News
Lawsuit could redraw North Carolina Congressional Districts
Wednesday, October 02, 2019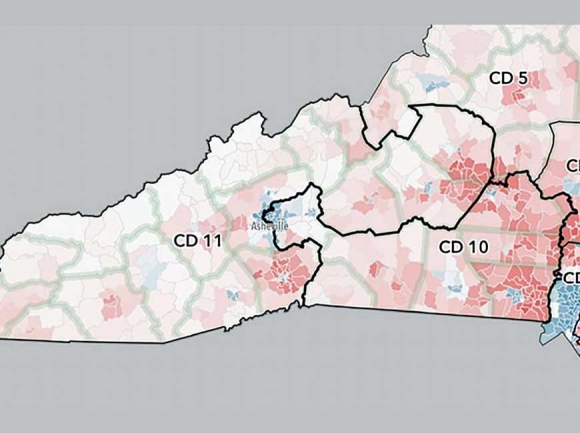 All 13 N.C. congressional districts, including the two westernomst, are the subject of a gerrymandering suit. Donated photo
As expected, a lawsuit alleging partisan gerrymandering in North Carolina's congressional districts will utilize some of the same arguments that led to a state court finding a month ago that the state's legislative districts were unconstitutionally gerrymandered.
The state suit resulted in a remapping of N.C. House and Senate districts. If successful, this latest suit, Harper v. Lewis, may produce the same result in the state's 13 congressional districts before the 2020 election.
The National Redistricting Foundation filed the suit Sept. 27 in the Wake County Superior Court on behalf of 14 plaintiffs, one from each congressional district except for two in the 11th Congressional District.
In the 11th, which encompasses much of Western North Carolina and has for the past three cycles been represented by Asheville Republican Mark Meadows, one plaintiff is Brevard resident and publisher Kathleen Barnes and the other is former Air Force colonel and Weaverville resident Joseph Thomas Gates.
Gates is an unaffiliated voter "who has consistently voted for Democratic candidates for the U.S. House of Representatives" according to the suit, but both 11th district plaintiffs complain of a common gerrymandering practice called "cracking" — the splitting of racial or ideological groups between two or more districts so as to dilute their effectiveness.
Every other plaintiff has similar complaints, which are borne out by data in the suit; in the 2018 congressional elections, for example, Democrats garnered 50.9 percent of votes statewide, but walked away with wins in only three of N.C.'s 13 congressional districts.
On a district-by-district basis, the suit outlines examples of both cracking and "packing," which is somewhat the opposite of cracking in that it agglomerates racial or ideological groups into a single district to dilute the voices of others.
One of the most contentious examples cited in the suit is Meadows' district, but in talking about the 11th, it's difficult not to talk about the 10th, represented by Lincoln County Republican Patrick McHenry.
Meadows' deep red district runs from the westernmost tip of N.C. through the deep blue Asheville metro area, and continues far to the east of it, but almost the entirety of Asheville proper has been cracked into McHenry's 10th district, the bulk of which is made up of more Republican counties to the south and east.
"The 2016 plan egregiously cracks Asheville's Democratic voters between districts 10 and 11 to create two safe Republican seats," reads the suit. "This cracking dilutes the voting power of Asheville's Democratic voters and ensures that they cannot elect a candidate of their choice."
The boundary between the districts runs right through the campus of UNC-Asheville, even placing students on opposite sides of dormitory hallways in different congressional districts.
"The cracking of Asheville's Democratic voters has been successful," the suit continues. "The Republican candidates in districts 10 and 11 won both seats with between 58% and 63% of the vote in the 2016 and 2018 elections."
It's not yet clear if the suit will be successful, but the plaintiffs are doing everything they can to ensure it proceeds expeditiously so that if it receives a favorable ruling the 2020 elections will, in addition to featuring new state legislative maps, also feature new congressional maps.
Three days after filing the suit, counsel for the plaintiffs filed a motion for a preliminary injunction that would enjoin defendants "from preparing for or administering the 2020 primary and general U.S. House elections using the 2016 Plan." Plaintiffs also filed a motion to expedite the resolution of the injunction, which if ordered would avert a trial and give state legislators two weeks to enact a remedial map for the 2020 election.
If it seems like plaintiffs are pursuing a "rush to judgment," it's because they are — in 2018, Democratic Gov. Roy Cooper moved N.C.'s primaries up from May to March, bringing the state into a group of 13 others that hold their primary elections, including the presidential primary, on Super Tuesday. This cycle, it's March 3.
Waiting for a favorable ruling after a trial, and then drawing satisfactory new maps in the legislature during the holiday season, and then bracing for a possible legal challenge to those maps, and then implementing the logistical measures needed to conduct an actual election with those new maps by early March may be a stretch, but may be possible.
"That would be ideal if they did that, because everybody in this state deserves to have free and fair elections," said Pisgah Forest Democrat Dr. Steve Woodsmall. "You're not going to have that with these gerrymandered districts."
Woodsmall, a retired Air Force officer with a Ph.D. in organizational management, is thus far the only Democratic challenger to Meadows in the 11th. He also ran in 2018 but finished second (of three) in the primary to Nebo Democrat Phillip Price.
Price ended up losing to Meadows on the order of 60 to 40 percent, and told The Smoky Mountain News in June that he wouldn't run again in 2020 if the district remained as lopsided as it was in 2018.
This go-round, Woodsmall's gotten an early start; last time, he entered the race just three months before the primary, but now that he's retired from his most recent position as an assistant professor and program coordinator of business and organizational leadership at Brevard College, he's devoting a full year to full-time campaigning.
"If the districts change that's great, and if they don't, that's fine too. I think they should, because it's the right thing to do, but if they don't it would just make beating [Meadows] that much more rewarding," he said. "To beat an incompetent representative in a highly gerrymandered district, it would just make the victory a little sweeter."
Without drastic changes, the 11th is still an uphill battle for any Democrat, much less one who has to face the well-financed, popular Meadows, who stepped down as the chair of the influential House Freedom Caucus earlier this month. During the 2018 cycle, just 30 percent of Meadows' district was registered Democrat, with 36 percent registered as Republican. The other third are unaffiliated voters.
Woodsmall, though, sees some optimism as he campaigns across the district.
"I think the mood is hopeful, quite frankly, but there's going to be a big impact from the 2020 race because there is also presidential election," Woodsmall said, pointing at the elephant in the room.
Impeachment proceedings seem imminent against President Donald Trump, but removal from office seems less likely barring a major defection by Republicans in the Republican-controlled U.S. Senate, who would have to vote to convict Trump by a two-thirds majority if the Democrat-controlled House of Representatives forwards articles of impeachment to them.
Win or lose, Democratic candidates up and down the ballot will doubtless see consequences for House Speaker Nancy Pelosi's instigation of what's now an merely an investigation but could eventually end Trump's presidency, or embolden it. As in 2016, Trump's support at the ballot box is a great unknown, but Woodsmall's not running against Trump.
"Meadows continually shows his true colors because he's always voting against the interests of this district," Woodsmall said. "He's always doing or saying things on national TV that embarrass the state of North Carolina. I think people are starting to really understand he's not the kind of person that we need in D.C. and they're hopeful this time, whether or not the district changes."
If Meadows' district does change before the 2020 election as a result of Harper v. Lewis, it will likely do so in favor of Democrats, which in turn could draw more Democratic competitors for Woodsmall in the March primary.
"I don't know that anybody else necessarily is running right now. They may be some people jumping in at the end phase if the district changes and it becomes more winnable," he said. "But to me, that's a little bit of the coward's way out. I mean, people that want to fight the fight should fight it. Now, I'm a retired Air Force guy. If you take on a mission, you don't just take on the easy ones, you take on the hard ones and my mission is to get rid of Mark Meadows."
Through a spokesperson, Rep. Meadows declined to comment for this story.