Archived Opinion
Always something new around the corner
Wednesday, October 27, 2021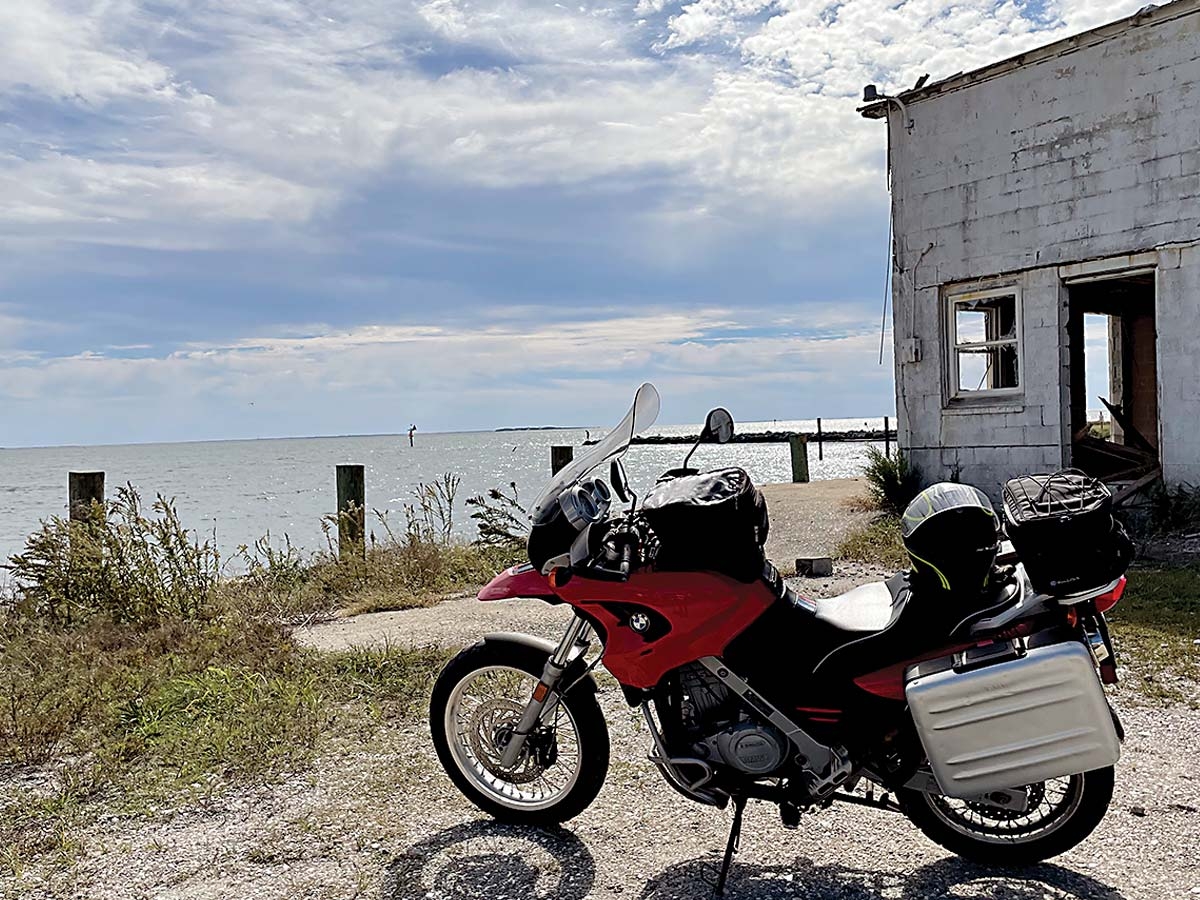 Travel is one of my favorite soul foods, but it's also cool to really get to know the place you live. I've spent most of my life in North Carolina and I know the state well. I've stowed my bicycles and parked my cars at addresses in nine different towns and cities in every compass quadrant of the state since moving here in 1970.
So when I decided to ride my old motorcycle around a part of eastern North Carolina that I had never visited, I was excited at the prospect. The coastal weather last week was perfect, sunny and in the 60s and 70s. There was a steady wind that pushed my mid-sized 650 around a bit during gusts, but that's part of the fun of motorcycling, being out in the elements.
Fall is beautiful in the mountains, but that beauty attracts a crowd. For locals, it's a good time to retreat from the onslaught. Since my wife, Lori, had a fall break, we decided to go east and spend a few days on her father's sailboat. I hitched my motorcycle to the back of the truck and left it at the marina while we wandered the Neuse River to anchorages in South River and Upper Broad Creek.
The winds howled while we sailed, reaching gusts up to 30 miles per hour. That's pretty intense for a small sailboat, but much preferred to no wind. It's great to have a little diesel engine for anchoring and docking, but anyone who sails relishes the killing of the engine. Then it's only the sound of the wind popping the sails and lines slapping against stays, sea gulls all around and the constant and rhythmic pounding of water against hull.
When Lori headed back to work, I had a few days before she would meet me in Greenville where we were going to the wedding of a friend's son. My oldest brother lives close to Havelock, and our visits have gotten more infrequent since our parents both died. I drove the bike over and helped him do some work around his home. It was great to spend time with him and my sister-in-law, Anita, but it was too short.
Motorcycling does put one in touch with the elements, but that can go both ways. Deer hunting season has started in Eastern North Carolina, and the animals are everywhere — including on the sides of road from impacts with automobile. A friend told me that this past Friday he counted 10 dead deer on one stretch of road between Wilson and Greenville.
I wanted to be careful and do everything I could to avoid one of those collisions. I planned my traveling so as not to be out along any rural road before 8:30 a.m. or after 5 p.m. Deer move at dawn and dusk, so I wanted to be as careful as possible. My route would take me through the Croatan National Forest and out to the Cedar Island National Wildlife Refuge to hop on a ferry to Ocracoke.
This part of North Carolina is as rural as it gets. In fact — something many in this part of the state don't know — there are more black bears in rural Eastern North Carolina than there are in the Smokies. It's a vast forestland pockmarked with swamps and wetlands.
On my way to Cedar Island to catch a ferry, I traveled the easternmost section U.S. Highway 70. In travels across the U.S., I've often intersected with this highway, so seeing the sign for its terminus in the unincorporated community of Atlantic in Carteret County made me want to learn more.
U.S. 70 was the most-used southern route across the country in the early days of automobile travel before the interstate system. As it turns out, plans were hatched in the early 1900s for a northern and southern highway across the country. The northern route was named for Abraham Lincoln, the southern for Robert E. Lee. Much of U.S. 70 was known for decades as the Lee Highway and it once went all the way to Los Angeles but now ends in Arizona.
Eastern North Carolina has suffered as textiles have gone away and much of the agriculture has become industrial sized. I met one former farmer down east who lived off his 800 acres of cotton, tobacco, peanuts and soybeans for decades. He now leases his land to an outfit that farms more than 3,000 acres.
On the coast out near the community of Atlantic, on the Pamlico Sound, I passed old fish and crab processing facilities that were closed. There is a burgeoning tourism industry and lots of rentals, but it's a quiet, beautiful place.
I planned my route to make three ferry crossings in two days: Minnesott to Cherry Point, Cedar Island to Ocracoke, Ocracoke to Hatteras. I worried about the motorcycle if the water got rough, but the ferry workers had it under control, aiming the bike perpendicular to the cars, its front tire against a foot rail to help prevent rocking.
As I crossed from Cedar Island to Ocracoke, all changed, from the rural south to a busy Outer Banks tourist spot with license plates from all over the country. Ocracoke still shuns high-end tourism and there is not a single chain business in the community, but it's bustling and prosperous.
Headed back this past Sunday after putting hundreds of miles on the motorcycle, it felt good to get back to the mountains and back home. Again, though, I'm reminded that North Carolina is a great place to live, from the mountains to the coast. Those of us who call it home should consider ourselves lucky.
(Scott McLeod can be reached at This email address is being protected from spambots. You need JavaScript enabled to view it..)
Leave a comment
1

comment
Nice story. I enjoyed reading it.

Sunday, 10/31/2021