Archived News
Coercion or comedy? Maggie Valley candidate prompts investigation
Wednesday, October 27, 2021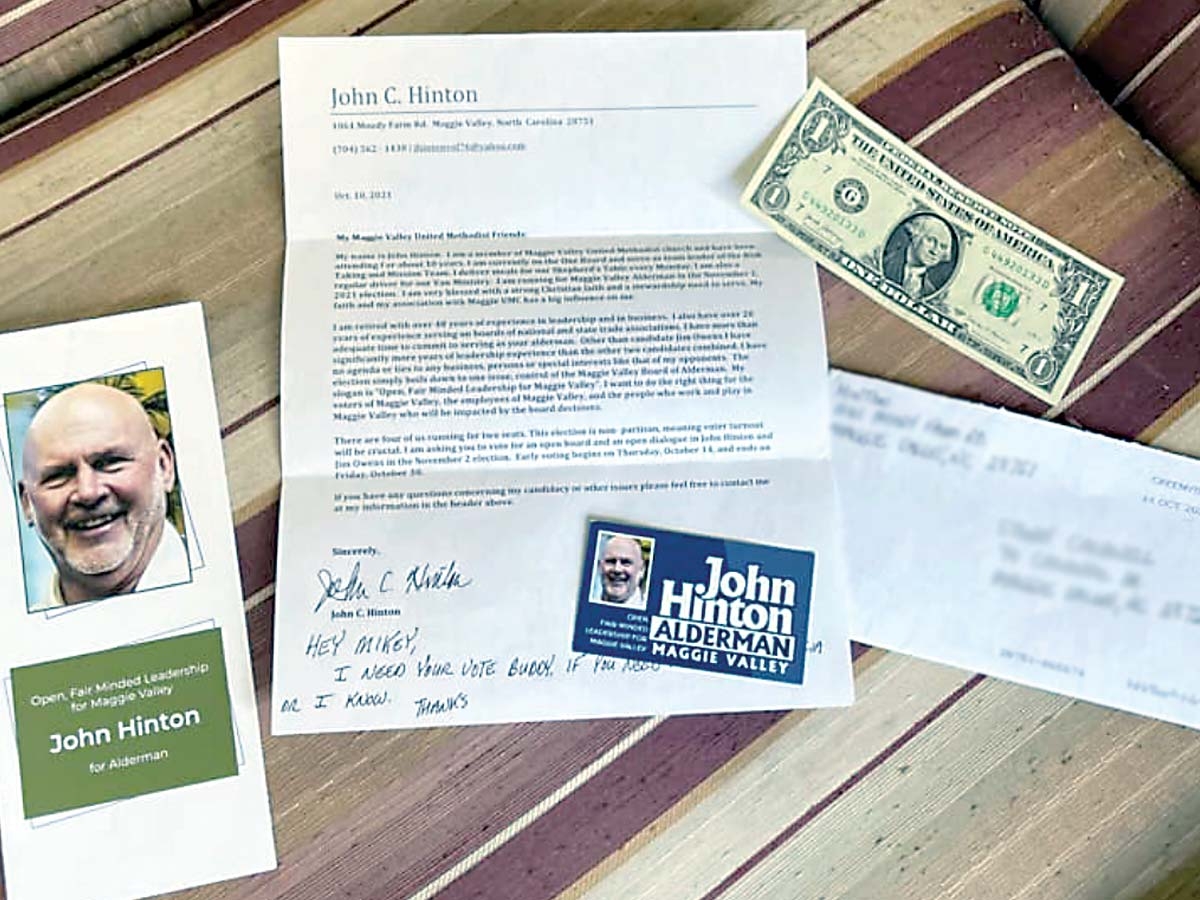 The photo posted to Alderwoman Twinkle Patel's Facebook shows the contents of the campaign letter John Hinton sent.
John Hinton, a candidate for Maggie Valley Board of Aldermen, prompted an investigation by the North Carolina State Board of Elections after he admittedly sent a letter containing campaign information, along with a dollar bill to a friend whom he was asking for his vote.
"I thought it was harmless, you know, looking back on it, I wouldn't have done it," said Hinton. "At the time I didn't think anything about it. It was a very innocent prank that got turned around."
According to Robert Inman, chairman of the Haywood County Board of Elections, it is illegal to give someone anything of value in order to garner their support in an election.
Haywood County Board of Elections received the first reports of a campaign letter containing money Friday morning and quickly sent the information along to the State Board.
According to Hinton, he sent out about 35 letters to members of his church, Maggie United Methodist church. These letters contained information about the race for Alderman in Maggie Valley, details about Hinton's platform and why he was running, a Hinton for Alderman business card, pamphlet and in at least one case, a dollar bill.
"I sent one to a friend of mine as a joke. He's a buddy of mine and, when I grew up, my grandmother used to put a dollar in the little cards and stuff she sent. And I do the same thing and, as a joke to him, I put a dollar in his. I sent 35 out. That's the only one I put a dollar in," said Hinton.
On Sunday afternoon, Alderwoman Twinkle Patel, who is also running for a seat on the board, posted a photo of the letter and its contents to Facebook asking, "is this the type of Alderman we need representing Maggie Valley?"
"Whether it was one dollar or $100, it is extremely illegal. I take my position as an Alderman very seriously and I am always ethical in my voting and my campaign. Campaigns are run by donations by the people, and they have a right to know about this vote buying and they have a right to be furious," Patel told The Smoky Mountain News. "This is about bribery in an election. If I, as a representative of the people, do not stand up for what is right, who will?"
Hinton is one of four candidates running for two spots on the Maggie Valley Board of Aldermen. He is running on the slogan "open, fair-minded leadership for Maggie Valley." Hinton is running against Alderwoman Patel, Jim Owens and Jeff Lee, current chairman of the planning board.
North Carolina Board of Elections Public Information Officer Patrick Gannon said on Tuesday, Oct. 26, that "State Board investigators continue to look into the matter. However, after a preliminary review, there doesn't appear to be sufficient evidence of a violation of vote buying. If any new allegations emerge, our agency would investigate as needed."
Leave a comment
2

comments
Maggie Valley continues to show itself in a despicable light from the right!

Thursday, 10/28/2021

My husband was in the hospital and I had gone home to catch a nap and rest. I was awoken by someone banging on my sliding glass door of my park model. By the way we have a gate and a very large front porch. This man had let himself in the gate and I felt very violated. He told me his name and gave me a brochure. I told him I had seen his signs on the road but said he woke me up and my husband was in the hospital. I turned around and he was gone. Not getting my vote.

Thursday, 10/28/2021