Archived News
Zoning issues divide board, community in Maggie Valley
Wednesday, October 20, 2021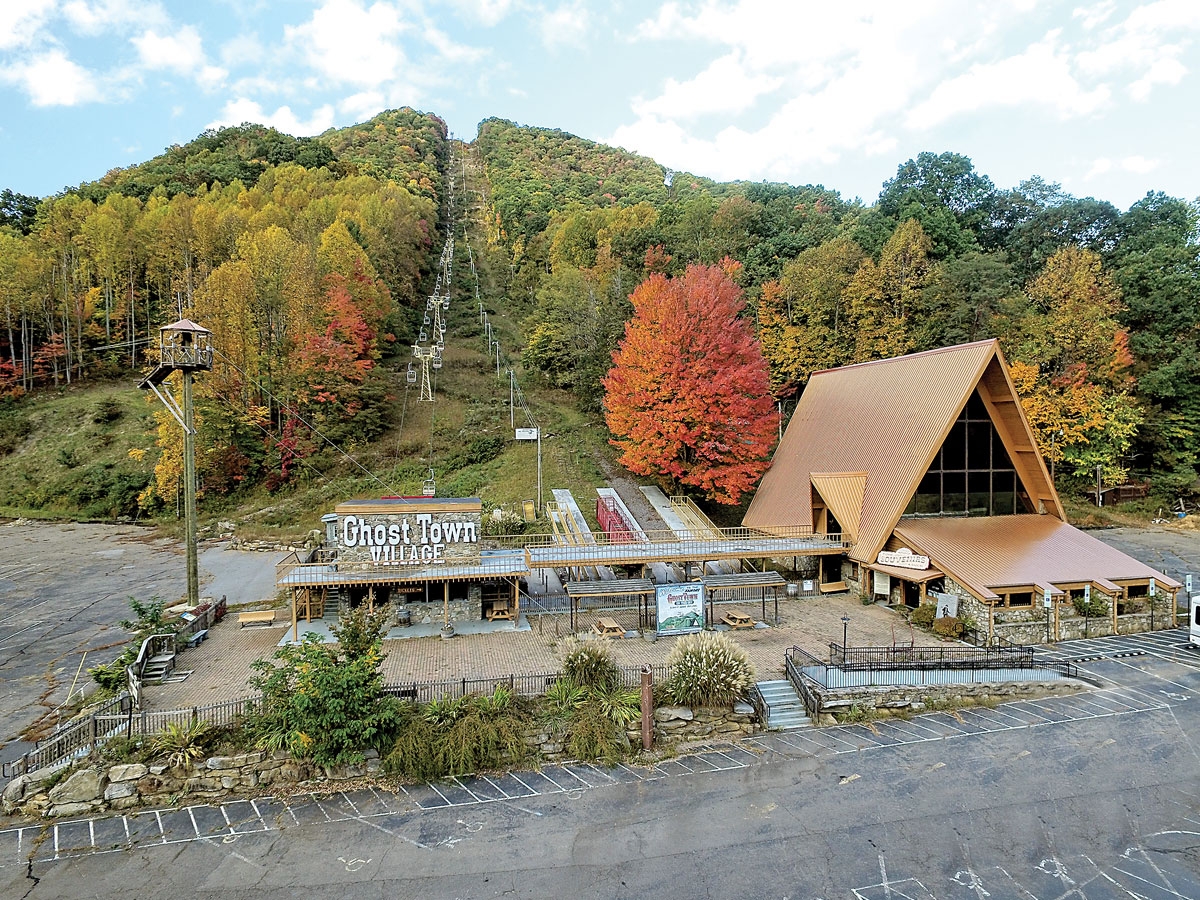 Ghost Town. A Shot Above photo
A Maggie Valley Town Board meeting Tuesday, Oct. 12, reached capacity with nearly 100 attendants, several people listening from the hallway outside the boardroom as the board was scheduled to vote on three property zonings.
The board voted to zone two of the properties as Ghost Town in the Sky developer Frankie Wood had requested, C-1 for the Ghost Town parking lot and R-3 for the property located on Campbell Creek Road. However, the board decided to zone the L-shaped property accessed by Rocky Top Road R-2, when Wood had requested R-3. By zoning the property R-2, there will be lower residential density permitted on the property.
The Ghost Town parking lot decision was made by a 4-1 vote with Mayor Mike Eveland dissenting. The Campbell Creek Road property zoning was decided by a 3-2 vote with Eveland and Alderwoman Twinkle Patel dissenting. The property accessed by Rocky Top Road property was zoned by a 3-2 vote with Eveland and Patel dissenting.
Because two of the properties did not receive a two-thirds vote on first reading, there will be a second vote at the Town Board meeting in November where a simple majority vote will be enough to approve a zoning decision.
Before the hearings and voting on the properties, Town Attorney Craig Justus advised the board about the decisions they were going to make. He reiterated this reminder throughout the meeting.
"One thing that you should not give controlling weight, is whatever the developer or property owner's plans are for the property. These are general use district rezonings, meaning when you decide to change a piece of property or adopt a zoning for a piece of property, whatever uses might be allowed in that district are fair game for the property owner to use and apply later on whether it's that property owner or someone they might sell it to. So that's why you can't get too hung up on what the property owner tells you he might use the property for."
All three properties are within, or have portions in, the critical Jonathan Creek Watershed and will have to receive watershed approval by Haywood County. These properties also have portions in the 100-year and 500-year flood plain.
The first property, the Ghost Town parking lot was annexed by the Town on July 13. The zoning board proposed a C-1 zoning, to align with the rest of the Ghost Town Property. After hearing extensive comments about concerns for the watershed, ecological health and drinking water, the board voted to allow C-1 zoning for the Ghost Town parking lot. C-1 zoning is for general business.
The second property is 5.19 acres, currently owned by Jerry and Sandra Day, has one single family home and was annexed on Aug. 17. It has frontage of Campbell Creek and Rocky Top Road. The majority of the property is surrounded by R-1, some C-3 and a small pocket of C-2. However, three adjoining properties are legal nonconforming properties that are zoned R-1 but were grandfathered in and have uses aligning more with R-3 or C-1.
If this property were zoned R-1, 16 units would be allowed. If it were zoned R-3, C-2 or C-1, 73 units and 32 lots would be allowed.
"Myself and the developer, with the planning board's recommendation actually, all agreed that the best course of action for the property would be to split zone the property," said Town Planner Kaitland Finkle.
On Campbell Creek, a little less than one acre was recommended and requested to be zoned R-3, in order to keep commercial activity off of the Campbell Creek area. The rear portion of the property, a little over four acres, is requested to be C-2, neighborhood business district. This was the recommendation made by town staff and the planning board and requested by developer Frankie Wood.
Public comments regarding the zoning of this property centered on the condition of Rocky Top Road, a road in notoriously poor condition that is slated for improvement.
Tammy Hartzog, owner of Kamp and Kountry, spoke at the Oct. 12 meeting. She said 95% of the people at Kamp and Kountry don't want a large development accessed by Rocky Top Road. The road provides access to at least 160 unique homes and properties, 110 of which are part of Kamp and Kountry. The road is approximately .65 miles long.
"The wear and tear on the road is going to be tremendous if they do what I think they're going to do," said Hartzog. "All the money we're going to put into it is going to be worn down, and nobody wants to see that. All we want is some peace and quiet. We want to enjoy the mountains."
Several other residents spoke about how they didn't want additional development on the property off of Rocky Top Road.
"This is probably the hardest decision that we've had since I've been on the board," said outgoing Alderman Clayton Davis. "We realize that when we're emotionally involved, it's hard to be objective. If it's my wife, my land, my dog, I'm going to protect it and I understand that. According to our attorney, and we have a good one, we can't speculate on what the property will be used for. But we have a responsibility to zone it sooner or later. Our town planner spent considerable time on this, our manager, and I have high respect for them."
After discussion, in an effort at compromise, Alderman Phillip Wight made a motion to zone the property R-2, instead of the proposed R-3, C-2 split zoning. The motion passed 3-2 with Eveland and Patel dissenting.
The third property was under consideration for rezoning and had not been recently annexed like the other two. The property is 2.74 acres and is also owned by Jerry and Sandra Day. It is within town limits and is currently Pioneer Village with 12 cabins located on the property. It is currently zoned R-1, low density residential. The request was to rezone the property R-3, which would allow up to 17 lots.
"We have an employee here with a double masters, she has gone over this, studied this and I'm going to go with her recommendation," said Alderwoman Tammy Wight.
Tammy Wight made the motion to approve the Pioneer Village property for R-3 zoning. The board voted 3-2 to approve the R-3 zoning. Because this is not a two thirds majority the issue will be taken up again at the November meeting where a simple majority will work to pass the zoning adjustment.