Archived News
Drama continues to unfold around homelessness task force
Wednesday, October 20, 2021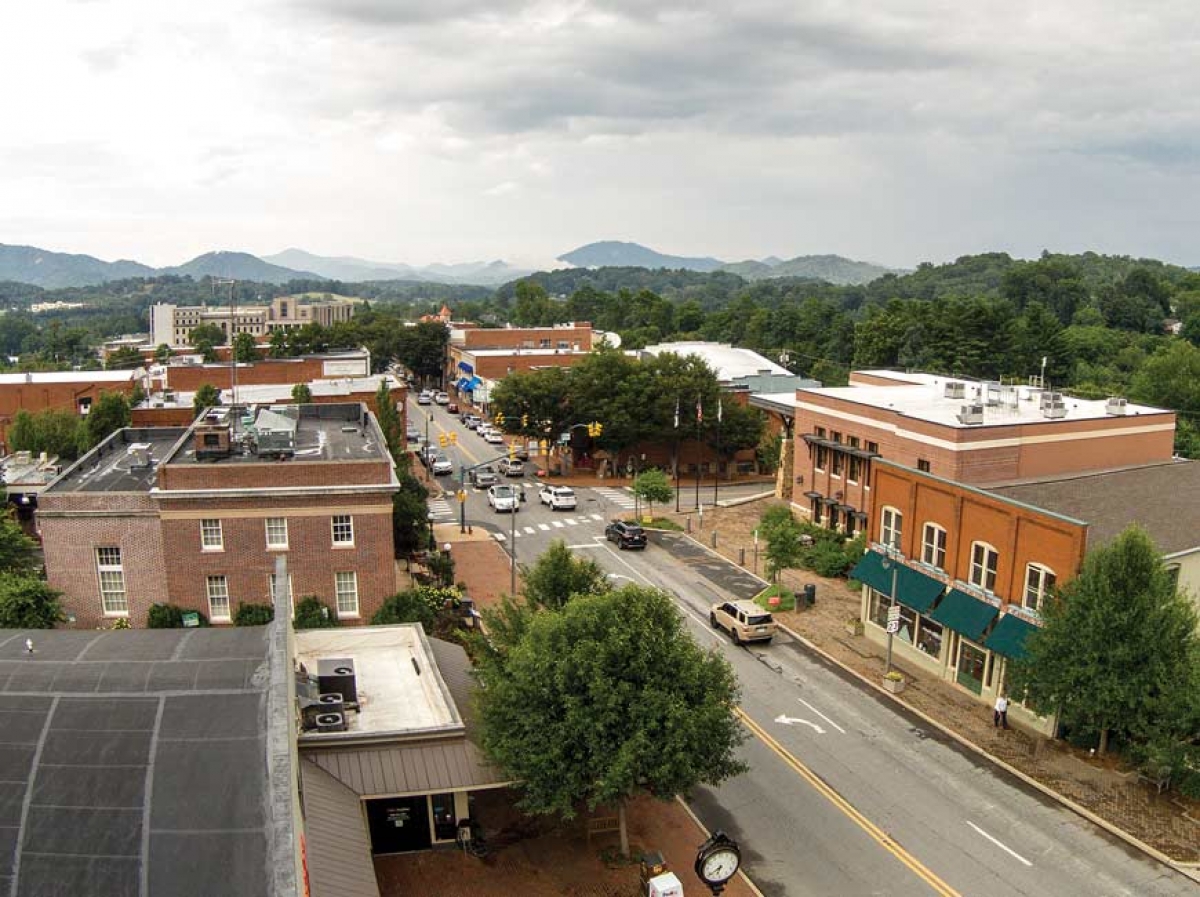 The Town of Waynesville's years-long attempt to address homelessness within its borders has been filled with raw emotion, whimsical theatrics and at times even elements of pure fiction, but the story's far from over.
In presenting its final recommendations for consideration by the Waynesville Board of Aldermen on Oct. 12, the town's Task Force on Homelessness now exits the stage.
Aldermen are set to ponder those recommendations and will soon write the next act in what's become a long-form drama, but no one — aldermen and audience included — seems to know just yet how the story will end.
Homelessness became a major political issue during the 2019 municipal election, during which all five members of Waynesville's board were up for election. Aldermen Jon Feichter and Julia Boyd Freeman were returned to the board, Alderman Gary Caldwell was elevated to mayor, and Chuck Dickson, along with Anthony Sutton, were elected as aldermen. All of them knew the importance of the issue to voters.
Not long after the election, Caldwell called for the formation of a task force to study the problem and issue non-binding recommendations, but the emergence of COVID-19 took a toll on the process throughout most of 2020 and even into 2021.
More than a year after first meeting and upon completion of a 375-person community survey involving business owners, faith leaders, law enforcement officers, behavioral health and housing providers as well as people actually experiencing homelessness, the task force issued a set of draft recommendations this past July.
Those recommendations prompted " resounding opposition " from the public and much of the task force, and prompted several resignations from the task force as members struggled to arrive at consensus over final recommendations in September.
One thing the task force could agree on was to remove a recommendation in favor of establishing a low barrier shelter, in direct contradiction to the results of the survey, which showed that only 12.5% of survey respondents favored limiting or ending services to the unsheltered.
Indeed, the final recommendations presented by the task force held no mention of a low barrier shelter, but that hasn't stopped a vocal minority from continuing to show up to town meetings demanding that a low barrier shelter not be opened in Waynesville.
Despite the shelter issue's death back in September, 14 more people — plus one by proxy — spoke at the Oct. 12 meeting, all against the low barrier shelter.
At one point, Caldwell stopped the public comment session to tell the crowd, "As I said before, there's no low barrier shelters on the radar for this board."
Whether through misinformation or deliberate ignorance, members of the crowd continued to rail against enemies both real and imagined.
Haywood County Republican Chair Kay Miller said the town should "cut our losses" and decline to act on any recommendations from the task force, in essence, leaving the issue at status quo.
Eric Oberhultz said the answer is to expand the jail.
Peggy Hannah threatened the board, saying "the ones that brought this here today, you are going to pay a price and it won't be pretty."
Stephanie Bell seemed to confuse the CARES (Coronavirus Aid, Relief, and Economic Security) Act — a piece of Trump-era federal legislation meant to address the Coronavirus Pandemic — with the task force's proposal to hire a CARES (Coordination, All neighbors known by name, Residence, Education, Supports) coordinator.
During Task Force Chair Dr. Amy Murphy-Nugen's presentation to the board, members of the crowd snickered and jeered to the point that Sutton had to ask them to be quiet.
Murphy-Nugen, who'd been the subject of personal attacks throughout her tenure, continued on with her presentation by emphasizing that 80 percent of survey respondents wanted to expand services to people experiencing homelessness, 64 percent wanted government to address homelessness using taxpayer dollars and 98 percent of people experiencing homelessness would move into housing if they could afford it, with 75 percent of them saying they could afford no more than $500 a month.
No low barrier shelter was mentioned by Murphy-Nugen during her presentation, leaving the hiring of the CARES coordinator as the only real actionable item recommended by the task force. But that, too, is a greatly diminished proposal from the task force's original recommendation to hire one coordinator and several other assistants.
Understandably, aldermen are still working to absorb all aspects of Murphy-Nugen's voluminous final report.
"From my perspective, I feel strongly that I need some time to really dig into that report and take the information that that was put forward last Tuesday by Amy and apply that as I continue to go through the report," Feichter said.
One thing he was certain of was that the low barrier shelter was, as Caldwell said, off the table.
"I have been very confused by the ongoing, comments about the issue. Somebody made a comment that the issue had been revived and that was news to me," he said. "I don't understand where they're getting their information, but to me, Task Force on Homelessness was very clear on that particular issue."
Dickson likewise said he was still trying to make sense of all the information, but several things struck him, like the fact that most people experiencing homelessness in Haywood County are from Haywood County, and that most of them were unsheltered because they were fleeing domestic violence.
Also like Feichter, Dickson said he's trying to decide if the hiring of a CARES coordinator is warranted.
Serving as the board's representative on the task force, Sutton followed the task force's progress from the start but refrained from voting during task force meetings so as not to influence what would ultimately come before the board.
Sutton said that the low-barrier shelter "was never really on the table," for aldermen, and that the CARES coordinator could possibly be melded into existing positions, perhaps in partnership with the county.
Feichter, Dickson and Sutton all expressed a desire for some sort of formal meeting on the subject — maybe a town hall, or a workshop, where the entire board could discuss the recommendations and move forward. All three aldermen also said they wanted to talk to task force members and other people tin the community as well.
Caldwell said he also had a desire for some sort of gathering where the board could try to get on the same page.
"There they were some folks not happy and some folks happy [with the recommendations]," he said. "As you know, you can't satisfy everybody but I think Amy's done a good job with the report. We haven't had a chance, you know, to talk about anything from it yet."
The Waynesville Board of Aldermen could decide to discuss the issue at any time, or not. Stay tuned for further developments by visiting the town's website, waynesvillenc.gov.
Alderman Julia Boyd Freeman did not respond to multiple requests for comment on this story.