Archived News
Community searches for homelessness solutions
Wednesday, November 06, 2019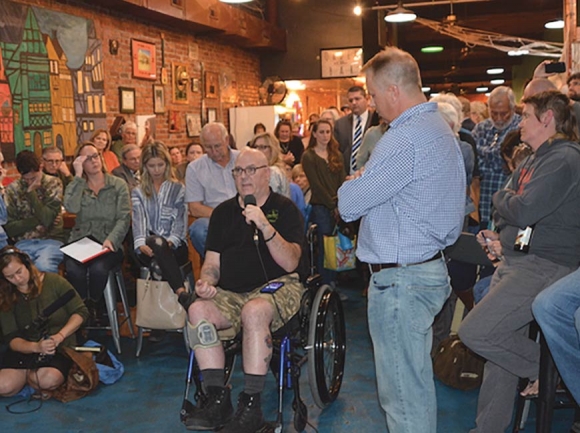 Clark Williams, owner of Frog Level Brewing, asks a question during a public forum held at the brewery to discuss the growing homelessness issue in Haywood County. Jessi Stone photo
A wide-ranging forum held last week at Frog Level Brewing to discuss Haywood's homeless population revealed deep divisions about how to treat a vulnerable and visible segment of the population.
Business owners and some residents are upset and outraged over the issues that have arisen from a growing number of homeless people in the community while the other side is trying to focus on providing much-needed services to that segment of the population.
More than 125 people packed the brewery to hear what the candidates running for Waynesville mayor and aldermen seats had to say about the ongoing issues in Frog Level and other parts of town. The problems in Waynesville have been mounting for the last couple of years — more people loitering around Open Door before and after meals are served, people urinating and defecating behind businesses, more syringes being found in the area and more drug-related crimes — but a recent stabbing in Frog Level on Oct. 19 brought the complaints to a head, giving Frog Level Brewing owner Clark Williams the idea for a community forum.
By the end of the night, the main takeaway was that none of the candidates could point to one guaranteed solution. Before a solution can be identified, Mayor Gavin Brown said, it's important for residents to understand that homelessness is only a symptom of a much larger societal problem — the homelessness issues in Haywood County stem from addiction and mental illness, people not having jobs and housing and a lack of resources to help people access these essentials needed to survive and thrive.
Several pointed fingers at The Open Door Ministries located in Frog Level or Haywood Pathways Center in Hazelwood for bringing more homeless people and crime to the community.
Wanda Brooks, who owns a building across from Pathways Center — which she briefly operated as a bar several years ago — said she's been ignored despite complaining about Pathways since before it opened.
"It's decreased my property value, they've broken into my building, broken into the building, left their needles on my property," she said.
Brooks said Pathways allowed sex offenders to stay there until she went before the county commissioners to complain. She also has a problem with the 90-day residency requirement to get into Pathways and said people should be required to be a resident for a year before they can get into the shelter. She said she called two different counties claiming to be looking for shelter for a homeless family, and Brooks said both times she was directed to Pathways even though the family wasn't from Haywood.
"That's not acceptable," she said.
Another resident, Candace Cope, said she moved to Waynesville two years ago and was surprised by the conditions in Frog Level.
"It's unacceptable for hard-working business owners to be placed at risk by the clientele showing up at the Open Door. They deserve to have Frog Level enhance the town," she said.
Cope then asked candidates if they would support moving Open Door outside of the town limits.
Most candidates and other stakeholders agreed that moving Open Door would not solve the problem and would probably only make matters worse.
As Rev. Chris Westmoreland with Longs Chapel United Methodist pointed out, Frog Level is where people are in need and that's where Open Door Ministries needs to minister to them. Moving the soup kitchen out of town would only make it harder for people in need to find their next meal.
"We have a moral imperative to do what we do in Frog Level," he said. "We want to help be part of the solution, but what's not negotiable is taking care of those people. If you want to see the problem get a lot worse, take the nonprofits and churches out of the equation."
"You have to have resources where they're needed," said Alderman candidate Anthony Sutton. "My father taught me that you respect everyone regardless of their circumstances. You can't push marginalized people out of the community and make them more marginalized."
On the other hand, Alderman candidate Joey Reece said it was never a good idea to place these types of services within one of the town's three main business districts.
"Show me anyone that thinks it's a good idea to locate these services — no matter how needed — in their business districts?" he said. "We can't let good intentions cloud good judgment and this is not good judgment. Let us not forget, this is more than a public health crisis, it's a public safety crisis and that's what we're not addressing."
Mandy Haithcox, the executive director of Pathways Center, tried to explain the conundrum staff has when trying to honor the residency policy while also honoring their duty to help those in need. Last year, 78 percent of intakes were Haywood County residents and this year that number has increased to 93 percent. She said if someone doesn't have a Haywood County ID, they still try to work with them to provide three emergency shelter night stays, but the person has to go through a criminal background check and an eight-panel drug screening. There's still the reality of having to turn people away.
"We're trying to balance being a Christian agency wanting to take care of folks knowing they're standing in front of you needing something and having to respect the fact we have the policies we have for a reason because we promised that's what we do," she said.
Monica Leslie stood up from the crowd to offer a perspective from someone who has actually found themselves in a homeless situation. Leslie said she was born in New York but raised in Haywood County. She is a recovering addict and was able to stay at Pathways Center for 90 days before moving to another county. When it didn't work out and she lost everything, she came back to Pathways but was denied because she was no longer a Haywood County resident. Now she's living on the street.
While she does take advantage of the occasional free dinners at Pathways and the services through Open Door, she still has nowhere to go at night.
"What do you do when you're on the street and your homeless and you don't have an ID? The homeless shelter in Haywood County doesn't accept the homeless," she said. "The only places that are safe enough to go to sleep are public places, but you aren't allowed to sleep there so what do you do?"
Alderman Jon Feichter, who is running for re-election, pointed out the importance of having more affordable housing options in order to get people off the streets and into a more stable position. It's something the town has been working toward with several successes — the old hospital will soon be renovated into affordable units for elderly and veterans, Mountain Projects is building affordable units on Allens Creek and Habitat for Humanity is building a new subdivision in Chestnut Park.
Then there are the private developments occurring in town with new apartment complexes being built at the former BI-LO property on Russ Avenue and a new apartment complex on Plott Creek. While these are not considered affordable housing, the additional units will still ease the lack of housing options while also producing more tax income for the town coffers.
Sheriff Greg Christopher and representatives from Pathways, Open Door and the N.C. Harm Reduction Coalition were also on hand to answer questions from the community and talk about initiatives already underway to help solve these issues.
As long as people continue to think the problem is homelessness, Brown said, the worse the problem is going to get because the underlying causes of homelessness — housing, wages, food security, addiction, having more mental health resources — are not being addressed.