Archived News
Vecinos: Serving the invisible neighbors of WNC
Wednesday, October 13, 2021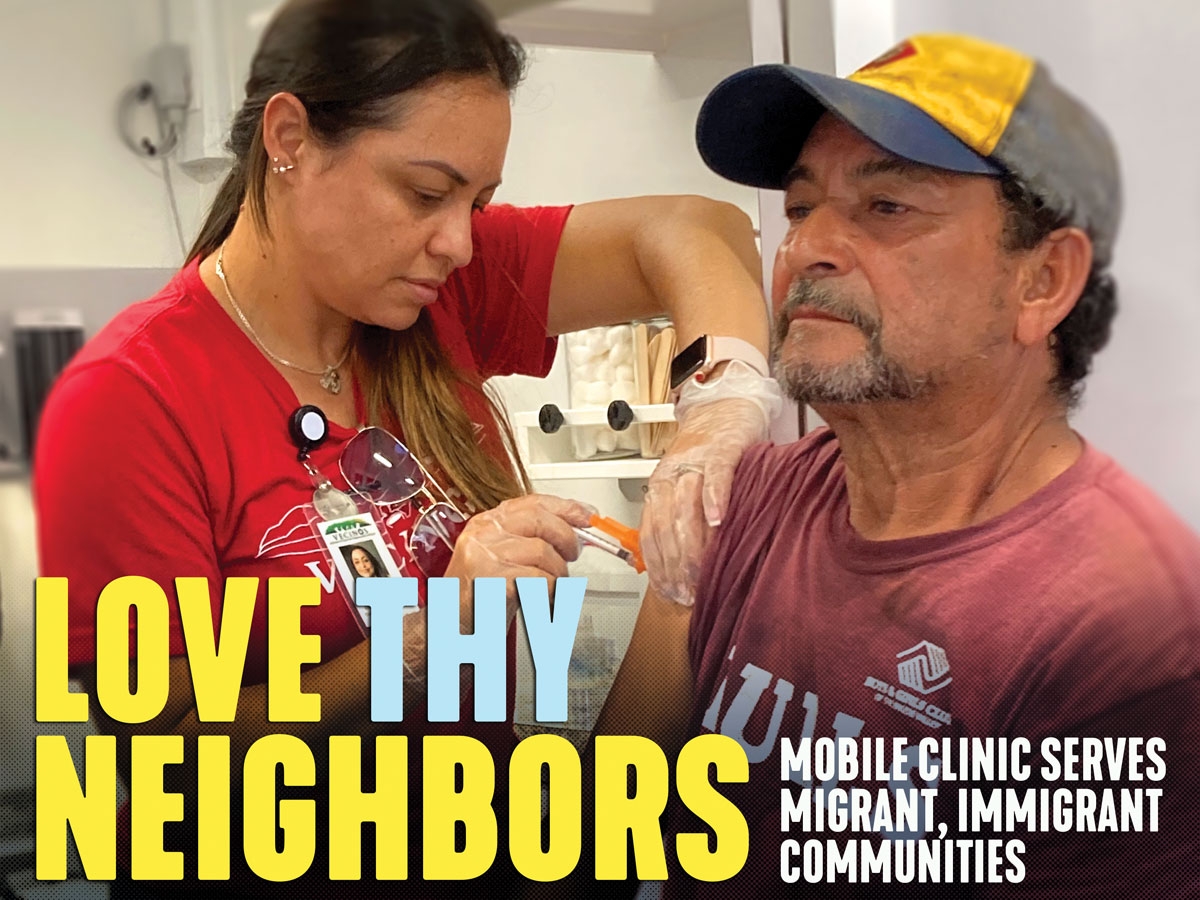 The Coronavirus Pandemic has been a trying experience for everyone. Quarantine, the threat of serious illness and job loss have affected millions of people in the United States. But what about those who don't have access to basic health care? How do non-English speakers find information about COVID-19? How do people without an identification card find COVID-19 testing or vaccines?
Vecinos is the word for neighbors in Spanish, and this nonprofit is working to make sure LatinX, immigrant and migrant neighbors in Western North Carolina are able to navigate the Coronavirus Pandemic.
Vecinos
Vecinos is a nonprofit health care organization serving and advocating for farm workers in Western North Carolina. The nonprofit began unofficially in 2001 when founders Josie Ellis, RN, and Dr. Mark Heffington started visiting migrant labor camps in Jackson County with a grant from the North Carolina Farmworker Health Program. Ellis and Heffington developed a medical outreach model that is still the primary method of care for Vecinos today. The idea is to break down health care barriers by bringing services directly to the workers.
The second piece of the work Vecinos does is to advocate for the social and economic wellbeing of farm workers and their families in Western North Carolina communities.
Local family shows off vaccination cards. Donated photo
The group services the eight western-most counties in North Carolina as well as some communities in Buncombe, Henderson and Rabun County, Georgia. In addition to clinical healthcare, Vecinos services include a monthly food bank program, wellness group classes, health education and case management services like appointment scheduling, transportation and interpretation.
"Farmworkers often feel like an invisible population," reads the Vecinos mission statement. "At Vecinos, we don't just offer health care, we aim to show appreciation for the important work that farm workers do, offer them the support and care that all people deserve and welcome them to our area as valuable members of our community."
According to Farmworker Justice, a Washington-based nonprofit working to ensure safe living and working conditions for migrant and seasonal farm workers, the majority of the 2.4 million people working on farms and ranches in the United States are immigrants, at least 49% of whom lack authorized immigration status. According to the most recent data from the department of labor, foreign-born workers make up 75% of the farm workforce, United States citizens make up 29% and legal permanent residents make up 21%.
Additionally, there is an influx of migrant and immigrant workers from indigenous communities of Latin America. While legal and medical information can often be found translated into Spanish in the U.S., it is much more difficult to get that vital information in Mixtec, Zapotec, Trique or Mayan. Working with people who speak Spanish as a second language, or not at all, is just one more piece to the puzzle for Vecinos.
As Vecinos has grown in the 20 years since its inception, the model of medical outreach has largely remained the same. In addition to its normal outreach, Vecinos now aims to partner with farm owners to ensure that all farm workers are taken care of.
"With the pandemic last year, we started to see that we needed to play a different role in our communities," said Yolanda Pinzon Uribe, community health program manager. "We needed to give our farm workers information and education about COVID. We had to be aware of all our LatinX communities, that those without any kind of health insurance had the ability to make it through the pandemic."
For many in the LatinX, immigrant and migrant communities options are limited, Yolanda says, for reasons like immigration status, economic status or the type of job they are working.
Stage I
When the Pandemic broke out in early 2020, and shutdowns began for North Carolina in March, Vecinos was focused primarily on educating the LatinX community, informing them where and how to get tested and when testing was necessary.
In November of 2020, Vecinos started its mobile clinic. After securing a donor for free testing, the mobile clinic began making its rounds, administering free COVID-19 tests to LatinX, migrant and immigrant communities in Western North Carolina. November through January, Vecinos administered 198 tests.
The mobile clinic is staffed by both medical and non-medical support. Non-medical support focuses its efforts on outreach and communication, finding people who need assistance and medical support helps to administer testing and communicates important information about COVID-19.
Throughout the first few months of its operation, the mobile clinic was also giving out what they deemed "COVID kits," which contained hand sanitizer, masks and information about what to do if you test positive for COVID-19, why it's important to quarantine.
Stage II
After the vaccine became available in December, Vecinos started to plan how they could administer vaccines to people. As the name Vecinos indicates, the organization is community minded and so they looked to partners within their community to help in the process.
"We needed to work with the health department. We needed to work with organizations, partners around Western North Carolina," said Uribe.
Vecinos partnered with the health departments in the eight counties they serve, the International Friendship Center in Highlands, Community Care Clinic in Highlands and Cashiers and Highlands-Cashiers Hospital. The 30th Judicial District Alliance also helps connect immigrant families in need with the services Vecinos provides.
Because the LatinX community is considered a high-risk population in Western North Carolina, in part because the majority of migrant and immigrant LatinX populations don't have health insurance, Vecinos was able to begin vaccinating people in February. The first wave of vaccines was available for people 65 and older, people working in primary care and those considered high-risk.
"I will never forget, the 14th of February in Highlands, we did a big event," said Uribe. "At the Farm at Old Edwards in Highlands."
That was the first vaccination event Vecinos held for LatinX people in Western North Carolina. All in all, 30 people took advantage of the event and the organizers were ecstatic.
Yolanda Pinzon Uribe
"We made it a party. We were so happy. We believed we had made the best outreach imaginable," said Uribe. "We danced that day. It was the best day of our lives."
That first event gave Vecinos the confidence it needed, the understanding that it could continue to put events like the first one on for the community, and the community would show up. But the community exceeded expectations.
About 100 people attended the second vaccination clinic Vecinos hosted, then 150 at the next, then 200, then 300.
"The key definitely was the outreach, how we went out and found the people," said Uribe. "We helped at vaccination events in Haywood, here in Jackson County. We had two big events in Sylva, one vaccinated 100 people, the other about 200 people. We helped a business in Canton to get their people vaccinated. Then all of a sudden we blinked and it was the last week of April, first week of May."
By that first week of May Vecinos had given out 2,418 shots — 1,023 people had received the first shot, 878 people had received a second shot and 520 people had received the single shot. Some of those people had come all the way from Henderson County, Buncombe County and even Georgia to receive vaccines from the Vecinos team in a place they knew they would be safe and accepted.
Stage III
In speaking with her colleagues during the first week of May, Yolanda and her teammates decided they had likely vaccinated most of the people in the LatinX community who wanted to be vaccinated and who wanted to be found. The team now became interested in more intense outreach, in finding members of the LatinX community that are more difficult to reach, those that didn't have easy access to knowledge about the services Vecinos provides whether through an employer or community organization. Uribe decided this was the perfect time to get back in the mobile clinic and find the people Vecinos had been unable to reach up to this point.
"I said, 'I have an idea. We have mobile clinics, we can go home by home, house by house, neighborhood by neighborhood. We already have the mobile clinics where we can do this. We need to do this,'" said Uribe.
Uribe and Marianne Martinez, executive director of Vecinos, worked to find clinical support for the mobile clinic, as well as vaccines. By May 18, the mobile clinic was off, going around Jackson County, finding those in the community that needed to be vaccinated.
"I started to call it 'One by One, All in One' because we speak with the people one by one. It's a mobile clinic so it's more personal and it's all in one. They have information, education, testing if they need it and they have the vaccine. And if they are in crisis, if we cannot help them, we can find someone who can help them," said Uribe.
In addition to information about COVID-19, testing and vaccinations, the mobile clinic also offers boxes of food and supplies for families that need to quarantine, or families that are in need of food assistance.
The mobile clinic started in Jackson County and was quickly approved to operate in Cherokee County, Graham County and Macon County.
From May 18 through Sept. 17, the Vecinos Mobile Clinic doled out 790 shots. Those consisted of 264 first shots, 192 second shots and 313 single shots.
Finding the people who needed access to COVID-19 vaccines, testing and information was one of the hardest parts for Uribe's team. They literally had to go knock on doors, one neighborhood at a time, talking to people and offering help.
"We found that when we find people, if we have the vaccine there ready to go, they will get it," said Uribe.
Vecinos staff member administers COVID-19 vaccine in mobile clinic. Donated photo
This instant approach was vital, according to Uribe. Instead of having a pre-clinic with information and paperwork in order to administer the vaccine at a later date, people were much more likely to get the vaccine if they could offer it up immediately.
It was also important to Uribe that people didn't feel any pressure to get vaccinated.
"I want you to take the information, the best information possible to help you to make a decision, whatever the decision you make. I want you to know that I will be there for you," said Uribe. "If you don't want the vaccine you need to make a plan, a plan to be ready if something happens. I try to help people make a plan because if you start to become sick, the implications are big."
The work of providing the mobile clinic to immigrant and migrant communities in Western North Carolina is grueling. The best time of day to assist people is after regular working hours. This means Uribe and her team often work a full day in their office preparing and conducting outreach. Then, the mobile clinic will leave the office around 4 or 5 p.m. to meet people where they are, at work or at home, and provide what is needed.
"Sometimes we don't finish work in the mobile clinic until midnight, or one in the morning," she said. "My team has a passion for helping these people, we want everyone to get the shot, it's more than just a job."
Moving forward, Uribe sees COVID-19 as something we need to learn how to live with, something that will likely be around for the long haul. She wants to see Vecinos continue to educate people about how to live healthy, safe lives. The measures we use to prevent COVID-19, masking, hand washing, social distance and quarantining when sick, Uribe says, also help prevent countless other dangerous illnesses.
"It's not only for COVID, it's for many things. It's health education, it's quality of life, it's wellness and we need to work on that. What is next is to have the best program to promote wellness and good behavior."
For more information about Vecinos or how to volunteer, visit www.vecinos.org.