Archived Outdoors
Two injured in bear encounter: Parkway logs first bear attack in at least 25 years
Wednesday, October 06, 2021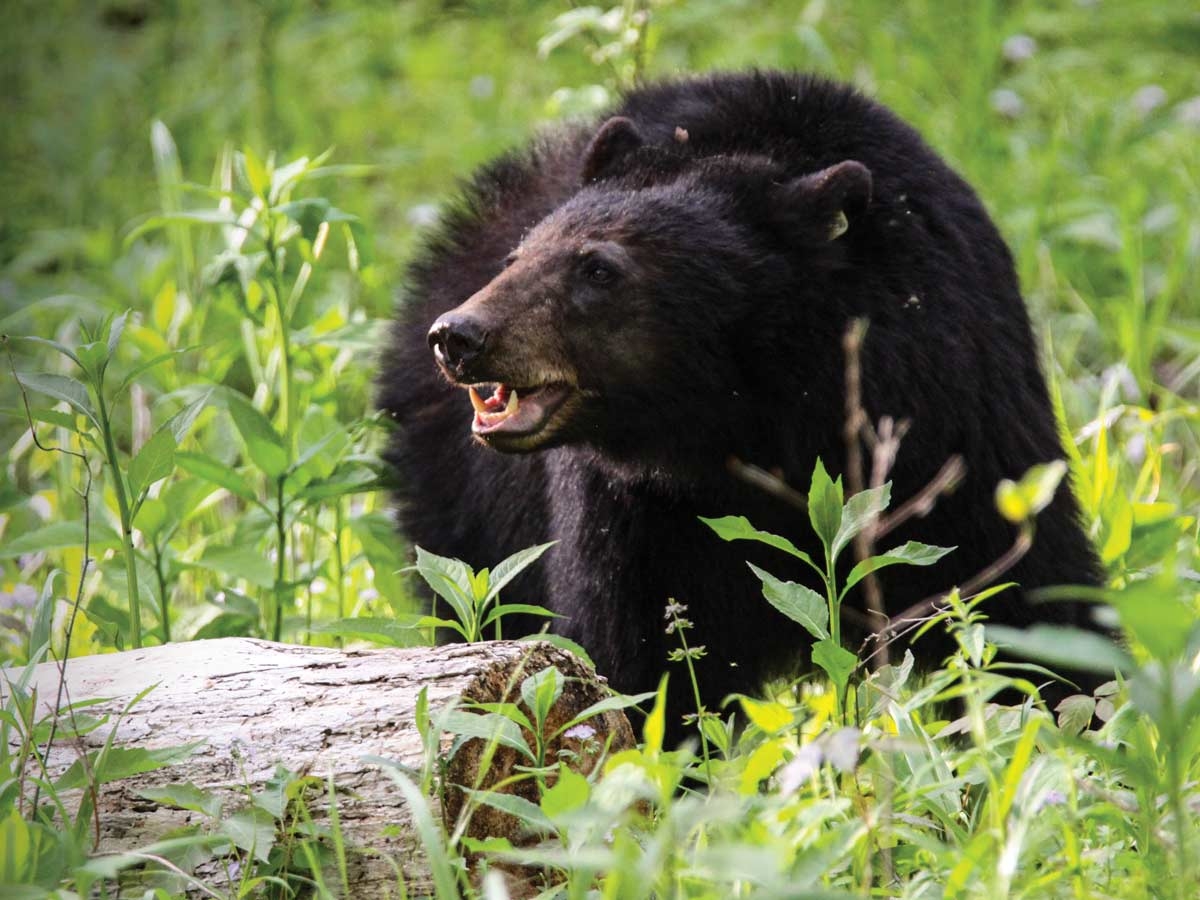 Western North Carolina's black bear population has increased significantly over the last 50 years. Warren Bielenberg photo
Trail closures and food prohibitions are expected to remain in place on the Blue Ridge Parkway in Asheville through the end of the week after a bear attack sent two people to the hospital last week.
The attack occurred on Wednesday, Sept. 29, as a man, a woman and their dog shared a picnic on a grassy hill near the Folk Art Center, at Milepost 382 of the Parkway in Asheville. The dog, which rangers described as a shepherd-type breed, wasn't on leash as Parkway rules require. When it sensed the bear nearby it ran toward it, barking loudly, which prompted the bear to react.
The bear attacked repeatedly, with the man fighting it off to let the woman and dog get into the vehicle. Once all three were inside, the bear continued to attack and climbed on top of the car. One person received bites and scratches to the head and hand, as well as a dislocated shoulder, while the second person received minor scratches. The dog was unharmed. The couple drove themselves to Mission Hospital in Asheville, where they were treated for their injuries and then released. No charges were filed for the off-leash dog violation, which carries a $50 fine.
The sex of the bear was not determined, but it did not have cubs with it at the time of the incident. It was young but not a yearling, according to witness descriptions, and weighed approximately 200 pounds. Because the bear was not marked with an ear tag or radio collar, it's impossible to know for sure if the bear had been involved in previous incidents or not, said Parkway spokesperson Leesa Brandon.
The euthanasia debate
From Thursday, Sept. 30, through Monday, Oct. 4, N.C. Wildlife Resources Commission biologists and Parkway staff monitored the area in an attempt to locate the bear, planning to euthanize it should they find it and match it to DNA samples collected on-site.
"Staff at the Wildlife Commission and the Blue Ridge Parkway do not take lightly the decision to euthanize a bear, but because this particular bear was very aggressive, it is likely to repeat the behavior and presents a serious public safety concern," reads a Wildlife Commission blog post .
However, this position spurred vocal opposition from the nonprofit group Help Asheville Bears, which published an online petition against the bear's euthanization. By 5 p.m. Monday, Oct. 4, the petition had gathered more than 6,600 signatures from people all across the country.
"The situation here is that humans broke the law and yet the bear will pay the steep price," the petition reads. "Flip that scenario around. Seems unfair doesn't it? Just because humans had an unfortunate encounter with nature does not mean that blame shifting is in order to save face."
Opponents of euthanization have urged the Parkway to instead relocate the bear or send it to a wildlife sanctuary, but according to the Wildlife Commission neither is a good option. Due to their remarkable homing ability, relocated black bears either return to their original home range or get hit by a car in the attempt. Meanwhile, adult wild black bears don't do well in captivity, experiencing extreme mental and physical issues that make that option inhumane, the Wildlife Commission blog post said. If the bear is captured and positively identified, it will be humanely euthanized and sent to a lab to determine if any factors such as disease or health contributed to its aggressive behavior.
The bear appears to have been spared its fate for now, with wildlife officials removing traps placed in the area Oct. 4 without having located the animal. However, the Parkway will retain forensic evidence gathered last week in case it is needed to identify the bear in the future.
While active efforts to locate the bear are over, trail closures and picnicking restrictions will remain in place through Friday, Oct. 8.
Currently, the Mountains-to-Sea Trail is closed from the intersection with the Visitor Center Loop Trail near Milepost 384 to Riceville Road Bridge at Milepost 382, and the Folk Art Center Nature Loop Trail is also closed, along with all trails accessed from Bull Mountain Road. Picnicking is prohibited between the Asheville Visitor Center and adjacent parking areas near Milepost 384 and the Haw Creek Overlook near Milepost 380.
While bears typically avoid humans and don't exhibit aggressive behavior, on rare occasions attacks do occur. Melissa McGaw photo (top) and Warren Bielenberg photo (below)
Rare aggression
While it's common for bears to bluff charge, pop their jaws, huff or stomp their feet when they encounter a dog — whether on or off leash — this bear's extremely aggressive response was abnormal, Brandon said.
In fact, she could not recall a single incident of a bear attacking a human on the Blue Ridge Parkway. No such incident has occurred for at least 25 years, and she is not aware of any bear attacks prior to that date.
However, bear activity has been high this year, with a temporary closure at Pisgah Campground this spring resulting from a nuisance bear that had successfully obtained food rewards from campers. That bear was captured and hazed, and there haven't been any further problems at the campground.
Nearby Great Smoky Mountains National Park has also seen some concerning bear incidents over the past year. An autopsy recently determined that a backcountry death that occurred in September 2020 was the result of a bear attack, and in June a bear was euthanized after it attacked and injured a 16-year-old girl sleeping in her hammock at a backcountry site near Cosby, Tennessee.
Some trails are still closed as a result of last week's bear attack on the Blue Ridge Parkway. NPS photo
"When bears act defensively, they will withdraw as soon as they view the threat is gone," said the Wildlife Commission post on the Sept. 29 incident. "However, the bear in this situation did not withdraw but continued to attack the victims, despite the couple taking appropriate actions (calling their dog, rather than physically retrieving their dog, and retreating away from the bear to the safety of their vehicle)."
Though bear attacks are extremely rare, Western North Carolina is now home to more bears and more humans than ever before — increasing the opportunity for these types of conflicts to occur.
A recently completed study from Joseph Clark, a research ecologist with the University of Tennessee and U.S. Geological Survey, estimated that in 2018, the four-state mountain area was home to more than 14,000 bears, half of which live in North Carolina. That represents a seven-fold increase over the 1,000 bears estimated to live in Western North Carolina in 1980.
Over the same period, human populations have increased drastically, with Buncombe County's population sitting at 164% of the 1980 census level and North Carolina's statewide population at 180% of the 1980 census.
Temporary human populations are up as well. While the 15 million people who visited the Blue Ridge Parkway in 2019 — the last complete year before the pandemic — is 11.9% higher than the 13.4 million who did so in 1980, the change in visitation is significantly more drastic when looking specifically at the Pisgah District in Western North Carolina. In 1988, the first year for which location records are available, 3.2 million people visited that section of the Parkway, but by 2019 that figure had increased 38% to 4.4 million.
When bears get used to people — and, especially, to their food — they eventually lose their natural fear of humans and are more likely to end up involved in an incident that could result in harm to humans, bears or both. The Folk Art Center and many portions of the Parkway are nearby neighboring communities, increasing the likelihood of bears receiving regular exposure to humans and human foods. Practicing the "BearWise Basics" — securing attractants like trash, keeping pets on a 6-foot, non-retractable leash and refraining from feeding or approaching bears — can prevent or resolve most human-bear conflicts.
These reminders are especially critical during the fall, which in addition to being an extraordinarily busy season for Parkway tourism is a critical feeding period for bears. During this time, bears typically spend 20 hours per day eating in order to put on the thick layer of fat they need for successful hibernation. With bears on the move looking for food and more people visiting the park, fall offers a higher potential for human-bear encounters than do other seasons.
Be BearWise
With fall temperatures falling, bear activity is increasing. People can protect themselves and bears by following the six BearWise Basics to reduce potential conflicts.
Never feed or approach bears.

Secure food, garbage and recycling.

Remove bird feeders when bears are active.

Never leave pet food outdoors.

Clean and store grills.

Alert neighbors to bear activity.
Bears' appetites are biologically programmed to go into hyperdrive in the fall because they need to put on a thick layer of life-sustaining fat before they turn in for the winter. During this time, bears must consume 10 times as many calories as they need during the spring and summer, which means finding 20,000 calories a day or more. To find those extra calories, bears will often forage outside of their normal ranges, venturing near homes, campgrounds and trails, and trying to cross busy highways to find food.
Learn more at www.bearwise.org. Report Blue Ridge Parkway bear encounters by calling 828.298.2491 or stopping by the nearest Visitor Center.