Archived Arts & Entertainment
Complementing the community: New restaurant brings Mediterranean flare to Sylva
Wednesday, August 25, 2021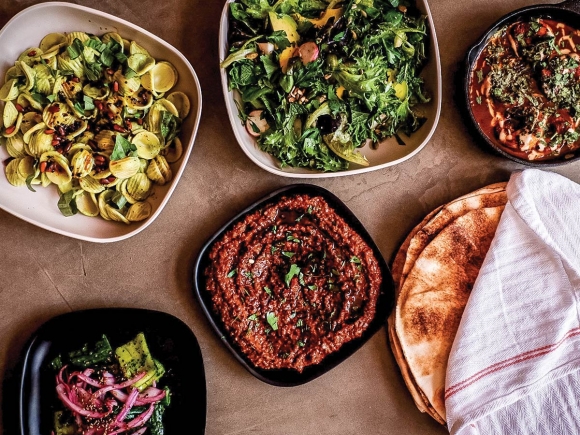 The most recent restaurant addition to downtown Sylva, Jame is a Mediterranean-themed establishment on Main Street. (photo: Courtesy of Jame)
Since they set up shop in Sylva just about three and a half years ago, Don and Cecelia Panicko have opened a café and a speakeasy, had a child and got married, all while weathering a global pandemic and the continuing economic fallout within the restaurant industry nationwide.
And yet, most recently, they launched their latest endeavor — Jame, a fine dining experience bringing forth the essence of Mediterranean cuisine, which also includes a specialized market to boot.
"The timing is interesting, for sure. Having a kid at the same time as the pandemic and opening a restaurant — it's been a struggle at times, but we're here to stay," Don said, leaning back into a chair at Jame with a humbled grin. "And there's a lot of things that we've longed to do to complement the community. We want to keep doing different things and giving people other options that aren't here."
To preface, the Panickos also run the White Moon café on Mill Street (with the Dark Moon speakeasy in the back of the café). Located near the corner of West Main and Walnut Street in downtown, Jame (an ancient Arabic name meaning "gatherer") opened last month and has already become a foodie hit for locals and tourists alike.
In terms of the menu, the Mediterranean-style of ingredients and presentation mostly focuses on herbs and vegetables (which parlays itself into several vegetarian and gluten-free friendly offerings). There are protein options, such as shrimp and chicken (lamb will be available soon).
Don and Cecelia Panicko with their son, Dante.
"With the menu we have, the produce and meat is aimed at making your body feel invigorated, and not run down like you can feel when consuming processed foods," Don said.
So, besides the fresh factor, savory ingredients and nutritional value, what is it about Mediterranean dining that really sets it apart?
"With Mediterranean food, it's about dishes that are meant for sharing, for trying a little bit of everything with everyone at your table — it's like a pick-your-own adventure book," Don said. "Each dish is this flavor journey, these cooling and warming sensations all in one bite, where it's cucumbers with chili peppers or toasted seeds with greens."
Directly next door to Jame is "The Market at Jame," a grab-n-go spot where you can purchase pre-made items and other ingredients found on the menu.
"We're constantly working on what we want to sell at the market to people who work here in downtown or visitors simply passing through," Don said. "We're seeing what's selling over there and making sure we are able to provide what our customers are looking for, whether it be a fresh sandwich for lunch or produce to bring home to cook for dinner."
The interior of Jame. (photo: Nick Breedlove)
Sitting in Jame, one takes in the cozy, intimate atmosphere of the establishment. It's meant to be embracing and welcoming, but also one-on-one with that sort of "stumbled across this place by happy accident" happenstance the Panickos aim for with the word-of-mouth approach. Heck, if you didn't notice the small neon "Jame" sign in the window, you might still continue on your way, none the wiser.
"We like it when folks just wander by and stop to look in the window. Their curiosity is sparked and they come in to see what we're all about," Don said. "There's this really great energy in here of discovery and new experiences through food many folks might have never had before."
With Jame now off and running, one can't help but also be in awe of the rapidly rising culinary scene in the small mountain community. For a town of just under 3,000 residents, the quality and number of fine dining options in Sylva is astounding — something noted and recently taken into account by this newspaper with the opening of Ilda (fine Italian/Appalachian cuisine) a couple blocks down Main Street from Jame.
"There's a lot of progressive-minded people in Sylva right now looking to do great things, and it all feels genuine," Don said. "People are not only opening new restaurants, they're doing a good job of not oversaturating the culinary scene with the same themes and menu items. Everyone is doing something different — it's an exciting time right now in this town."
Leave a comment
2

comments
LOVE the fact that there are more diverse food options here in the mountains. yet - as a local totally hate the fact that Sylva is becoming more progressive. Firm believer of 'everything woke turns to s..it.

Saturday, 01/22/2022

It's at West Main and Landis Street in Sylva. It hasn't been called Walnut Street for years!

Saturday, 08/28/2021