Archived Reading Room
A light in our darkness: Michael O'Brien's The Lighthouse
Wednesday, August 25, 2021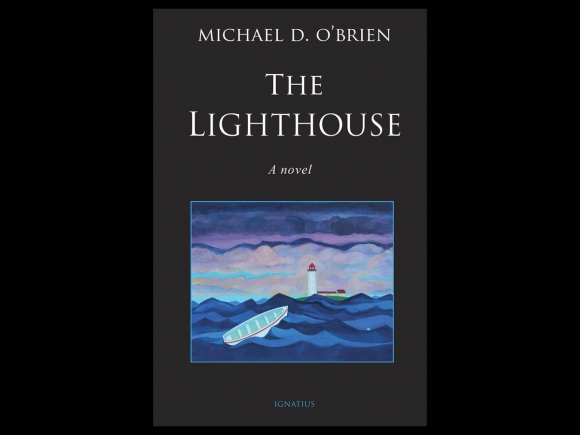 So it's a late Thursday afternoon, and I'm sitting on the front porch finishing up a novel when my eyes prickled, and then blurred, and the old saltwater ran down my age-raddled cheeks.
Is there any sight more pathetic or even more ludicrous than an old guy weeping over a book?
Thank heavens none of the neighborhood children witnessed this spectacle. Who knows what nightmares that event might have induced?
I've read nearly all of Canadian author Michael O'Brien's novels. If secured with rubber bands, most of them could easily serve in the place of bricks for a street riot. Despite their obesity, however, I have always enjoyed O'Brien's work. He's a painter as well as a writer, and brings an artist's eye to his prose.
His latest piece of fiction is The Lighthouse (Ignatius Press, 2020, 201pages). Though slimmer than his other volumes, The Lighthouse again reveals the immense talents of this writer.
Here we meet Ethan McQuarry. Deserted by his father, raised by an abusive alcoholic mother, and then abandoned by her as well, Ethan drops out of school, lives for a time on the streets, works for a lumber operation, and then finds a post as the keeper of a lighthouse in Nova Scotia. His solitude and his love of the tiny island that serves as his home eventually help heal him of the wounds suffered in his childhood. He becomes an eclectic reader, rebuilds a small boat that has washed up on the rocks of the island, and turns his hand to woodcarving, using chisels and paint to make beautiful sculptures.
Ethan maintains contact with other people during his visits to the local town for some of his supplies — the state provides him with fuel and food staples — and during his annual two-week vacation, when he explores the coastline by foot and by bus. He befriends Elsie Whitty, the owner of the town's bed and breakfast, and knows such people as the librarian and the post-mistress.
He also receives occasional visitors, most of whom are curious to see the lighthouse up close: some Japanese tourists, for example, and a beautiful young woman who breaks Ethan's heart simply by talking with her. Of these people, only Ross Campbell, a budding young marine biologist, eventually makes a friend of Ethan. Ross helps Ethan get his refurbished boat into the water, and even designs and builds a studio for him for his works of art.
Though The Lighthouse does offer stories of rescue on the high seas and ends with one particularly dramatic storm, and though the finale packs a wallop of a surprise, this is a quieter novel than most. Through Ethan we can reflect on various ideas and circumstances — solitude, loneliness, the meaning of joy, the nuances of the past. Particularly for those of us who spend a good number of our hours and days alone, devoid of human contact except by email and phone, we can find much here that speaks to our minds and hearts.
At one point on his vacation walks, Ethan enjoys a lunch with a farming family he meets and takes a walk with the children. This description of the end of that encounter illustrates both O'Brian's beautiful writing and Ethan's loneliness:
"Arriving at the house, Ethan thanked them all for their hospitality and made ready to leave with as little fuss as possible. But it seemed they were loath to see him go, wanted to ask a hundred more questions about being a lighthouse keeper, about daring rescues and 'storms of the century.' The older boys were especially shining-eyed with visions as they tried to imagine his life. The girl insisted, in her little bird voice, that they would all go stay with him on his island. The parents made him promise to come and visit if he was ever back this way. Ethan said nothing more, and shook their hands before heading down the lane.
"About a quarter mile farther along, he stopped by the side of the road, sat down on the grass, and put his face in his hands. Unable to explain to himself why he was so overcome with emotion, he dried his eyes, got up, and continued on his way."
In another part of The Lighthouse, Ethan remembers all of those from his boyhood who had encouraged him: a social worker, a teacher, a gym instructor, the manager of a supermarket where he worked, a counselor at church who held "his hands firm on the boy's shoulders, eye to eye, saying, 'Ethan, you'll be a good, strong man."
And Ethan becomes that man. Throughout the story, though a recluse of the soul, he gives himself unstintingly and freely to those around him, both acquaintances and strangers, rescuing some from the storms at sea, rescuing others like Elsie from the storms of the psyche.
Right now our culture is torn apart by division, hatred, and despair. Politics have sliced apart family and friends. The savage arguments over the efficacy of the vaccine for COVID-19 are only the latest indication of our disordered selves.
In The Lighthouse we find the antidotes for our pain, the vaccine, if you will, against these maladies: an appreciation of beauty, sacrifice for others, kindness, mercy, love, and forgiveness.
(Jeff Minick reviews books and has written four of his own: two novels, Amanda Bell and Dust On Their Wings, and two works of nonfiction, Learning As I Go and Movies Make the Man. This email address is being protected from spambots. You need JavaScript enabled to view it.)