Archived Outdoors
Planning for adventure: Sylva, Cherokee to partner on trails plan
Wednesday, August 18, 2021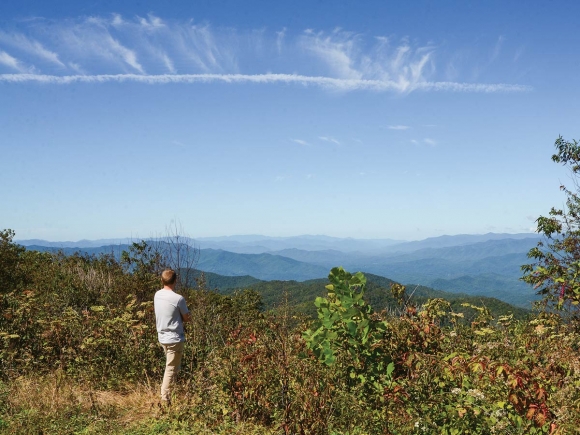 In a 2018 photo, Jordan Smith of Mainspring Conservation Trust looks out from a 5,462-foot view atop the Blackrock property. Holly Kays photo
The highest-elevation mountain bike trail on the East Coast is on the path from concept to reality after the Cherokee Tribal Council and Sylva Board of Commissioners approved an agreement to begin a joint master planning process for the 912 acres of ridgetop land.
"This is a novel partnership that I think is good for both the Town of Sylva, the EBCI and the region, for co-developing this trail system," EBCI Secretary of Agriculture and Natural Resources Joey Owle told the Sylva Board of Commissioners Aug. 12.
The 912 acres includes the 441.5-acre Blackrock Creek Tact owned by the Town of Sylva and the 471-acre Shut-In Creek Tract owned by the tribe. The two purchases are connected down the midline like a pair of butterfly wings, the exterior portions of those wings almost completely connected to other conserved lands.
A complex agreement involving Sylva, Jackson County, the EBCI, Mainspring Conservation Trust, The Conservation Fund and private donors resulted in the property's 2019 purchase and placement under a conservation easement. Originally purchased for development prior to the 2008 recession, the property contains stunning views and some gravel roads — but no houses.
The property features sweeping mountain views. Donated photo
Moving toward the big picture
Both the tribe and the town made their purchases with the idea of building a trail system and backcountry recreation amenities on the land, and in February both the town board and the EBCI Planning Board gave a thumbs-up to a trail system concept put forward by the Nantahala Area Southern Off Road Bicycle Association.
The town had originally hoped to develop additional trails at its existing Pinnacle Park property — which is adjacent to the 441.5-acre Blackrock tract — in concert with the trail system at Blackrock, but development at Pinnacle Park was put on hold due to concerns about sensitive ecological communities there.
"Because of some of the things with unique aspects of Pinnacle Park, we were in the position where we weren't getting our approval from (the N.C. Land and Water Fund) to move forward, so we asked Land and Water just to approve Blackrock, which is on the other side of the ridge and goes hand-in-hand with Shut-In," Sylva Commissioner Ben Guiney told his fellow board members Aug. 12. "They were kind enough to do that."
The properties' proximity, combined with Cherokee's expertise in trail building — as shown by the immense popularity of its Fire Mountain Trail system — made collaboration between Cherokee and Sylva a logical approach as the two governments move their respective projects toward the next phase.
"It's advantageous to work together, because the design for the trail system crosses boundaries in a few locations," Owle told Tribal Council Aug. 5. "We don't want to move forward on Shut-in Creek and then have all this opportunity above us that's undeveloped. This lays it out so that we work together for this specific purpose, but once it gets into the construction phase, we can move separately."
According to the agreement, the town and the tribe will issue a joint request for proposals seeking a master plan for a trail system covering the two tracts. Once a vendor is selected, the tribe will pay the up-front cost of the master plan with the town on the hook for half that price tag. Owle told Council that the plan is expected to cost about $40,000, with each government paying $20,000. Both governments hope to fund the construction phase largely from grants, with Sylva planning to lean on its Fisher Creek Fund for costs not covered by grant funding.
The resulting master plan will be a "big picture plan, not just for the trail," Guiney told the town.
"We've got our trail concept there, but what's going to happen with access and safety and a number of things?" he said. "This is why you pay someone to come up with all of those answers."
Nantahala SORBA's plan for Blackrock and Shut-In would add 13.1 miles of new trail to the existing 3.4 miles that currently exist on those properties. Those trail miles would connect to the 9 miles of trail that already exist in Pinnacle Park. The planned design would accommodate a variety of users, from bikers to hikers, featuring the wider turns and milder grades that are critical for mountain bikers but omit the berms and jumps that bikers love and hikers hate. A stacked loop system would place easier loops with wider trails closer to the trailhead and harder loops with narrower trails farther in the backcountry.
Sylva's Blackrock Creek tract (in red) and Cherokee's Shut-In Creek property (in orange) Sylva's Blackrock Creek tract (in red) and Cherokee's Shut-In Creek property (in orange) abut thousands of acres of conserved land. Donated map
Issues of access
It's an exciting plan, but as bike community leaders seek to make it a reality, access will likely prove the biggest hurdle. Even though Sylva owns the Blackrock tract, there is no vehicular access to the property from town. And even the existing trails at Pinnacle Park sometimes attract too many users for the small parking lot to accommodate — additional build-out will require additional parking.
The master plan will include answers to questions surrounding parking, access and emergency response, Guiney and Owle told their respective governments.
Both governments had questions about how public access to the proposed trails might affect those who already live in the area. Residents of Fisher Creek Road, which leads to Pinnacle Park, have expressed displeasure about the increased traffic volume that now uses the narrow, rural road, and residents of tribal land near the newly conserved property are likewise nervous as to what creating a high-profile trail there might do to their neighborhood. The recent explosion of use at Max Patch underscores the urgency of such concerns — the U.S. Forest Service recently implemented new regulations at the popular recreation area after overuse led to myriad issues, including roadside parking of such magnitude that local residents found themselves wondering if an ambulance would be able to get through in an emergency.
"Shut-In, it's just a single gravel road. There's three houses on it. I don't know how they would feel with as much about traffic as what this could bring," said Wolfetown Representative Bo Crowe, urging Owle to sit down with the residents before moving forward.
In the Sylva meeting, there was also discussion about potential environmental impacts, and whether there were any plans to do a botanical survey like the one that had been recommended for Pinnacle Park before moving forward with the master plan.
To both concerns, Guiney and Owle emphasized that the request is only for approval to begin a master planning process. Once a specific plan is created, the discussion about potential impacts will be more fruitful.
"We're not at that point of scoping the community," Owle told Council. "We're just wanting to do a design. And we would need that design to then take to the community to show what we're proposing."
Regarding ecological concerns, Commissioner David Nestler said that having a completed master plan might make such issues easier to address.
"With a plan, we have the advantage of doing a much more limited biodiversity study," said Nestler. "We could have someone come in and just look where the trails are proposed and make sure we're not disturbing any plant species. In some ways it's good to go ahead and get a study like this done and have a master plan, because that can help make things like those biodiversity studies go a lot quicker."
Sylva approved the request unanimously, and Tribal Council did so by an overwhelming majority. All Tribal Council members voted yes save for Painttown Representative Dike Sneed, who voted no, and Chairman Adam Wachacha, who was absent.
With approvals in hand from both governments, Guiney said he hopes to move forward with an RFP in September and select a company toward the end of the month. Hopefully, a plan would be complete by the beginning of 2022. Sylva and Cherokee could then begin looking for grant funding opportunities throughout that year.