Archived News
As COVID cases rise, schools reverse mask decisions
Wednesday, August 18, 2021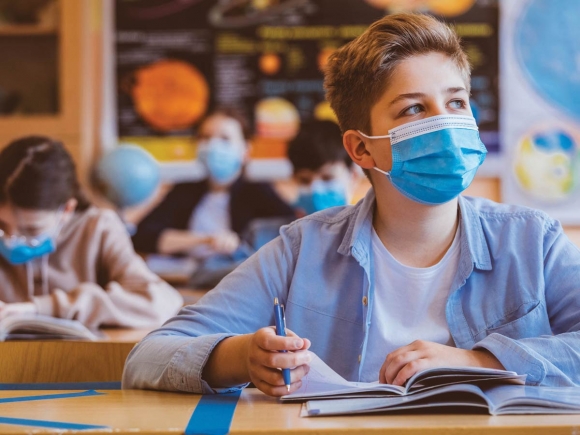 As COVID-19 cases rise, in large part due to the spread of the new Delta variant, school boards across the state are opting to mandate masks for students and staff.
On July 21, Gov. Roy Cooper issued guidance for K-12 public schools in North Carolina, recommending universal masking for all students, staff and visitors. The recommendations leave the decision to mandate masks up to local school boards.
As of Aug. 17, over half of North Carolina's 115 school districts have mask mandates in place, according to the N.C. School Board Association. The remaining districts are leaving the decision up to parents.
In The Smoky Mountain News coverage area, Jackson, Macon and Swain counties have all decided to mandate masks in schools, while Haywood County remains the sole school board to keep masks an option for individual families.
Haywood
The Haywood County School Board originally voted to make masks optional on July 27 . At that meeting, local health officials recommended the board begin the year with a mask mandate according to the guidelines laid out by North Carolina Health and Human Services, or devise standards of transmission and infection rates that would determine the need for temporary mask mandates in the future. Fourteen parents spoke in favor of optional masks, while two pleaded with the board to require masks. One of those two parents advocating for a mask mandate, Natasha Bright, returned on Aug. 9 and presented a petition to the board asking to start the school year with universal masking. At the time of the Aug. 9 meeting the petition had more than 600 signatories.
On Aug. 13, the school board held an emergency school board meeting to discuss the issue again. By that time, the petition to start the year with universal masking had over 800 signatures. At the meeting the school board issued a strong statement asking students to wear masks while indoors but did not enact a mask mandate.
"While masking is still a choice, the Haywood County Schools Board of Education, Haywood County Health and Human Services and Haywood County Schools administration strongly recommend the use of masks in indoor settings at this time," said Chairman Chuck Francis during the meeting. "Masking is also requested at outdoor events if social distancing is not possible."
According to the statement, since the board's action on July 27, COVID-19 cases have significantly increased with several clusters developing in the county. One cluster was connected to the school system's maintenance department.
"There have been several conversations between Board of Education members, Haywood County Schools Administration and Haywood County Health and Human Services Officials," said Superintendent Dr. Bill Nolte. "We want to have in-person learning this year. In-person learning is clearly the best learning situation for most students. We are concerned the increasing and rapid spread of COVID-19 coupled with low mask wearing rates could result in uncontrolled spread at school, numerous quarantines and an inability to have in-person school."
While masking is still a choice, the Haywood County Schools Board of Education, Haywood County Health and Human Services and Haywood County Schools' administration strongly recommend the use of masks in indoor school settings at this time. The board of education reserves the right to make masking mandatory if necessary.
Shining Rock Classical Academy, the only charter school in Haywood County, decided to follow guidance from the governor, as well as state and local health officials and mandate masks for all students, staff and visitors in its school.
"We wanted to make this school year as normal as possible," said SRCA Head of School Josh Morgan. "By wearing masks, encouraging outdoor education whenever possible and spreading kids out, we will be able to have a less disruptive school year. Less cases and less quarantining."
According to Morgan, eight days into the year the school has already had more COVID-19 cases this year than all of last year. There have been 11 COVID-19 cases among students and staff, resulting in 67 individuals in quarantine protocol as of Aug. 16.
Macon
Macon County Schools had originally planned to start the year without a mask mandate. At the July 22 meeting , Superintendent Dr. Chris Baldwin said that because mask mandates would be a local decision as of July 30, he had been in regular conversation with Macon County Health Director Kathy McGaha.
As of July 22, based on the level of COVID-19 transmission in Macon County, McGaha did not recommend starting the school year off requiring face coverings. However, Baldwin said that they would continue to monitor COVID transmission rates in the community and would discuss parameters and thresholds regarding what level of transmission within the community and schools would require the need for temporary face covering requirements.
On Aug. 16, due to rising levels of transmission within the community, and after lengthy discussion, the Macon County School Board voted 3-2 to require masks indoors for students and staff. Board members Melissa Evans and Tommy Cabe voted against the mask mandate.
Masks are now required inside school facilities and school transportation. Masks will not be required outside, or during vigorous physical activity. The mask mandate will be re-evaluated weekly.
Baldwin expressed concern about the ability to keep schools open if masks were optional due to quarantine requirements.
At the Aug. 16 meeting, McGaha recommended starting the year with a mask mandate due to rising cases and higher transmission rates in the county. McGaha noted that anyone within 6 feet of a positive COVID patient for 15 minutes or longer is considered a close contact. If both parties are masked, asymptomatic close contacts do not have to quarantine. If one or both parties are unmasked the close contact has to quarantine regardless of symptoms.
Because the meeting was virtual, parents and community members had their remarks read aloud by the board attorney during a public comment session that lasted over an hour. In addition to parents and community members, Congressman Madison Cawthorn, R-NC, addressed the board virtually to implore the board to make masks optional.
"I know that you are here to reconsider instituting a mask mandate on the school and the children throughout this next school year. And I understand the main reason you're probably doing that is because we had unelected bureaucrats who serve at the favor of our North Carolina's governor, who are trying to force their will upon you, they're trying to make your life difficult by saying that, 'oh, if just one student is found to have COVID-19, then we're going to have force that entire class to go into quarantine.' I understand that sounds difficult, but my friends, the superintendent of the schools in your county works for you, they don't work for the governor. They do not work for the bureaucrats in Raleigh. And so I ask, please stand up and do the hard thing," he said.
Cawthorn said that while the decision to make masks optional may be unpopular, and the board may receive some backlash, "the people at Raleigh can't arrest all of us. They can't come shut all of our schools down." However, according to the governor's orders, the decision to require masks is a local decision, not one the board could face legal trouble for.
He also spoke out against mask mandates at school board meetings in Buncombe County and Transylvania County this month. Buncombe County School Board voted to require masks, but Transylvania decided to keep masks optional.
Swain
Swain County Schools will start the year with a mask mandate, reversing a previous decision to make masks optional for the 2021-22 school year.
At the July 29 Swain County School Board meeting, the board had decided to make masks optional for all students, staff and visitors. In making this decision, the board made it clear that the decision was based on current conditions and was subject to change if COVID-19 transmission rates grew to dangerous levels in the community.
According to Swain County Public Health Director Alison Cochran, that time has come.
Cochran presented the latest COVID-19 information to the school board and the board questioned Cochran about social distancing and quarantine requirements for students and staff when masks are required versus when they are not.
The big takeaway was that when students are consistently masked, symptom-free students are not required to quarantine after having close contact with a COVID-positive peer. When masks are optional, students that have been within six feet of a COVID-positive peer would have to quarantine for the appropriate amount of time, or until they receive a negative COVID-19 regardless of whether they are experiencing symptoms.
When the board asked Cochran what her level of concern was, she said that because cases are sharply increasing and students and teachers are about to return to classrooms where they are in close contact, indoors there is reason for concern. Cochran said that all the public health directors she had spoken with were recommending their school board follow CDC and state guidelines.
The board took Cochran's advice. Board member Kimberly Carpenter made a motion to start the school year requiring masks indoors for all students, staff and visitors. The motion passed unanimously.