Archived News
Zoning change could result in sale of Waynesville parcels
Wednesday, August 18, 2021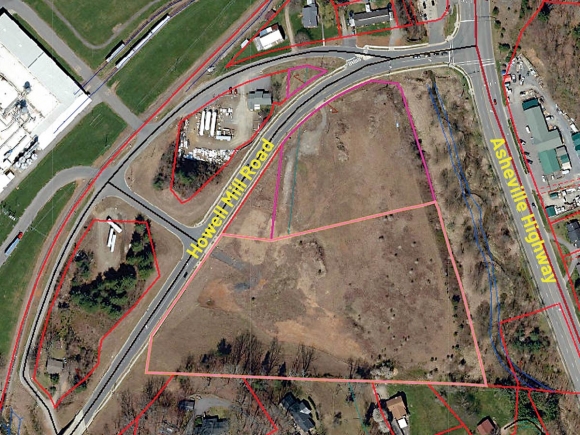 Undeveloped parcels of this size are relatively rare in Haywood County. Haywood GIS photo
A pair of undeveloped parcels at the southwest corner of Asheville Highway and Howell Mill Road have undergone a zoning change that will clear the way for more badly needed residential development.
"This property is in a prominent location in one of the gateways into our town," Byron Hickox, a zoning and land use administrator in Waynesville's Development Services department.
The parcels, located in the town's extraterritorial jurisdiction, total just over 10.4 acres and were once part of the Waynesville Industrial Park, but were deeded to the Haywood Advancement Foundation in 1999.
In 2006, they were sold to the current owner, Glenn Tolar, at which time the parcels were graded into relatively flat condition by the North Carolina Department of Transportation during the Howell Mill Road widening project.
A report from Hendersonville-based WGLA Engineering says the parcels have been for sale for four years. Despite the premium usually paid for developable land in Western North Carolina, part of the reason these parcels haven't yet sold could be the zoning designation of Commercial-Industrial.
Commercial-Industrial is the only classification in the town's zoning system that allows no residential use, as it's intended to support heavy commercial, manufacturing, warehousing and storage.
Toler originally approached the board in March about the rezoning, but delayed the hearing to entertain other options. Over the summer, Toler returned to ask for the rezone. Currently, there is no developer or site plan attached to the parcels.
The planning board approved the change for the parcels to Raccoon Creek Neighborhood Residential at its Aug. 26 meeting, and a unanimous vote by Waynesville aldermen made it official on Aug. 10.
The change is a win/win situation, or perhaps a win/win/win situation under the right circumstances.
The previous zoning would have allowed such uses as landfills or trucking operations. Such businesses aren't bound by appearance standards — a troublesome proposition, as the property does indeed serve as one of the eastern gateways to Waynesville. It also abuts Raccoon Creek, and is right across Old Asheville Highway from Junaluska Elementary School.
The new Raccoon Creek Neighborhood Residential zoning designation carries relatively high appearance standards. A planning board staff report dated April 19 suggests "architectural and site design should be of the highest quality."
The final win could come if residential development ends up occupying the site, which has access to drainage, water and electric service. Right now, zoning would allow for up to 10 units per acre, or up to 16 with a special use permit.
At 10 acres, the site is comparable to the former BI-LO location on Russ Avenue, which is 8.8 acres and will soon host approximately 200 residential units.
The property is listed for sale with Billy Case of Beverly Hanks for $1.95 million. A listing on www.realtor.com says the site is under contract and that a contingency sale is pending. The contingency contract couldn't immediately be confirmed, as a call to Case's cellphone has a voicemail message stating that he's out of town without access to phone or email.
If the property does indeed end up hosting residential development, it would join another residential project further west on Howell Mill Road, announced this past March.
That project, helmed by nonprofit developer Mountain Housing Opportunities, would contain more than 80 units of affordable housing, with the cheapest one-bedroom unit going for $388 a month and the most expensive three-bedroom unit renting for $963 a month.