Archived Opinion
Sometimes the plan is to not have a plan
Wednesday, August 04, 2021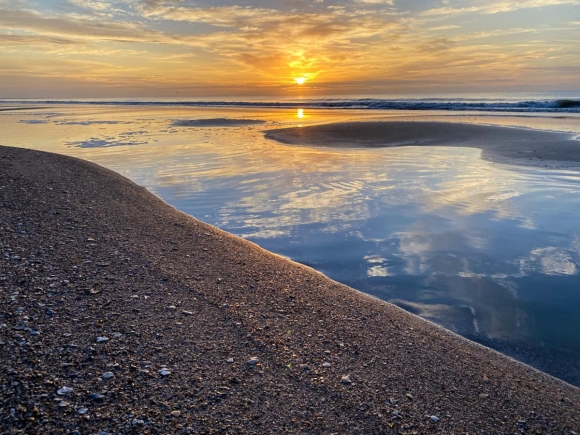 Sunrise at Edisto Island.
There is the dream my wife has every so often that haunts her. She's on vacation and it's the last day, time to pack up and go back home, and she realizes with this profoundly sick, panicky feeling that she hasn't been to the beach even once and now it's too late.
"Why do I always have this dream?"
"It's a metaphor," I say, because I'm an English teacher and think pretty much everything is a metaphor. "This is your life, it's going by quickly, and you're afraid you might be missing it."
Then she'll throw something at me. Literally, not metaphorically. Because I'm mansplaining her dream, which in a way she asked for, but not really. Because when your spouse asks you, "Can you believe it?" the answer must always be, "No!"
The answer must never be, "Well, yes I can believe it, and here's why." People who do not understand this basic principle of human relationships are destined to spend a lot of time alone playing word games or Tetris on their iPhones, wondering what went wrong and what happened to the rest of the vodka.
Even though we've been together nearly 18 years now, Tammy and I belong to two diametrically opposed groups: 1) those who require a plan for anything in order to feel comfortable and properly sorted; and 2) those who despise plans and are happy only when they are freewheeling it, whatever "it" may be.
One of the reasons I have overcome an aversion to the beach that reaches back over most of my life is that Edisto Beach is a great setting for my people — we call ourselves the "planless." There is not much here to plan because there is nothing much to do, at least as "something to do" is normally measured by tourists. You can rent bicycles or go out on a boat for a better look at those dolphins. There are a few places to eat, but no chains and no real night life to speak of unless one of the restaurants has someone playing halting covers on an acoustic guitar over in the corner for tips.
Most days consist of sleeping in, having some coffee, packing a lunch, choosing a beach access, and then setting up the canopy where I can read while watching Tammy and the kids — who are alarmingly no longer kids — throw a ball back and forth or float on the waves. We spend the day there, applying and then reapplying sunscreen, eating our lunches, going back and forth to the ocean half a dozen times. When we run out of bottled water or somebody complains about getting hungry, we pack up and then start figuring out dinner while everybody waits in line to take a shower.
Tammy is good with this because she has planned it. I am good with it because I have not, nor am I stuck with somebody else's plan. If I wanted to, I could jump on a bike and cruise on down Jungle Road for some ice cream. Or I could go back to our rental for a nap, or peak in on the British Open. Or I could go rent a kayak and go out on the water.
I can do whatever I like, and what I like — mostly — is just relaxing with my book, pausing from time to time to watch the birds: the pelicans in their formations, so regal and placid, and the seagulls diving and groveling for Cheez-its, squawking and complaining like a bunch of meth addicts.
I decide that watching the seagulls makes me kind of jittery, but watching the pelicans relaxes me. They drift through the sky, back and forth across the beach, seemingly aimless, almost effortless in their movements. They flap their wings once or twice maybe, but mostly they just glide, no particular place to go or to be, no pathetic displays to coax a few crackers from somebody.
We go to the beach every day, except for one day-trip to Charleston. We don't want Tammy having any of those nightmares when we get home. My nightmare is having a vacation like one of those eighth-grade field trips to Washington, D.C., where you have a short time to see and do everything you can cram in, checking off landmarks one by one as you're jerked from one thing to the next, barely in one place long enough to do anything more than snap a picture, like a desperate seagull trying to snatch a cracker.
At Edisto, I'm just gliding, baby, regal and placid. We didn't miss a thing.
(Chris Cox is a teacher and writer who lives in Haywood County. This email address is being protected from spambots. You need JavaScript enabled to view it.).
Leave a comment
3

comments
Wonderful article Chris as always! I enjoy reading what you write?

Saturday, 08/14/2021

That was an enjoyable little read! A fine work of literary nonfiction!

Sunday, 08/08/2021

Thank you! I like to have enough plans to have a general idea of where dinner is coming from. Also, have plans, not expectations.

Sunday, 08/08/2021