Archived News
Jackson jails, senior center to get new food vendor
Wednesday, August 04, 2021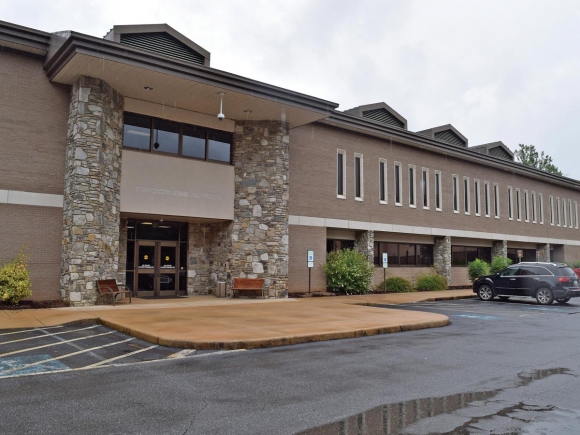 Jackson County Justice Center.
For the first time in six years, Jackson County will have a new vendor providing meals at its jail and senior center after commissioners voted unanimously July 20 to award the contract to Georgia-based Skillet Kitchen .
The company currently manages 35 kitchens in four states, including locations in Swain, Macon, Cherokee, Clay, McDowell, Lincoln, Cleveland and Gaston counties in North Carolina as well as several North Georgia counties, feeding 9,000 inmates 575,000 meals a week.
"We're very qualified in this area because we have so much around here," Skillet Vice President Matt Eubanks said during a June 13 work session. "Our district manager actually lives in Hayesville. Our territory manager lives in the general area as well. We have a lot of backup support. In the food service industry in the last year, year-and-a-half, having a backup plan has been important."
Since 2015, Sylva-based B and Al's LLC, owned by John Faulk, had held the kitchen contracts. The 2015 contract was good for four years, but County Manager Don Adams said he had been extending it on a year-to-year basis after its expiration.
"I've been in conversations with Mr. Faulk for a couple of years," Adams said. "A couple of years ago he was really contemplating retirement at that point. I was trying to buy time to see what Mr. Faulk wanted to do. I guess it was probably around six to eight months ago it was discovered that he was still interested in proceeding forward with the contract."
At that point Adams, Detention Center Captain Patrick McCoy and Department on Aging Director Eddie Wells sat down to discuss how to move forward, ultimately deciding to go through an informal bidding process in which they would reach out to companies with capacity to provide the service. During the June 8 work session, they presented commissioners with the four bids they had received in response.
In addition to Skillet and Faulk, the county received bids from Mountain Projects and Charlotte-based TRIO Community Meals. In the bid form, the county had asked each company to quote a price per meal for a contract that would include a minimum of 39,520 meals per year — 150 per day, five days a week — for the Department on Aging and 54,750 meals per year — 150 per day, seven days a week — for the jail. The price was to be inclusive of any non-food costs such as packaging and delivery. The companies would have access to the county's kitchen area.
Skillet was not the lowest bidder overall, but it was the lowest bidder to provide an offer that included three hot meals per day for the jail. Skillet said it would charge $5.57 for Department on Aging meals and $5.83 for meals at the jail, which would add up to $543,092 per year at the 150-meal minimum stated for each agency. The company also outlined a sliding-scale pricing system such that per-meal prices could vary between $3.97-$8.11 for the jail and $4.98-$7.04 for the department on aging depending on the number ordered.
Mountain Projects entered a lower overall bid of $521,733.30 for the minimum order, which included $5.79 per meal at the Department on Aging and $5.35 for meals at the jail. However, that $5.35 figure was for two hot meals and one cold lunch each day — the organization did not include a bid for three hot meals per day.
During a June 8 work session on the issue, Adams said that serving hearty meals in the jail has an important impact on inmate behavior and safety.
The current vendor, B & Al, offered a significantly higher per-meal price of $6.25 across the board, which would have cost $589,187.50 for the minimum order. The fourth bid, from TRIO Community Meals, was even higher, at $8.15 per meal.
Adams told commissioners July 13 that Skillet is willing to use employees working under the current contract to provide the services, and that the positions will offer higher pay than before, with benefits.
The new contract will become effective Oct. 1.