Archived News
Recording reveals Cawthorn's gun gaffe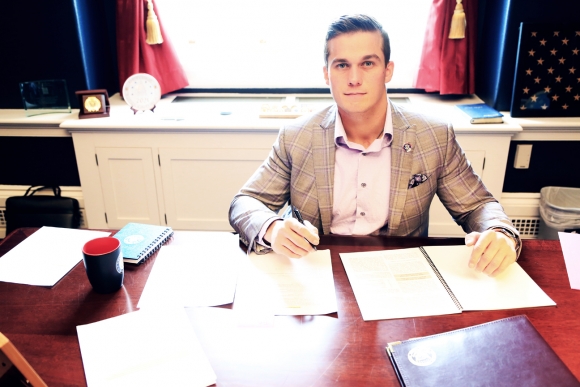 Jeffrey Delannoy photo
Congressman Madison Cawthorn attempted to bring a firearm though airport security this past February, but the freshman Western North Carolina rep insists it was a simple mistake.
"Five months ago, while boarding a flight, Rep. Cawthorn erroneously stowed a firearm in his carry-on (that often doubles as a range bag) instead of his checked bag," Cawthorn spokesman Micah Bock told The Smoky Mountain News. "The firearm was secured, and unchambered. Rep. Cawthorn endeavors to always follow TSA guidelines, and quickly rectified this situation before boarding his flight."
The incident was brought to light in a recording of radio traffic between law enforcement officers at Asheville Regional Airport that was obtained through a public records request by a super PAC dedicated to Cawthorn's ouster.
David Wheeler, president of American Muckrakers PAC, said he learned of the incident from an anonymous source. Details, including the recording and a heavily redacted police report dated Feb. 13, were published July 29 on the PAC's website, www.FireMadison.com.
In the recording, one officer can be heard directing another to respond to a report of a firearm at the airport's security checkpoint.
"Just to advise, it's going to be an elected official, Madison Cawthorn's firearm," the officer said.
"That doesn't make a difference, you still gotta get the information," another officer responded. "You got to have the proper channels to carry it through."
Initially, officers offered to escort Cawthorn back to his vehicle to stow the firearm, but since he wouldn't have been able to make it back to his departing flight in time, they opted to secure the Glock and its loaded magazine and allow Cawthorn to retrieve it upon his return. He did so on Feb. 22.
Per Transportation Security Administration policy, passengers may transport unloaded firearms only in checked baggage, and only if they're secured in hard-sided containers and declared to the airline upon arrival.
Violations of the policy can result in fines totaling more than $13,000. It's not clear if Cawthorn was fined, and it's also not clear why he was allowed to retrieve his weapon, when TSA policy states that "Federal law and operational considerations restrict the return of prohibited items that are left at the security checkpoint."
This is a developing story. Look for more in the next issue of The Smoky Mountain News, online and on newsstands on Wednesday, Aug. 4.
Leave a comment
7

comments
He made an honest mistake and his opponents will try to capitalize on it even though the Socialist Democrat criminals make honest mistakes too. Too bad the mainstream media never talks about all the illegal activity of the Socialist Democrats who are destroying America.

Tuesday, 08/03/2021

Hey Cory, why don't you say something about Joe Biden's wonderful son Hunter and his criminal activities? Lets talk about Hunter purchasing a handgun illegally for starters. You are stupid Cory.

Monday, 08/02/2021

No surprise here. The childish man who put on a military-style civilian jacket to rev up the mob of trumpers on their way to the insurrection attempt almost certainly did not "forget."
What a pity the same federal government, the TSA, that gave him back his gun in violation of federal law is the very government he works to destroy.

Monday, 08/02/2021

Cawthorn has traveled quite a few times back and forth to Washington DC so the rules regarding guns are ones he should already now perfectly.

And the gun should have been permanently confiscated and he should have been fined, being a public servant does not mean you get "special" privileges to be treated differently.

I look forward to seeing if the law will be enforced in his case or does he get to run roughshod over the law all others must obey.

Sunday, 08/01/2021

Cawthorn has traveled quite a few times back and forth to Washington DC so the rules regarding guns are ones he should already now perfectly.

And the gun should have been permanently confiscated and he should have been fined, being a public servant does not mean you get "special" privileges to be treated differently.

I look forward to seeing if the law will be enforced in his case or does he get to run roughshod over the law all others must obey.

Sunday, 08/01/2021

if he is that careless with simple mistakes in the position he holds, what else is he guilty of doing? someone in this position is ALWAYS held to a higher standard. Apparently, this particular politician either is completely clueless or he could care less.

Saturday, 07/31/2021

Why downplay it by calling it a "gaff"? It was a CRIME.

Saturday, 07/31/2021