Archived News
No smoke without buyers: Research explores cigar wrapper tobacco as cash crop for mountain farmers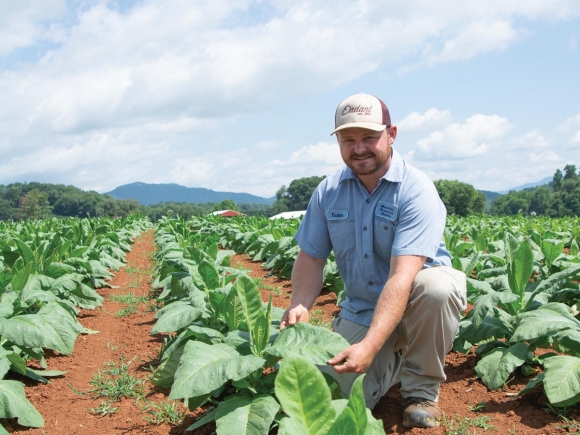 Research specialist Tucker Worley cares for an acre of cigar wrapper tobacco plants at the Mountain Research Station in Waynesville. Holly Kays photo
On a perfectly sunny and gloriously cool July morning, Tucker Worley starts up the John Deere golf cart and takes off down the gravel road.
Air infused with the fresh scents of wildflowers, cut grass and morning dew — and, admittedly, of cow manure — whips past as Worley drives past plots of crops and a barn full of cattle before laying on the brakes where the tobacco grows — 2 acres of green, broad-leaved plants laid out in a grid pattern on the red dirt.
Green mountains rise up from the horizon. Surrounded by the 400 acres of agricultural experiments at the N.C. Department of Agriculture and Consumer Resources Mountain Research Station office, it's impossible to tell that Waynesville's town limits begin just to the east.
The crop before him is both familiar and foreign to Worley's heritage. While it's all tobacco, just half of it is the familiar Burley variety, and those Burley plants exist only to fund the research underway on the remaining acre.
That acre is also planted with tobacco, but with varieties optimized for the outsides of cigars, not the insides of cigarettes. It's part of a research project led by Matthew Vann , an N.C. State University crop and soil sciences assistant professor who hopes to see the farms that once made their money growing Burley someday make a profit growing cigar wrappers.
"We have yet to find a really good replacement for Burley in our traditional Burley area of the state," said Matthew Vann. "The question was posed: Could we possibly grow cigar wrapper tobacco in those areas?"
The question came from Chad Moody, agriculture research manager at the research station. Moody told Vann he thought cigar wrapper tobacco could be a good fit for smaller farmers that once grew Burley. Vann ran with the idea , and he's running fast — because the institutional knowledge carried by Western North Carolina's aging corps of former tobacco farmers will be a key asset in the effort.
"We look around and we see opportunity where some of these growers that traditionally grew tobacco, they still have the infrastructure," he said. "They still have tobacco production knowledge."
SEE ALSO: Tobacco's Haywood County heyday
The end of Burley
Worley was just 8 or 9 years old when his family farm quit growing tobacco.
"They had close to 40 acres the last couple years of Burley tobacco, which is quite a bit for Burley tobacco production," he recalled. "We had greenhouses where we started plants, and we sold transplants, and that's probably what I remember the most is playing in the greenhouses as a kid, helping carry trays and stuff like that."
But as the 21st century approached, the world changed for tobacco farmers. Demand had been declining for years as awareness spread about the negative effects of cigarette use, and in 1998 the landmark Tobacco Master Settlement Agreement marked a sea change, with four major tobacco companies agreeing to pay $206 billion over 25 years as well as perpetual payments to states, compensation for the Medicaid costs those states had incurred in treating tobacco-related illnesses.
A tobacco plant blooms in the test plot field. Holly Kays photo
Then, in 2004, President George W. Bush signed the Fair and Equitable Tobacco Reform Act , which did away with the Depression-era quota system that had long kept prices high for farmers. Prices crashed, and many small farmers — like the Worleys — got out of the tobacco business. These days, the 300 acres in Leicester first farmed by Worley's great-grandfather produces corn silage, cattle, honeybees and a few vegetable crops.
Now 24, Worley farms the land with his grandfather and his parents. They make enough money to keep the property tax paid off, but not enough to make a living. Worley has a day job. After becoming the first in his family to graduate college, he started work as a horticulture research specialist at the research station.
He hopes that his work on the research farm in Waynesville will mean that one day, his work in the family farm in Leicester might translate into a real living — just as it did in the days of Burley tobacco.
Cigar demand on the rise
Unlike cigarettes, cigars are seeing rising demand, said David Savona, who since 2015 has been the executive editor of Cigar Afficionado magazine. More people began smoking during the pandemic, and first-quarter imports for 2021 up were up 47%, putting the year off to a "pretty fast start."
While the domestic cigar manufacturing industry is extremely limited, he said, the domestic market for cigar tobacco is significantly larger, mostly clustered in Connecticut and Pennsylvania. He thinks there could be room for North Carolina growers to enter it.
Top-grade cigar wrappers fetch triple the price per pound that Burley tobacco does, making the crop an eye-catching possibility for farmers who have for years been struggling with stagnant crop prices amid ever-heightening input prices. But it's not the first time a crop's been touted as "the next Burley." A few years ago, everyone was talking about hops. Then it was hemp. Neither prophecy has proven true.
But Vann believes this crop will be different. For one thing, it's tobacco. The process might be different for this particular product, but it's still tobacco, and mountain farmers know how to grow it.
For another, the value and demand for a particular tobacco crop is tied up in its taste and flavor, which is largely determined by the unique geology and climate of the place where it's grown.
"You've really got to look at certain areas for this tobacco to be produced," he said. "I would probably say that hemp grown for CBD oil in Eastern North Carolina or Western North Carolina is probably the same as hemp grown for CBD oil in the state of Illinois. That would be my agronomic guess. But you take tobacco to these different regions, and it will all have a different taste profile."
WNC's history with Burley tobacco means that it's already proven itself a region where good-tasting tobacco grows well.
"We've got a real chance to do something great for the North Carolina agricultural community," Vann said.
Perfection required
Like Worley, Vann comes from a tobacco farming family. And at 34, he is very much on the younger side of a profession whose average age in the U.S. as of 2017 was 57.5. The reasons behind the ever-increasing average age of American farmer are many and complex — but the profession's high financial risk and limited financial reward is certainly a significant part of the equation.
"Nothing has walked through our front door that put on the table what tobacco did for a lot of small farmers in the Southern U.S.," Vann said.
Because of their high per-pound price, cigar wrappers have the potential to change that, but it's not a certainty — they're a difficult, labor-intensive crop to grow.
To be used as cigar wrappers, tobacco leaves must be thin and large, without imperfections. Holly Kays photo
To grace the exterior of a cigar, the leaf has to be perfect. No holes, no tears, no insect damage. Cigar wrapper leaves are thin, rather than thick and leathery like Burley leaves. And they can't be small either — cigar wrappers must be at least 9 inches wide.
"It's not, strip the leaves off after curing and put it in a hydraulic press and make a big bale of tobacco," Vann said. "You almost are packing the leaf up almost like a Christmas present."
On top of that, growers need an aggressive pesticide application program to ensure that insects and disease don't take out the crop. Most cigar wrapper varieties are open-pollinated and have little natural disease resistance, said Worley.
"It's a pretty intense input system," said Vann.
Cigar wrappers are planted at a slightly lower density per acre, and they're not allowed to stalk as high, so as to encourage the plants to put more energy into making each leaf large and lovely. They also have a shorter growing season, with harvest coming 70 days after planting instead of the 90 or 100 needed for Burley.
In addition, there's an inherent difficulty in predicting the market. Tobacco that's picked today isn't smoked until years later, because fine cigars require aged tobacco.
"It's very, very difficult for companies to adjust to sharp swings and market conditions," Savona said.
All that taken together leads Vann to believe that, even once his research is complete and farmers have easy access to best practices for cultivation, cigar wrappers will be a small-acreage crop.
"We don't anticipate we'll have growers planting two and 300 acres of this stuff," he said. "It will probably be in the single-digit acres, especially early on. The inputs are so high right now, particularly on the labor side. We think this goes really well with a lot of the small farms we have in Western North Carolina."
A few farmers are already trying it out. Vann estimates that 25-30 farms — mostly in the eastern portion of the mountain region and in the piedmont area along the Virginia border — are growing small plots of wrapper tobacco.
The end game
The question is whether the cost of inputs — the labor, the pesticides — balances out to make cigar wrappers a crop worth growing. That's what Vann's trying to determine.
He's been researching the crop since 2019, when the first plots went in at the test farms in Waynesville and Laurel Springs. It was a "real learning curve," said Vann, a sentiment with which Worley agrees.
"The quality was kind of low across the board, but then we were able to learn from that and expand on each, and last year we actually had close to 30% of the wrapper grade, which is the highest grade you can get," Worley said.
The test farm sells its produce as a means of helping to fund the research that happens there. The remaining 70% of the crop still sold, but at a lower price under a lower grade. Still, altogether the crop averaged about $4 per pound, which is double what you'd get for burley tobacco.
Now, the test farm is continuing to experiment, trying out different varieties, fertilization rates and handling methods. The goal is to learn those lessons on the research farm so farmers new to the crop don't have to figure everything out on their own dime.
"We're kind of coming into this thing with a very broad vision of trying to find things that we can plug into our system, that our growers can do and do successfully on the farm," Vann said.
Out on the farm in Waynesville, Worley spends his days monitoring rows of cigar wrapper tobacco planted in blocks of plants 30 feet long and four rows wide. Each block represents a different fertilizer regimen. The goal is to find out how many pounds per acre of nutrients like phosphorus and nitrogen the farmer must apply to get wrapper-grade plants without damaging the plants and surrounding environment — not to mention the bottom line — with unnecessary chemicals.
"Our end game is to develop agronomic recommendations like fertilizer recommendations that are financially sustainable and also environmentally sustainable," said Vann. "We want pesticide application programs that are safe for consumers and safe for the environment."
That end game is spurred along by a $60,000 grant that Vann's research team landed from the NCDACS's New and Emerging Crops Program . In addition to continuing the research in Waynesville and Laurel Springs, this year Vann launched test plots in Oxford and Clayton, both located in the Raleigh area. He expects to continue the research for another two to three years.
It's exciting from a scientific standpoint, but for the researchers, it's more than just academic — it's personal.
"It would mean a whole lot to bring something back in the mountains that could sustain the local family farms again, and make them profitable," said Worley. "There's a lot of housing developments going in because when people aren't willing to farm and it's sometimes not profitable to farm, that deters a lot of young people, I think, not go in farming and not to keep the land."
With the right crop, he hopes, that might change.
Staff writer Cory Vaillancourt contributed to this report.
Leave a comment
2

comments
As a cigar smoker, I have often thought of cigar tobacco and NC. I'm glad to see it is being researched, and it would be nice to see a farmer in the Charlotte area.

Tuesday, 09/28/2021

So yea, by all means, grow something that is still bad for people's health, the chemicals are bad for the environment, rather than growing organic fruits and vegetables that could help both and prop up small farmers rather than big ag. Geesh!

Wednesday, 07/28/2021