Archived News
'Effort like they've never had to give': Farmers get older and fewer, but hope remains for ag's future
Wednesday, February 06, 2019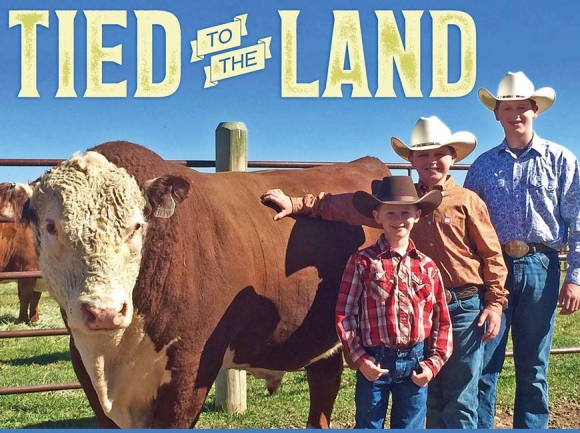 Brothers Parker (from left), Walker and Tucker stand with one of the seed stock cattle bred at Guy Brothers Farms. Guy Brothers Farms photo
Zac Guy grew up on the back of a tractor.
His father worked in sales and his mother was a postal carrier, but Guy's grandfather Louie Reece was a commercial beef farmer, raising cattle as well as the hay and corn silage they needed to thrive on his farm in Bethel.
"Some of the fondest memories I have of growing up was time spent around livestock and with my grandfather on a tractor," said Guy, who is now 41 and lives in Waynesville with his wife and three sons. "To this day I can get on a tractor, and it's almost like a time warp."
Guy enters that time warp quite often while tending his 1,800-acre cattle farm, and he does so atop the same tractor his grandfather used all those years ago. Reece used to pencil himself notes on the hood of that tractor, rubbing them off and replacing them with new messages as the years wore on. The tractor is still chugging along, penciled notes still legible on its hood.
But unlike his grandfather, Guy doesn't farm full-time, and he doesn't even farm in Western North Carolina. His rented 1,800 acres are located near Abingdon, Virginia, where the land is less expensive and easier to work.
As a kid, he never expected that his adult life would include farming at all.
"I never even considered it," said Guy. "I had bright lights and shooting for the moon expectations and got my engineering and my master's of business at N.C. State and took some post-grad stuff from Harvard and jumped into the business world."
Guy's career path brought him to the head of the business unit for Fortune 500 pharmaceutical manufacturer Baxter Health Care, as well as to the post of quality and manufacturing director for industry-leading chemical companies. But he's an entrepreneur at heart, and in 2004 Guy went full-time with a business he'd kept as a side hustle since high school — building with reclaimed hardwood. He's now the owner of Bethel-based Appalachian Antique Hardwoods, LLC. He started raising cattle about 10 years ago, a decision that had more to do with giving his sons — ages 14, 11 and 9 — a quality childhood than with supplementing his income.
"Sometimes you make a little bit of money farming. Most of the time you don't, but our mentality was if it gives our children the opportunity to have that set of skills, those experiences, those challenges, it's a good investment into our family," Guy said.
Troubling statistics
Farming has always been a hard business, and in many ways it's only getting harder. People like Guy — people who decide to start farming as young adults in their 20s and 30s — are becoming increasingly rare as farmland acreage continues to dwindle.
In 1945, the average North Carolina farmer was 46.6 years old, farming 64.8 acres of the total 18.6 million acres of farmland in the state, which was home to 287,412 farms, according to farm census data from the U.S. Department of Agriculture. By 1992, the average age had risen to 54.7 years even as the average farm size more than doubled to 172 acres. However, the number of farms had plummeted to 51,854 operations totaling 8.9 million acres — just 47.8 percent of the acreage present in 1945.
The most recent USDA census, completed in 2012, showed those trends progressing even further, with the average age hitting 56.9 years in North Carolina and the average farm size moderating somewhat to 168 acres as the number of farms fell to 50,218 operations on 8.4 million acres. Another census was taken in 2017, but those results have not yet been published.
According to a 2018 report from American Farmland Trust, nearly 31 million acres of agricultural land nationwide were lost to development between 1992 and 2012 — about the size of the entire state of North Carolina.
The trend is even sharper in Western North Carolina than in the state as a whole. In 2012, the average age of a farmer was 60.6 in Haywood County, 60.1 in Jackson, 60.7 in Macon and 55.5 in Swain, though the much smaller sample size in Swain County could have produced a misleading average. Swain County reported 94 farming operations in 2012 compared to 245 in Jackson, the next-smallest county, and 597 in Haywood, the largest.
Wendy and Graham Brugh of Dry Ridge Farm in Madison County push a chicken tractor. Sarah Jones Decker/ASAP photo
While the number of farmland acres decreased by 5.8 percent statewide from 1992 to 2012, it fell by 30 percent during the same period in Haywood County, even while rising slightly in Jackson and Macon.
That's because WNC has a different story than the state as a whole, said Charlie Jackson, executive director of the Appalachian Sustainable Agriculture Project in Asheville. The region's agriculture legacy has been largely shaped by the rise and fall of tobacco, with nine counties in the 20-county burley tobacco region of Appalachian North Carolina — Haywood is included in the nine-county burley belt while Jackson, Macon and Swain are not — producing 95 percent of WNC's tobacco sales in 1997.
Tobacco farming provided a profitable and dependable income, due largely to a federal quota program that prevented overproduction from driving down prices. But changing social opinion on tobacco use and the eventual dismantling of the tobacco program changed all that — where 50 years ago WNC was home to thousands of tobacco farms, said Jackson, that number is now in the dozens.
"The uniqueness of the tobacco program, I can't imagine how that could be reinstated around any kind of crop," said Jackson. "It was just a really special thing. It's unfortunate in a way that we're having to compare things to it because there's just not going to be anything like it again."
The world's biggest gambler
It's not all about tobacco. Farming is just a hard profession, and veteran farmers are quick to say that it's only gotten harder as the years go by.
"When I started farming in 1974 I was on my own farm, leased some farms, what we grew we got a good price for," said Don Smart, a Haywood County farmer who keeps dairy cows and beef cattle and grows vegetables, grain and tobacco. "If I graduated from N.C. State today, 45 years later, and wanted to farm, it would be impossible. I could not do it. I could not make enough to pay my health insurance, and there's no land available."
Smart remembers how, as a young guy, when someone asked him why he wanted to become a farmer he would respond that it was because he wanted to be able to say he'd survived the world's toughest industry.
"I thought it was funny, but now that I'm 66 with all the aches and pains showing up, I didn't get as wealthy as I thought I would," said Smart. "I sometimes wonder about the wisdom of what I said."
The escalating price of inputs is much of the trouble, said Smart. When he started farming, for example, a tractor cost about $10,000. Now it's $60,000 or $70,000, but his tomatoes are selling for about the same price that they did back then.
"The inputs have gone up and up and up, yet on the general wholesale market the prices have stayed pretty much the same," agreed William Shelton, operator of Shelton Family Farm in Whittier. "I remember in the mid-80s I was paying, I don't know, $3.50 an hour for labor. Propane was 60 cents a gallon instead of two-something a gallon. Fertilizer was reasonably priced per ton as opposed to today."
Other challenges have developed as well. For many small farmers, food safety regulations are a big obstacle — the Food Safety Modernization Act, which former President Barack Obama signed into law in 2011, gave the U.S. Food and Drug Administration broad new powers to prevent, detect and respond to food safety issues. A worthy goal, perhaps, but these regulations include a marked increase in recordkeeping requirements for farmers, including type, amount and frequency of chemicals applied; weather conditions during those applications; inspections of fields to ensure no wild animals or animal waste contacts the crops; and countless more. For a farmer who's already hard-pressed to make payroll and get his own to-do list done, meeting those requirements can be near impossible.
"If a bird poops on a plant, if you have 15 acres of something and 5,000 plants to an acre, that's 55,000 plants," said Nate Darnell, operator at Darnell Farms in Swain County. "You have to find that one plant that got that on it and inspect it daily. It made the industry more expensive, and sometimes when you make something more expensive everybody recoups their money except the guy at the beginning."
Darnell Farms is a family business for Nate Darnell (from left), Afton Roberts, Jeff Darnell and Patrick Roberts. Darnell Farms is a family business for Nate Darnell (from left), Afton Roberts, Jeff Darnell and Patrick Roberts. Tracy Mendy/Darnell Farms photo
Labor is another challenge. Most farmers will tell you that it's hard to get Americans to reliably and competently do the physical labor required to sustain a fruit and vegetable operation — the industry has long been dependent on Hispanic labor, and that labor has become harder to get. According to Smart, that's because the federal government is reluctant to give out work permits and instead requires farmers to go through the H2A program, which effectively requires them to pay laborers $15 an hour when workman's compensation, housing and transportation requirements are factored in.
"You just can't pay $15 an hour and grow $8 tomatoes," said Smart. "Tomatoes need to be $15, $16 a box, and they're not bringing it because there's a lot of tomatoes grown all over the world."
The American farmer has a hard time competing with foreign imports, said Smart — it's so much cheaper to grow and harvest crops where regulations are fewer and labor cheaper, so as long as the market is flooded with vegetables from across the globe, how can the American farmer ever expect to demand the price he deserves for the crops he grows?
Farming also comes with a monumental start-up cost. It requires land, equipment, seed, livestock, fertilizer, labor — it's near impossible to even get started without a family operation to inherit or some independent source of wealth, and even then debt is a typical necessity. You never really know what you'll make from a given year's crop until you've sold it and the check has cleared. Floods, drought, hail, late freezes, early freezes and insects can all wipe out a crop within minutes.
"If you want to talk to a gambler, talk to a farmer, the world's biggest gambler," said Guy. "He puts everything he's got into it — time, heart, money — and he gambles on the fact that crop's going to come to fruition and make some money. Sometimes you win, and sometimes you don't."
Succession planning
Shelton has four sons, ages ranging from 16 to 23, and while none of them have said they definitely will not take over the family farm, Shelton doesn't have any expectation that a single one will ultimately take up farming as a career.
"I feel like it's their life," he said. "Looking back on it I have loved, loved the farming, but it has been challenging and stressful and I don't know that I would wish that part on anybody. But that said, somebody has to do it. Somebody has to pick up the torch and carry it. It somehow needs to evolve in a way that it is feasible and doable for young people to get into."
Between them, only 46 farms in Haywood, Jackson, Swain and Macon counties had principal operators aged 34 or younger in 2012, according to the USDA census — just 3.6 percent of the total 1,262 farms recorded there that year.
When looking at those stats, said Jackson, it's important to note that the total number of farms includes more than a few operations that were never intended to provide much in the way of income. Many older landowners, especially, will continue to run a small number of cattle because that's what they've always done, and because keeping at least minimally involved in agriculture has significant tax implications — agricultural land is taxed at a lower rate than other types.
"Farming is different than a lot of other occupations where essentially you just don't retire, so there are a lot of farmers that are counted by the census who maybe have some cows grazing," said Jackson. "They're not necessarily very active farmers. My great-uncle did this into his 90s."
In addition to growing his own tomatoes, William Shelton packs and distributes crops from other farmers, including those of the Florida grower who harvested the tomatoes filling these boxes. Holly Kays photo
Still, it's hard to deny that the average age is high, and getting higher. As the generation of farmers that as of 2012 made up 55.4 percent of the principal operators in Haywood, Jackson, Macon and Swain counties — those age 60 and older — passes away, the question will be, what will happen to the land they once farmed? Development offers by far the best price per acre, but once a house is built on a piece of land it's nigh impossible to turn it back into farmland.
Some young people still do embrace the farming lifestyle. Two of those 46 young farmers in WNC are siblings Afton Roberts and Nate Darnell, who together operate Darnell Farms in Swain County, along with their spouses and children.
"When I was young I knew I wanted to farm, and I wanted to do what my dad did because I thought all you had to do was work hard and be honest and you'd be fine, because that's how this country was built," said Darnell, 34.
He grew up on the farm, working and sweating through the summer alongside his father's hired field hands. It was hard work, and certainly not always fun, but he learned to respect the value of labor and to love the process of seeing a crop through from seed to final fruit. Even with his romantic vision of hard work and honesty always equaling success somewhat tarnished through the lens of experience, Darnell is still hooked on farming.
"I always went to the farm because it's something rich and fulfilling," he said. "It can't all be about economics. It needs to be large part economic — you have to be able to make money — but to me it's not all about economics. I had a terrible year last year. I lost a lot of money. But by no means do I want to stop farming."
"The way that we were raised on this farm, we kind of have a natural bond to what we do," Roberts added.
Unlike Darnell, Roberts, 26, didn't always want to get in on the family business. She figured she'd graduate high school, go off and do her own thing. But right around that time the local food movement was getting big, and she saw her dad falling behind on the marketing and promotions work needed to take advantage of it. Roberts was comfortable with those sorts of skills, and she took the lead on managing the events, direct sales and social media presence that are necessary for success in today's world. Growing food is important, but so is connecting people to the process used to grow it, and providing experiences that show what makes your particular farm unique.
"It's almost like you're doing two things. You're providing entertainment, and you're a farmer," said Darnell.
Luckily, at Darnell Farms there are multiple shoulders across which to spread that load. Roberts handles finances, marketing and agritourism, while Darnell and Roberts' husband Patrick are all about the farming.
The siblings don't deny that farming is a hard life, and that it's not for everyone. You're at the mercy of the market and the weather, labor is hard to come by, vacations hard to take. Regulations can be onerous, money management difficult. But it's a good life, too. There's a freedom on the farm, and an irreplaceable fulfillment in turning a bunch of seeds into fields of fruits and vegetables capable of nourishing thousands of people. Darnell and Roberts have seven children between them — they're hopeful that at least one of them will someday want to take over the farm.
But they're not going to force anybody into it. To make it as a farmer, the first requirement is to want to make it as a farmer.
"If the boy wants to farm, I will do everything in my power to help him and encourage him and will try to get him to the point where he can do it on his own, but I'm not going to manipulate him into farming because that's what I want my baby boy to be," said Darnell of his oldest son, who is 10. "It's a wonderful profession, but it needs to be something in my opinion that you decide to do."
Hope for the future
It's easy to look at the numbers on declining farm acres and lack of youth in the industry and emerge with a depressing conclusion — that the agrarian way of life is over and the farmer is on his way to extinction.
But ask Bill Yarborough, a former Haywood County cattle farmer, longtime special assistant to the N.C. Commissioner of Agriculture and 2018 recipient of the Order of the Long Leaf Pine, and you'll get quite a different picture.
"I'm as optimistic about agriculture as in my whole time of working or farming," said Yarborough, whose career has spanned four decades thus far.
Don't mistake that statement for any kind of willful ignorance of the vast shifts that agriculture has seen in the past 50 years. To the contrary, Yarborough said, he's seen "tremendous change" over the course of his agricultural career. WNC has gone from a place populated mainly by farmers — full-time operations, family gardens and everything in between — where a crop of tomatoes would sell within 50 miles of where it was grown, to a less agrarian society, where most people get their produce from the grocery store after it's traveled a typical distance of 800 to 1,800 miles.
"Those are huge shifts," said Yarborough. "It really changes things, and it helps you to understand the dynamics of agriculture too."
Walker Guy rides a tractor that originally belonged to his great-grandfather with help from his uncle Wade Reece. Guy Brothers Farms photo
But Yarborough is hopeful about the future for two reasons. First, the world population is growing, and all those people need to eat — farming is a field with some built-in job security. Second, he sees promise in the millennial generation.
"I think millennials have the most optimistic outlook of anybody," he said. "They think good things are going to happen and they think they have to do it on their own. They want to do it on their own."
Not everyone shares Yarborough's faith in the next generation's ability to replace the aging farmers of today. In Guy's view, for example, today's young people lack the work ethic and the willingness to sweat it out in a physical job like farming.
But the agricultural sector is much wider than farming alone. While only about 1 percent of Americans make their living from a farm, said Yarborough, about 20 percent derive their income from agriculture in some manner, whether it's driving trucks full of tomatoes, turning peaches into jam or researching crop science in a lab. There are all sorts of opportunities for businesses that take raw materials — locally grown tomatoes, beans and blueberries, for example — and turn them into market-ready products.
"What we need in agriculture is the Department of Commerce and others to quit thinking about putting in 500-job auto parts plants somewhere and start thinking about what are the needs and opportunities," said Yarborough. "The opportunities here are for food processors."
The more such facilities are in place locally, the more profit farmers will be able to make on their crops, and the more incentive there will be for future generations to work the land.
In 2011, the WNC Regional Livestock Center opened in Canton. Before then, WNC cattle farmers had to take their livestock to Tennessee or Virginia to get them sold. The livestock center just marked $100 million in sales, an average of more than $12 million annually that would have otherwise gone to another state while increasing the farmer's cost per pound.
"I've just seen in that little bit of time more and more young people having some cows in Haywood and over the region," Yarborough said.
Rogers Shelton, William Shelton's father, examines the lettuce crop in 2014. ASAP photo
Technology's role
A sustainable future will have to be more than just a rebooted version of the past, however. Technology has rapidly changed the way farming is done, increasing yields even while acreage has fallen, and it will continue to be vital to the industry. Rural broadband expansion will be just as important for the success of agriculture as for the more-often discussed sectors of education, small business and real estate, Yarborough said.
"Most people don't realize that the first industry that accepts new technology is always agriculture," said Yarborough. "In fact, most of the time agriculture is the one that invents new technology. We have tractors even in the mountains now that you can push a button and it uses GPS and drives itself. We have equipment now and for a long period of time, that has yield monitors that can tell you exactly by the acre, by the foot, by the row what the yield is on that crop, and we've been doing that for 20 years. These self-driving cars is nothing to us. We've been doing it a long time."
In fact, agricultural technology has made such incredible leaps that some wonder if the future of farming will require a farm at all. Smart brought up the example of current research aiming to create hamburger meat grown entirely in a lab, with no actual cattle raising required at all — scientist Mark Post created his first hamburger in 2013 at a cost of $330,000 but expects to soon be selling the creations commercially for a much more reasonable price.
"The company says in a roundabout way, 'We ain't going to need no more cows, no more pigs. We ain't going to need no more chickens, no more corn and soy beans. We ain't going to need no more John Deere tractors. We're going to grow it down here in the lab,'" said Smart. "If you want to be a farmer you'll put your lab coat on, get in your computer-driven car and drive down the road a few miles to a plant and go in there and pour amino acids and carbohydrates in a vat and grow steak."
On the other hand, when Smart turns his mind to the benefits of continued tech advancement he can't help but admit how great it would be to have a robot that could pick his crops, eliminating the constant worries about labor.
"I'd love to have one," he said. "I'd program him and say, 'Go out there and pick beans and never stop.'"
Technological innovation is key to Guy's business. He runs an unusual type of cattle operation — Guy Brothers Farms produces seed stock, bovines bred to have such superior genetics that they can be sold at high prices to propagate the herds of operators across the country.
"We had a calf born last year that his sire had been dead for 16 years and his mother had been dead for three years," said Guy. "He was born out of an embryo transfer situation into a recipient cow."
Guy thrives on the science of farming, the process of mapping out which genetic combinations will yield the finest cattle specimens possible. He makes his genetic matches on paper, uniting egg and sperm in a test tube and then implanting the embryo into a cow that will be a good momma, but isn't anything special genetically.
Guy uses technology in other ways, too. Because he's only physically on the property several times a month, he uses drones to fly the pasture, allowing his farm manager to check on the herd remotely and report on their health through a thermal lens that can read temperatures and determine if any cows are outside the fence or are being unusually still — Guy helped develop the technology.
"We do that, but we also saddle up horses and play John Wayne for the day," he said.
For Guy, farming was never about the income. It was about his kids — about giving them the opportunity to see the cycle of life and death, to learn the value of hard work and to have a childhood shaped by sunshine and open pastures.
"It's an investment into my kids," he said. "That's the way I look at it. It's not going into my pocket. I'm planting some shade trees — I may never get to sit under them, but future generations will."
Early signs are that the investment is paying off. He describes farming as a "full-time interest" for all three of his boys, and his oldest Tucker, at 14 years old, has expressed a consistent fascination with — and aptitude for — the artificial insemination process. In fact, when he was about 11 years old Guy secured the boy special permission to take classes at Clemson University and get certified as an AI technician. Tucker has traveled all over the Southeast breeding cattle for farmers.
"Talk about investments," said Guy.
The threats to the farming way of life are real, and the year-to-year challenges monumental. It's a hard way to make a living, with a level of uncertainty baked into the deal.
But there's an immeasurable beauty to it, too.
"This time of year, when it's cold and gray, I have to remind myself that spring's around the corner," said Shelton. "Then I try to imagine the feeling I have when those seeds start to sprout, and the smell of that earth when you plow and get your beds ready, and that whole experience as the days get longer and how hopeful that is, and how every spring is like a birth."
"You're so tied to that cycle," he continued, "that I think it brings a fullness to your life because you learn to put that whole cycle of life in perspective, and that's something that I think a lot of people miss out on."
There's a reason that some people still decide to be farmers, and hopefully those reasons will continue to make sense for the generations to come.
"Agriculture for young people is a wonderful way of life," said Darnell, "but they've got to be willing to accept that it's going to take effort — sometimes effort like they've never actually had to give."