Archived News
Searching for gold: Bryson City Olympian misses kayaking finals, aims for canoe medal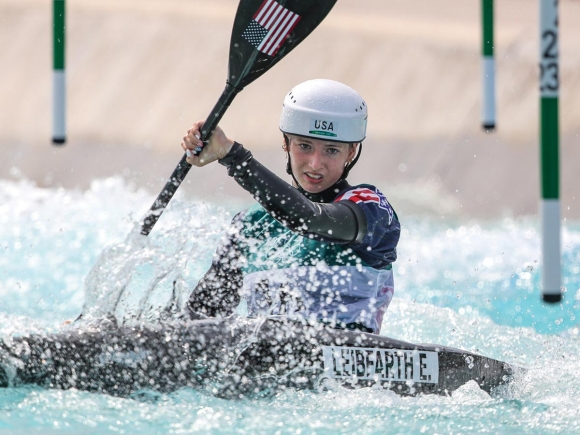 Leibfarth navigates the slalom course during an Olympic heat run. ICF Photography photo
Bryson City Olympian Evy Leibfarth , 17, came up short in her quest for an Olympic kayaking medal but will have another shot at the podium in Tokyo when she races in the first-ever Olympic women's canoe slalom.
Leibfarth easily qualified for the semi-finals, which included the top 24 athletes, when she finished 15th in the heats . She came in 20th in the first heat with a time of 125.85 seconds that included two penalty seconds, but she shot up to 14th in the second heat, also accruing two penalty seconds in that race for a total time of 111.7 seconds.
Under Olympic rules , each competitor runs both heats, with the faster time used for qualification purposes. In the semi-finals, each competitor does one run. The top 10 semi-finalists then move on to the final, with medalists determined by the results of that single final round.
The kayak semifinal was held at 1 a.m. Eastern Standard Time Tuesday, July 27. This time around, Leibfarth avoided any penalty seconds, but it cost her in overall time. She finished in 112.73 seconds, 0.97 seconds slower than the 10th-place qualifier and 6.88 seconds behind first-place paddler Jessica Fox of Australia. Fox ultimately took bronze in the final, with Ricarda Funk of Germany winning gold with a time of 105.5 seconds. Spanish athlete Maialen Chourraut took silver.
Leibfarth's chance for a medal is far from over. Heats for the first-ever Olympic women's canoe slalom competition were held after press time at 11:50 p.m. EST Tuesday, July 27, and 2 a.m. Wednesday, July 28. The semi-final will be 1 a.m. Thursday, July 29, and the final at 2:55 a.m. July 29.
Though she's only 17, Leibfarth has been making waves for years now. In 2019, when she was still 15, she won two medals during a pair of World Cup events held in Europe and ranked in the top 10 in three additional events. Those accomplishments made her the first U.S. woman to medal at any world paddling event since Rebecca Giddens won a silver medal at the 2004 Olympics, the youngest athlete of any gender or nationality to win a Canoe Slalom World Cup medal and the first female paddler of any nationality to medal in a World Cup event at age 15, ever.
Also in 2019, Leibfarth became the first woman to win two individual classes at the U.S. Team Trials. When she did it again this May, she tied up her own record. She is the only American competing in the Olympic kayak and canoe slalom races.
Born in Sylva and residing in Bryson City, Leibfarth cut her teeth on the cool mountain waters of the Nantahala River. She learned to paddle as a 4-year-old and entered her first slalom race at the tender age of 7. Leibfarth comes by her passion honestly — her father is a former U.S. national team coach; her mother is a former raft guide and kayak instructor.
Find Olympic schedules and results at results.nbcolympics.com/results.