Archived News
Candidate visits show senate race is heating up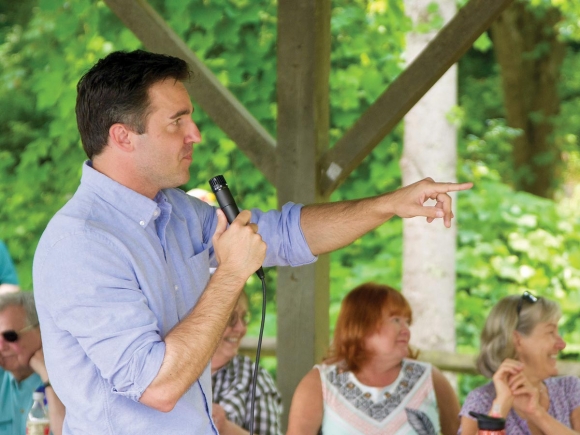 Democrat Jeff Jackson is looking to move up from the state Senate to the U.S. Senate. Cory Vaillancourt photo
With the U.S. Senate under razor-thin Democratic control and a rare open seat in North Carolina, candidates on both sides of the aisle are already gearing up for what will likely be a brutal primary season. Although much of the action thus far has been on the Republican side, Democrats are ramping up their efforts — even in deep-red Western North Carolina.
"We're making it a true 100 county campaign with open town halls in every single county where anybody can come ask any question," said Jeff Jackson, Mecklenburg's senator in the General Assembly. "It's helping us build an agenda that's actually going to reflect our state, and it's also helping us organize in every single county."
Jackson spoke to a group of about 50 people July 25 in Waynesville, his second campaign appearance in a county that went 59 percent for incumbent Republican Sen. Thom Tillis back in November. It was Jackson's first event of the day, but the 54th county on his 100-county tour.
"By the time we hit September, we will have volunteer organizers in every single county in the state, more than a year before the election," he said.
As of press time, Jackson was one of possibly nine Democrats vying for the party's nomination in next spring's Primary Election, although the race to replace retiring Republican Sen. Richard Burr could come down to just Jackson and Cheri Beasley.
Beasley served as chief justice of the North Carolina Supreme Court until losing her 2020 re-election bid to Paul Newby by just 401 votes, out of more than 5.2 million ballots cast. She made stops in Haywood County during that campaign, and recently appeared in Asheville.
If anything, Beasley's narrow defeat shows the willingness of voters across what Karl Rove called a " purple, purple state " to put a Democrat in Washington; last fall, Tillis won re-election by less than 2 points over Democrat Cal Cunningham, who suffered greatly from a sexting scandal that broke not long before Election Day.
Given that candidates like Jackson and Beasley could probably reach more Democratic voters on one block in Mecklenburg County than they could in a full day of events in the west, their presence here, early, suggests the campaign will be hard-fought both in the Primary Election and the General Election.
"You can win a statewide campaign focusing on just a handful of counties, but I think it's the wrong thing to do," Jackson said. "I think that what we're trying to do is use this campaign not just as a gigantic marketing effort, but as actual preparation for the job. If you just want to be a good U.S. senator, rather than just win an election by one or two votes, this is the approach you would take. You'd start with some humility, that you don't know what's going on in Haywood, and you better show up and ask."
Republicans currently look to field as many as 10 candidates in their Primary Election, but as with the Democrats, there is definitely a top tier populated by former Gov. Pat McCrory, former Congressman Mark Walker and current Congressman Ted Budd.
Former President Donald Trump recently weighed in on the race, telling delegates at the NCGOP state convention back in June that he was giving his "complete and total" endorsement to Budd.
"I think the Trump endorsement is probably going to cinch it for him," Jackson said.
But Trump's endorsement wasn't without its intrigues. His daughter-in-law Lara, a North Carolina native, was expected to jump into the race but announced just prior to Trump's endorsement that she was saying "no for now," on account of her two young children.
"I'm glad that Lara Trump didn't run because it would have nationalized the entire campaign," Jackson said. "What we're trying to do is localize this campaign and keep it about North Carolina. So the question is going to be, how successful are we going to be able to be in localizing this campaign given that we know the Republican nominee is going to be trying to make it about national outrage politics every day. It's gonna be my job and the mission of the campaign to keep this thing about North Carolina — rural hospitals, broadband, things like that."
If the race ends up being between Jackson and Budd, as Jackson thinks, he also thinks he offers voters a clear choice.
"It will be a stark contrast," Jackson said. "I think he's going to be trying to make people mad and I'm going to be speaking to people's daily lives and their families in a practical and honest way."
Leave a comment
1

comment
Democrats are the enemy of the good people of North Carolina. Make sure the election is legitimate. Otherwise those cheating bastards will pull another rigged election result.

Friday, 07/30/2021