Archived News
Beasley makes campaign stop in Asheville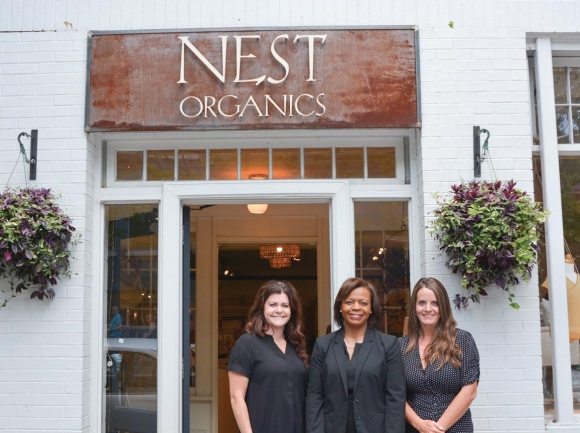 Cheri Beasley visits with Lyndsey Marlar and Katie Spears, owners of Nest Organics in Asheville. Hannah McLeod photo
Cheri Beasley, former North Carolina Supreme Court Justice, announced her campaign for United States Senate in April. On Friday, Beasley visited several small businesses in downtown Asheville to speak with business owners about how they fared during the pandemic and hear what they would have liked state representatives to have done differently.
U.S. Sen. Richard Burr announced during his 2016 campaign that he would not be running for elected office again. Now with the 2022 election still over a year away, a vast field of candidates (at least 12 have announced campaigns) are vying for the open seat.
Currently, there are 50 Republicans in the Senate, 48 Democrats and two independents, who caucus with Democrats. Democrats are the majority party due to the tie-breaking vote of Vice President Kamala Harris. With such a razor-thin margin, battleground states like North Carolina can expect a lot of attention, money and vigorous campaigning in the 2022 Senate election.
If successful, Beasley would be the first Black senator from North Carolina. However, this would not be the first time she would make history. She was the first Black woman to serve as Supreme Court Justice in North Carolina.
"No door should ever be closed to you. With hard work and determination, you can accomplish anything," Beasley says in the opening of her campaign video.
Beasley previously worked as a public defender in Fayetteville, where she was later elected District Court Judge. In 2008 she was elected to the North Carolina Court of Appeals, and in 2014 she won a seat as Associate Justice on the North Carolina Supreme Court. Gov. Roy Cooper appointed Beasley Chief Justice of the North Carolina Supreme Court in 2019 following the retirement of Mark Martin.
Her time leading the court was marked by navigating the COVID-19 pandemic, as well as creating greater access to the courts for minorities, the disadvantaged and rural populations. During the protests following the murder of George Floyd, Beasley said that racism persists in courts, and that Black people are given longer sentences.
During her stop in Asheville, Beasley visited Nest Organics, an organically driven home goods boutique, Mountain Madre, a locally owned Mexican restaurant and agave bar, and Chai Pani, a locally owned Indian street food restaurant.
Nest Organics owners Lyndsey Marlar and Katie Spears described the difficulty of selling completely online when home goods are the type of products people like to touch, feel and see displayed before purchasing. Both the restaurant and boutique owners spoke to the difficulty of trying to follow guidelines and stay safe with little oversight or communication from local or state government.
"Nobody was coming by to see if we were following the rules correctly, you know what I mean? And we had so many questions," said Mountain Madre owner Paige Scully.
However, they also spoke to the boom in tourism since COVID restrictions have been lifted, saying that downtown Asheville has been as busy as they've ever seen it.
At Chai Pani, over hot chai and assorted appetizers, owner/chef Meherwan Irani and Beasley spoke about what it is like to be Black and brown in the South and why its violent, troubled history serves as a catalyst for people of other cultures to build lives and explore the fusion of cultures and traditions.
"It's so important that people here in North Carolina have somebody who's going to fight for them," said Beasley. "People want to know that they're going to have a senator who's going to fight for affordable healthcare and accessible healthcare. And people want to have a good education for their children. And everybody really wants to be able to take care of their families."
On healthcare, affordability and accessibility are Beasley's primary concerns.
"It certainly makes a whole lot of sense that Medicaid be expanded, more than half a million people in this state would benefit," she said. "It's quite a shame that moms are having to come down the mountain in order to give birth to their children. We know that in so many rural communities across the state, they don't have the right kind of healthcare facilities. It's not just in Western North Carolina, but people have to travel an hour or more away from their communities to get just basic healthcare and the kinds of things that we expect everybody should be able to have."
Access to healthcare, in Beasley's view, extends to women who she says ought to have healthy, safe protection around their reproductive health, and to trans youth, about whom she says she will be thoughtful in making sure they are protected.
"Equality is for everyone, and that's exactly what that means. There are no exceptions," she said.
Concerning firearm laws, Beasley said the constitution protects the right to safe gun ownership. She understands the value of guns in families and communities in Western North Carolina, and across the state. However, Beasley said, it's important to be thoughtful about making sure gun owners are owning guns safely.
"Basic background checks and other checks really are important to make sure that we're responsibly protecting the rights of gun owners and other people in the community," she said.
Beasley is banking on her history as a leader of the Judicial branch in North Carolina and a statewide elected official to garner votes and support in WNC. She says she will build upon pre-existing relationships in urban and rural areas throughout the state to generate excitement around her campaign and what she can do for North Carolinians.
"It's really been very important for you to have a real command over the policy decisions being made and how they impact families across the state," said Beasley.
Next year, Beasley will face other Democrats in the primary election, which thus far include former state senator Erica Smith, Sen. Jeff Jackson, virologist Richard Watkins and Beaufort Mayor Rett Newton.
Republicans who have announced their candidacy include the Trump-endorsed U.S. Rep. Ted Budd, former N.C. Gov. Pat McCrory, former U.S. Rep. Mark Walker, Jen Banwart and Brunswick County Commissioner Marty Cooke.
Leave a comment
2

comments
Is this journalism or public relations? You failed to find out and report that she opposes Medicare for All, the best way to provide free health care to everyone.

Friday, 06/25/2021

Judge Beasley is one of the most eloquent, informed legal experts I've ever heard speak. She is among the three most eloquent, knowledgeable and exeperienced candidates I've ever heard. You can tell she knows and loves the US Constitution and our legal system in the way she answers impromptu questions, as well. I had the privilege of hearing her speak here in Haywood County three years ago.

Justice Beasley would renew the nation's respect for North Carolina. We desperately need her in Washington.

Thursday, 06/24/2021