Archived News
Highway project threatens havoc in Haywood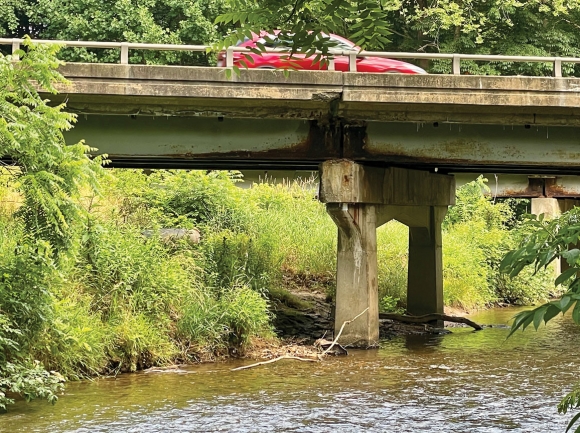 Rusty joints and crumbling concrete are visible on this bridge over Richland Creek in central Haywood County. Cory Vaillancourt photo
As Haywood County looks to put the Coronavirus Pandemic squarely in its rear-view mirror, a North Carolina Department of Transportation bridge replacement project smack dab in the center of the county could end up causing a colossal multi-year traffic jam with far-reaching financial implications.
"We really think this is a broader challenge for the whole county, and we will be a part of that because we are in the center," said Ken Howle, executive director and CEO of the Lake Junaluska Conference and Retreat Center. "The economic impact could actually be greater for areas that use this thoroughfare more than we do. The real solution here is to find a way to engineer this that either eliminates or greatly reduces the road closures."
Making matters worse, state transportations officials haven't been proactive in addressing citizen concerns over the project, just two months before right-of-way acquisition is set to begin.
The economic slowdown that arose as a consequence of COVID-related shutdowns last year was a significant speedbump in Western North Carolina's economic fast lane, but as the county races back toward pre-pandemic levels of economic activity, the U.S. 19/23/74 bridge project near Lake Junaluska threatens to bring all that to a screeching halt.
The project actually consists of two related projects, signified by two small red dots on an N.C. Department of Transportation STIP map . The dots look innocent enough, but the process of replacing three deteriorating bridges that were built in 1965 is far more complicated than it appears.
Coming out of Maggie Valley, eastbound U.S. 19, which sees average annual daily traffic of 19,000 cars, will close east of Holston Village Road for up to a year and a half. Through traffic will be rerouted south, down Russ Avenue to the U.S. 23/74 interchange, and then back north before again proceeding east near Tuscola High School.
Coming out of Clyde, westbound U.S. 19, which sees average annual daily traffic of 46,000 cars, will close at the same time as the eastbound lanes, east of exit 103, the Maggie Valley exit. Through traffic will be rerouted south, down U.S. 23/74 to the Russ Avenue interchange, and then back north before resuming westward at Dellwood Road.
That detour section of U.S. 23/74 between U.S. 19 and Russ Avenue already sees average annual daily traffic of 35,000 cars. The portion of Russ Avenue from U.S. 23/74 up to Dellwood Road already sees 18,000 cars a day.
Additionally, U.S. 19 eastbound will remain closed an additional 1.5 years — totaling up to three years — so the lane under U.S. 23/74 that creates a dangerous left-hand merge can be reconfigured into a safer right-hand merge.
Complicating matters even further, the long-awaited $24 million upgrade for Waynesville's Russ Avenue was supposed to begin in 2020, but was reprioritized in January 2021 and delayed until 2023, which is still within the bridge replacement project timeline.
The two new bridges on U.S. 23/74, along with a temporary bridge, will cost an estimated $7 million and the reconfigured merge from U.S. 19 to U.S. 23/74 an additional $3.4 million, but all of it adds up to a years-long nightmare for commuters, tourists, commercial users and people just looking to pass through on their way to Asheville, Cherokee or Sylva and points beyond.
Particular impact will be felt in and around Lake Junaluska, a popular destination for visitors and locals alike. County Road offers a convenient unofficial detour north of the lake, but the narrow two-lane road is already beset with speeders and is the subject of frequent complaints from homeowners.
Howle said he first became aware of the proposed project several years ago, and that NCDOT was initially transparent about scope and timelines.
"We were very much in favor of the project and continue to be very publicly in favor of the project. We firmly believe that what DOT is doing is the right thing to do, trying to rectify a safety hazard in terms of that intersection," Howle said. "Our main issue was a concern around the fact that the draft schedule included long-term closure of exit 103 or specifically Highway 19 and the length of the closure was much longer than we originally thought it was going to be. We immediately had a grave concern for the economic impact on Haywood County, because this intersection is truly in the center of Haywood County."
Howle is not the only one raising concerns about the length of the traffic disruption, as elected officials and local governments are already taking steps let NCDOT know where they stand.
Rep. Mark Pless, R-Haywood, has paid particularly close attention to the project. A former Haywood commissioner and former EMT, Pless is concerned about the length of the closure as well, especially for first responders.
"They're the ones who are going to have to reach people when the road is closed," he said.
Pless has asked NCDOT for a meeting of local stakeholders to gather input for preemptive planning but hasn't yet heard back. District Engineer Wanda Austin finally produced project drawings as The Smoky Mountain News was going to print, but said they were the same drawings presented to a community group at Lake Junaluska weeks ago.
The Town of Clyde became the first local government in Haywood County to voice concern about the project, in the form of a resolution passed unanimously on May 13. In part, it reads, "… the town supports Lake Junaluska's endeavor for the North Carolina Department of Transportation to develop a plan to eliminate or significantly reduce the need for any road closures."
The Town of Canton acted on June 24, passing its own resolution.
Discussion of a similar resolution will take place during the July 1 work session of the Maggie Valley Board of Aldermen, according to Town Manager Nathan Clark. If found favorable, the resolution would then move up for consideration by aldermen during a subsequent regular meeting.
Waynesville Alderman Anthony Sutton said he plans to introduce a similar resolution at the town's next meeting on July 13.
Kevin Ensley, chairman of the Haywood County Board of Commissioners, said it was likely his board would consider such a resolution at its next meeting, scheduled for July 19.
Ensley said his main concern was also minimizing the project's timeline, citing the Georgia Department of Transportation's completion — in just six weeks, a month ahead of schedule — of a bridge on Interstate 85 in Atlanta that normally sees 243,000 vehicles a day but was rendered unusable after a 2017 fire.
"I don't see why NCDOT can't make similar provisions," he said. "This area is our I-85. These bridges are in the center of the county and are the lifeline of our transportation infrastructure."
The widespread concern over the project is reminiscent of Waynesville's recent battle with NCDOT.
In late 2016, NCDOT announced plans for an $18 million makeover of Russ Avenue. The project included plans that locals said would devastate the character of one of Waynesville's most historic neighborhoods. Then-Mayor Gavin Brown galvanized opposition to the Walnut Street modifications, holding not one but two public hearings on the matter.
After the NCDOT caved, Brown, a self-described "activist" child of the 1960s, said that the experience citizens gained during that fight was as important as the victory itself because as the town and region continue to grow, such confrontations would become more frequent.
"I've been an activist from a very young age," Brown told SMN at the time. "Grassroots involvement is very important, and I'd always rather see something happen from the bottom up, not the top down."
Austin said another community meeting was slated for July 10, but couldn't immediately say where or when.