Archived News
Renaissance on South Main Street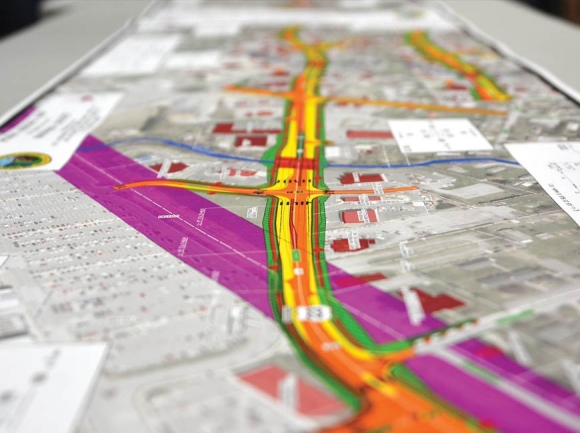 Printed maps provided by NCDOT at a public presentation Aug. 9 show big changes to Waynesville's South Main Street.
Cory Vaillancourt photo
Near the end of 2016, the North Carolina Department of Transportation announced plans for an $18 million makeover of Russ Avenue, including a disastrous modification that would have forever altered the character of one of Waynesville's most historic neighborhoods.
Waynesville Mayor Gavin Brown took the extraordinary step of calling a public meeting specifically to give DOT citizen input on the Walnut Street redux, and plans were revised to spare the important aesthetic gateway into downtown.
The revisions were hailed as a victory by Brown and the town, but an offhand comment made by Brown after the meeting has proved prophetic.
"I'm a child of the '60s," Brown told SMN in January 2017. "I've been an activist from a very young age. Grassroots involvement is very important, and I'd always rather see something happen from the bottom up, not the top down."
Greater than the town's grassroots victory was the experience citizens gained in voicing concerns and demanding accountability from state because, according to Brown, it would be needed again.
It's been a long time coming, but that time is now; on Aug. 9, DOT unveiled plans for a far-ranging, much needed $21 million makeover of South Main Street that would affect the artery from Hyatt Creek Road on the south end to the edge of downtown on the north end.
In its day, South Main Street looked much different than it does today, especially when substantial manufacturing concerns still existed there, employing thousands.
"It was the industrial, working-class section of the community," Brown said Aug. 13. "Smoky Mountain Grocery was there. My mother went and bought groceries for us there. It was where things were done, but it's vehicularly challenged, in today's thinking."
As plants closed and jobs left, the strip became rundown; empty buildings and ersatz junkyards line the route, which is like Walnut Street an important gateway to Waynesville's downtown.
"My predecessor, Henry Foy for all 16 years he was mayor, tried to get South Main Street on the [improvements] list, and at times it appeared on there, and then it would get lost in the shuffle," said Brown. "So once I was elected, I had come to understand the problems it was creating — economic problems — and things weren't going to change until the highway actually accommodated modern-type businesses."
Now that the project is underway — currently in public comment phase but scheduled for right-of-way acquisitions in 2020 and construction in 2023 — it appears poised to rejuvenate portions of the area. But as usual, stakeholders are expected to offer opinions on the project.
"This harkens back to my activist days," Brown said. "You want to make sure that your community has some say so in these things. Having that hearing for Walnut Street — a good idea. I think I'm going to do that for this [South Main Street project]. I think it's an important enough project to do that. I've never minded having people come and scream and holler at you or praise you for what you're planning."
And when they do show up, there may be equal parts praise and holler — three separate maps of three separate project segments issued by DOT show varying degrees of alteration, as well as a few "hot spots" that could generate some of that good old-fashioned community activism.
Section 1
The first segment of the project starts close to where South Main Street begins just north of Pigeon Street in downtown Waynesville; the half-mile stretch that runs almost to Balsam Drive may be the least exciting of the three, as it proposes only the resurfacing of existing lanes, while retaining existing sidewalks, curbs and gutters by DOT.
"The most gratifying thing was, they left everything alone," said Brown.
Per DOT, the average daily traffic on South Main Street at the intersection of Academy Street is projected to increase from 16,000 to 20,700 by 2040.
One spot Brown said would definitely require some tweaking is the entrance to Green Hill Cemetery.
"The only technical thing that I've shown [DOT], and they're going to address it, they were going to close down access coming out of the cemetery. I tried to explain to them, these are not streets in here, these are roads internal to the cemetery, and we can't use those to move traffic," he said. "The idea was to keep people from turning left [onto South Main]. That's an idiot's play. I've tried to do that myself."
DOT projections show a traffic increase in that area on South Main at Legion Drive from 22,200 to 28,500 by 2040, which may be why the project veers off South Main to resurface a portion of Legion Drive, almost down to Mad Anthony's taproom.
Section 2
Like the first segment, the second segment of the project, from just north of Balsam Drive to just south of Virginia Avenue, offers little in the way of concern — existing sidewalks, curbs and gutters along the three-quarter mile will be retained, and South Main itself will get a resurfacing.
Traffic figures show cars per day on Hazelwood Avenue increasing from 2,800 per day to 3,700 per day, which could be a good thing for the tiny downtown's nascent emergence as a destination outside Waynesville's downtown core.
Figures also show South Main traffic at that intersection growing from 21,600 cars per day to 27,700 by 2040. As those cars proceed south toward Virginia Avenue, that's where things start to change.
DOT projects a small traffic increase through 2040 along the Virginia Avenue/Country Club Drive axis of the intersection, but South Main traffic is expected to grow from 18,700 cars per day to 24,200 per day.
"The only thing we talked about is I asked if we could get a sidewalk on the Hazelwood side [from Hazelwood Avenue to Virginia Avenue]," Brown said. While that's likely not a possibility, Brown likes the overall lack of disruption to this segment of the roadway.
"Once again, I was pleased not to see anything," he said.
Section 3
The final section of the project, a mile-long stretch from just south of Virginia Avenue to just south of Hyatt Creek Road, will likely generate the most feedback, because it involves the most dramatic changes.
The entire segment shows substantial proposed right of way acquisitions that would affect 44 parcels on the east side of South Main, and 38 on the west — some more than others. Sidewalks will line the roadway, which in addition to some gently curving realignment of South Main and some wider turnouts will add an extra travel lane or two in places.
Perhaps the most visible change, like a big green eye staring out from the center of the map, is a proposed roundabout at the cumbersome intersection of South Main, Riverbend Street, Nineveh Road and Epsom Street.
The maps show only slight traffic increases along the Riverbend Street/Ninevah Road axis of the intersection, but booming South Main traffic that will grow to 26,000 cars a day by 2040, up from 19,800 currently.
DOT also offers a traditional spotlight alternative in lieu of the roundabout, but Epsom Street would be closed in either instance, with access to South Main instead terminating in a cul-de-sac.
Brown said he remembers when the first roundabouts began to appear — along with them, great public outcry. Now, they're commonplace and he said both he and Alderman Gary Caldwell, Jr., like the idea.
"If you like the straight old-fashioned linear thing, they've got that too, but talking with Gary, I happen to be a roundabout fan. I think it moves traffic efficiently," he said. "And the community seems to have gotten used to them."
The DOT likes the idea too. DOT Public Relations Officer David Uchiyama said that a traditional intersection offers 32 different scenarios where vehicles could come into contact with other vehicles — many of them head-on. A roundabout like the one proposed only offers eight such opportunities, none of them head-on.
"Now, it's going to do substantial taking, but either one of those will do the same amount," said Brown. "I'm either/or. I would vote in favor of the roundabout. I think it's a really good way of moving traffic, and closing Epsom Street takes care of that problem."
The roundabout — as well as other issues, both known and not — will end up being sorted out over the coming months as planning progresses and public comments are received. Brown couldn't say when he'd call a public meeting on the project, but said he planned to talk to other Town of Waynesville aldermen at the board's Aug. 14 meeting.
Be heard
The North Carolina Department of Transportation wants to hear from you on project U-4712, which would significantly impact Waynesville's South Main Street (U.S. 23 Business) from Hyatt Creek Road (S.R. 1164) to Pigeon Street (U.S. 276) in Haywood County. Check out the three NCDOT maps below by clicking on the links, and then mail or email comments to the contacts listed at the bottom of this story. Comments are due by Aug. 30.
Section 1 - From 1 South Main Street to near Balsam Drive
Section 2 - From near Balsam Drive to just past Virginia Avenue
Section 3 - From just south of Virginia Avenue through Hyatt Creek Road
Email
Scott Miller III, This email address is being protected from spambots. You need JavaScript enabled to view it. or Jeff Dayton, This email address is being protected from spambots. You need JavaScript enabled to view it..
Mail
HDR, c/o Jeff Dayton, PE
555 Fayetteville St., Suite 900
Raleigh, NC 27601