Archived Outdoors
Sylva discusses Pinnacle's future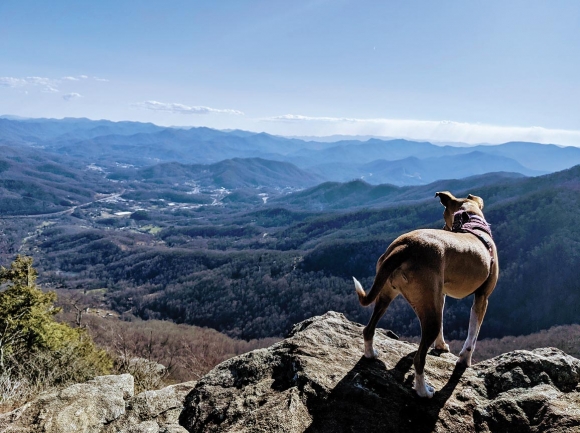 A four-legged hiker takes in the early March view from the Pinnacle. Holly Kays photo
In February, Sylva's town board gave its enthusiastic support to a plan that would bring 35 miles of multi-use trail to 2,000 acres of forest owned by the town and the Eastern Band of Cherokee Indians. But during their most recent meeting , members heard from a biologist who urged them to slow down before approving any construction.
Before trail building begins, said Western Carolina University Biology Professor Kathy Mathews, the town should hire an environmental consultant to complete a botanical survey, a process that would likely take about a year to complete.
Botanical survey needed
A mountain biker herself, Mathews said she supports Nantahala Area Southern Off Road Bicycle Association's plan to develop a system of multi-use trails at the town-owned Pinnacle Park, adjoining Blackrock Creek Tract, and tribally owned Shut-In Creek Tract. However, Mathews is also a scientist specializing in Southern Appalachian plants, and conservation is important to her mindset.
"Care must be taken to plan for this and delineate certain areas that I believe should remain undisturbed or for hikers only," she told the board during its June 10 meeting.
Pinnacle Park is "one of the finest examples of a mature forest around," she said, and given its wide-ranging elevational gradient it serves as "an amazing outdoor classroom with outstanding botanical diversity" for her students. Mathews cited estimates from her colleagues at WCU that the property contains at least 218 plant species and 98 bird species, with a large number of insects and other arthropods, including nine firefly species. The list includes many rare, imperiled or vulnerable species, and is by no means complete.
However, she said, to date no scientific surveys have been done to quantify exactly which species live there and where on the property they reside. Given that the town is planning to build new trails, she said, that's a problem.
"We need to know where the species are located so their populations may be monitored for changes caused by environmental change and poaching, and so that new trails can avoid impacting their populations," she said.
Current plans don't take the locations of fragile plant communities into account and in some cases propose that trails be built straight through them. This is a particular worry in regard to two montane seeps found on the property, a rare habitat type also described as a mountain wetland.
"These areas are tempting to build trails through because of their gentle grade compared to the rest of the park," she said. "One of the proposed new SORBA trails — the PP5 trail — actually traverses back and forth across the headwaters of the East Fork of Fisher Creek, crossing right through one of these montane seep areas. But excavating for a trail would damage the delicate ecosystem and degrade the creek and its inhabitants."
A turk's cap lily is just one of the many wildflowers to thrive at the park. Holly Kays photo
There are ways to build trails in such areas without harming the ecosystems — boardwalks, for example, could still allow access — but "great care must be taken" in those situations, said Mathews.
"Mountain bikes have the potential to cause more erosion (than hiking), particularly if trails are used in wet, muddy conditions," she said. "The bike tires can cause erosion especially depending on how people ride, whether they're banking or doing things that dig into the soil. That's mostly a problem in wet conditions, but that's a lot of the time around here."
Invasive plants are another key consideration, she said. While most of the property is "astonishingly free" of invasives — to a degree that is "unlike virtually any other trails in our area" — heavy trail use and construction of new trails and parking areas creates soil disturbance and new edges, where invasive plants are more likely to establish. The town should consider that issue in its plans and take precautions to prevent construction from granting a foothold to nonnative species that could outcompete the diverse native plant community at Pinnacle Park.
Board members thanked Mathews for her comments, indicating their willingness to pursue a survey like the one she suggested.
"It's very alarming to hear things like that there's a high-elevation bog there and that the SORBA trails go right through it," said Commissioner David Nestler. "It sounds like what you're suggesting that we need to do is to do a botanical survey before we commit to any shovels in the ground for trails, because certainly the richness of diversity there needs to dictate where those trails — if we do additional trails — would go."
Commissioner Ben Guiney said the town is extremely lucky to have a "jewel" like Pinnacle Park, and that any action the board takes in the future must protect what's already there.
"In a situation like this, if you start to destroy an ecosystem, it doesn't come back, and so we want to make sure that we're treading lightly as we go forward," he said. "Thank you so much for bringing this up and bringing it to our attention."
"I feel enormous responsibility to the future when we're thinking about this project," added Commissioner Greg McPherson.
Foundation offers to help lift the load
After Mathews' presentation, Jay Coward of the Pinnacle Park Foundation spoke to the board about a proposed memorandum of understanding between the town and the foundation that would allow the foundation to act as the town's agent in carrying out various projects related to Pinnacle Park — including the botanical survey, which Coward said is "a critical thing to move forward with."
However, Coward sees a completed survey as a beginning to the necessary planning process for the property, not the end. The foundation board is in agreement that the park needs a master plan — currently, there is no long-term document envisioning the property's future.
"You can't make a master plan unless you know what you've got," said Coward. "You have to have an inventory of the species you've got, of the terrain, of the climate. There's so many things that have to be considered in coming up with the master plan."
Coward asked the town to sign an MOU allowing the foundation to manage these tasks. The foundation would outline the task, put out a request for proposals, evaluate the responses and bring the results back to the town board, along with estimated costs.
"We're not asking to usurp anything that the town has a right to do," said Coward. "We're just saying we would be happy to be your agent in getting this done for you."
Board members seemed favorable to the idea but said they wanted more time to dissect the particulars of the draft MOU Coward had presented. Many of them had trouble opening the document and were not able to review it prior to the meeting.
Certifying a forest therapy trail
They also wanted to give Coward and the Pinnacle Park Foundation time to discuss how they could be involved with a third Pinnacle-related proposal board members heard June 10 — a request for permission to have the half-mile loop path at its base certified as a forest therapy trail.
"We're not asking for any funding or any alterations to the trail," said Jackson County Tourism Development Authority Director Nick Breedlove. "The only requirement of the program is that there be a sign placed at the entrance to the trail."
Mark Ellison's forest therapy walks end with a round of foraged tea. Mark Ellison photo
Breedlove presented the request in conjunction with Mark Ellison, a certified nature and forest therapy guide.
"It really is kind of an emerging ecotourism offering that people are looking for, places just to escape to," Ellison said. "There's so much noise in the world, so much activity. You can step right out of the parking lot at Pinnacle Park and immediately you're immersed in the sounds of the water and the forest, and you feel like you're miles away from activity."
Called Shinrin-Yoku where it originated in Japan, forest therapy consists of slow-paced walks that allow participants to relax and connect with the natural world by awakening their senses to the sounds, smells, sights, tastes and feeling of the forest around them, according to a description on the TDA website .
Ellison already leads forest therapy walks on the loop trail. Multiple bridges cross back and forth over the shaded creek and wildflowers are plentiful — it's the "perfect setting," Ellison said. However, he'd like to see the trail officially certified as a forest therapy trail by the Association for Nature and Forest Therapy . Ellison presented the town with a proposed MOU to make that happen. Under the MOU, the town would work with Ellison on recommendations for future trail improvements — currently, none are recommended — and Ellison would manage the application process, complete any documentation work needed and create content for a brochure to facilitate self-guided therapy walks.
The process would cost a total of $1,000 in consulting fees, to be paid by the occupancy tax-funded TDA, not the town.
Mayor Lynda Sossamon said the project sounded like it would be "a good fit" with other proposals for the property.
"Maybe all of this can work together," she said.
Sossamon encouraged Ellison, the Pinnacle Park Foundation and Town Attorney Eric Ridenour to get together and talk about how their respective MOUs might work in concert. The conversation is expected to resume at the next board meeting, scheduled for 9 a.m. Thursday, June 24, to further discuss their desired agreements with the town.
Leave a comment
1

comment
Abolish the Town Police Force and contract out with the County Sheriff's Dept. You would end up with more officers for less cost as you will not have to pay for a chief or building.

Monday, 06/28/2021