Archived News
Curatory creates space for contemporary art, community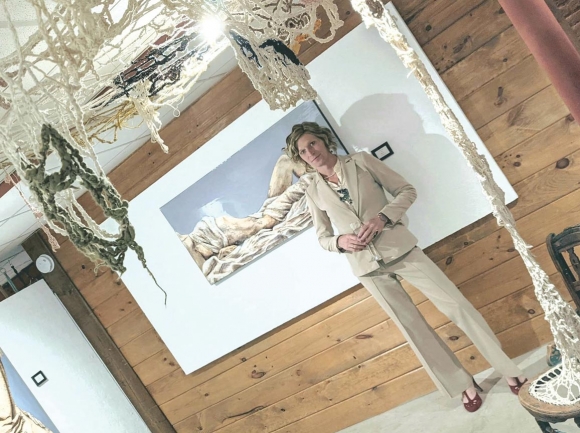 Ashten McKinney.
Ashten McKinney is the new kid on the block, but already she's making friends with her neighbors and offering a welcoming, safe space for her community.
Sitting outside her new gallery on Wall Street in downtown Waynesville, the space is just as curated as the art on the walls inside. Chairs, benches, art, potted and hanging plants surround the entrance making it feel like a friend's front porch.
A member of the Boojum Brewing's kitchen staff waves hello as he gets ready to start his evening shift. Mike Coble and his kids come through carrying boxes through the gallery and up the stairs to his business, J. Gabriel Home and Gifts. Jeannie Shuckstes, owner of The Village Framer, waves goodbye as she heads home for the day. A young waitress stops by to purchase a 12-by-12 sleeved piece of artwork from a young local artist.
As McKinney sips her tea out of a hand-thrown mug, she discusses her vision for the gallery, which goes far beyond the desire to sell some local artwork.
"As a company and through the arts, we're creating spaces for multiple marginalized communities — whether that's queer or whether that's people of color — and utilize the arts to tell stories and make that representation," she said.
Contemporary art and designated queer space is something that's been lacking in downtown Waynesville even with a well-established artist community and arts scene.
"I see so much potential in this beautiful space — for art but also branching out with serving as an open mic space and trying to congregate and move other businesses to work together," she said. "I view the arts as very important — even if your business isn't involved in the arts, the arts are behind every business."
SEE ALSO: 'Why do we have to normalize what's already normal?'
Curatory hit the ground running with its grand opening in May and second exhibit for the month of June entitled, "I Am Not An Asterisk."
It's a statement that hits close to home for many in the LGBTQ+ community who don't fit neatly into any box that society has laid out for them. The exhibit featured five artists, including McKinney, who celebrated Pride Month with paintings, photography and 3D installations.
"There is so much pressure on people to look and act a certain way — career and lifestyle wise, clothes and fashion, gender and sexuality," she said. "There's a lot of pressure that leads people to try to fit into a mold instead of figuring out what their own mold is and that's what leads them to the 'I'm not an asterisk — I don't fit in a box.'"
McKinney doesn't necessarily have a problem with boxes — having a box makes her feel like she has a place to belong — but sometimes there aren't enough boxes for everyone.
"Especially in the trans community and those who identify as queer or nonbinary can feel like they're an asterisk because they don't neatly fit into any box," she said. "Maybe you're a cis male that does drag wondering what box do I fit into. When you fill out intake forms and don't know which box to check — that's always been a struggle in my life and for many others."
She described the upcoming July exhibit as another heavy subject. Entitled "Chained to Perfection," the exhibit takes on how societal pressure of beauty, image and lifestyle standards intertwines in the development of depression, self-harm and substance abuse.
"Addiction is a big part of what's going on in Haywood County right now. Some of my artists struggle with it. Again, I'm about marginalized communities and bringing some of that to light," McKinney said. "A lot of creatives with that kind of creative brain, it opens a vulnerability to heightened sensations that can lead to substance abuse."
The exhibit will feature work by Callie Ferraro from Asheville and Corrie Hanson of Waynesville. The opening reception will be held from 4 to 9 p.m. July 3 at 62 N. Main Street.
McKinney plans to have a new curated show each month at Curatory. Her hope is that local artists who don't have available space will reach out to her with their ideas and together they can create something beautiful.
"We're going to curate shows each month and each one will tell a specific story of something going on — politically or a social movement," she said. "It's challenging but it's so much fun."
A big part of McKinney's mission is to support up-and-coming artists in the community. Over 80 percent of the artists showcased in the gallery are from Haywood County or currently live in Haywood County. Most of them she's scouted out online or found through mutual friends. Many of them work in the downtown service industry as well.
"For many of the artists in here, it's their first gallery. As an art dealer and buyer, it behooves me to find people young in their art profession that I see who have raw talent, get to know that person, see the work they continue to do and if I feel it's a person that's going to pursue the art world, who'll keep pushing the boundaries, making the weird art and making a statement, then I buy their art," she said.
The other side of her mission is to support art in the community by getting involved with other organizations working toward the same mission — Haywood County Arts Council, Waynesville Gallery Association, Downtown Waynesville Association and Waynesville Public Arts Commission. She wants to see a more concerted effort between those organizations to keep Waynesville an arts destination.
McKinney plans to support the local service industry and arts in public schools with future exhibits. For example, this fall she plans to work with elementary and middle schools by providing art classes with tons of blank paper for student created work. She will collect all the artwork to mat, sleeve, label and sell in the gallery. Half of the proceeds will go back to the school art program and the other half will roll into an art scholarship fund.
The student artwork will also be featured in a junior and senior juried art show, which will help those young artists build their resume for college and career. Pearl Renken, who is the treasurer of the River Arts District in Asheville, will serve as one of the judges.
"Showing that you've been part of a juried exhibit is necessary when building an artist resume and when applying to colleges," McKinney said. "We want to make sure we're setting these kids up for success."
The COVID-19 Pandemic hit the local service industry hard in Haywood County and across the country. McKinney started the Sound and Service Foundation as a way to build up a fund to help service industry folks with certain expenses, but it was hard to do any fundraising during the shutdown. Now, she's looking forward to finding new ways to support that project.
"Many artists work at the restaurants up and down main Street, so it's important for me to help the service industry and I think the gallery will provide a way for Sound and Service Foundation to gain momentum," she said.
Part of the December exhibit this year will be a fundraiser for the foundation. McKinney plans to rotate a box of beverage napkins and markers between the downtown restaurants in hopes people will create art or share a quote on them. She'll collect all the napkins and mount them at the gallery. Each napkin will be sold for $10-$15 a piece, and proceeds will go to the Sound and Service Foundation.
She is also now serving on the Blue Ridge Pride Board of Directors as the Haywood Outreach member. Outreach will be a big part of Curatory's business because it's McKinney's passion, but also because she wants the community to see the gallery and the queer community as a force for good and not something to be feared.
"Especially as a queer space I need to be able to take people's pride out of the equation. I need to be involved in the community and seen as bettering the community in any way I can so people will be accepting," she said. "I've had a ton of support so far and I think a lot of people are just happy we're here. The queer community is pretty big here — and it has been — but there hasn't been that defined space for them."
Leave a comment
2

comments
Thank you Ashten for finding me. I am so happy to be part of your gallery and part of your community. Sending positive vibes for all you do.

Thursday, 06/17/2021

This is inspiring and beautifully written. I am proud of Ashten. I'm very proud❤️

Thursday, 06/17/2021