Archived News
Misleading claim by Down Home North Carolina isn't their first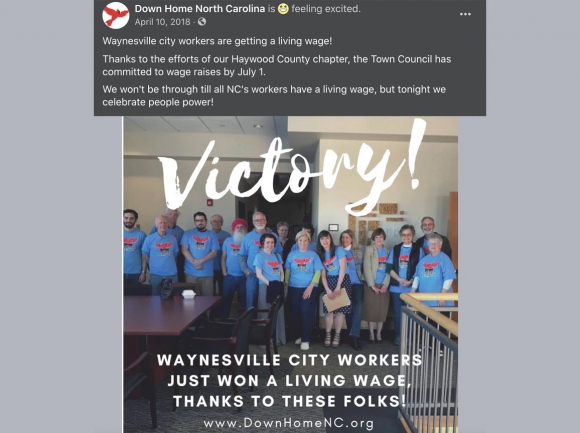 A social media post from April, 2018 shows another exaggerated claim of victory by Down Home North Carolina. Facebook photo
Perhaps the only true statement in a June 7 Down Home North Carolina email is that the fight against jail expansion in Haywood County is far from over, but given the rest of the email's misleading content, it's no longer clear if the nonprofit activist group has the credibility to remain part of that fight.
"When I first opened the email, it just kinda took me aback," said Haywood County Commissioner Brandon Rogers. "It's definitely misleading."
The email came hours after a June 7 Haywood County budget meeting; members of Down Home had organized against the possibility of Haywood County constructing a $16 million jail expansion almost as soon as it was first mentioned in late 2019, speaking out at meetings and holding demonstrations while demanding funding for mental health and drug treatment instead of incarceration .
When the Haywood budget was approved that morning, Down Home's communications team seized on the fact that the budget did not list the $16 million jail expansion project.
"Today, with a vote of 3-2 the Haywood County Commissioners chose not to include the $16.5 million dollar jail expansion project in the county's budget," reads the email, which had the subject line, "This morning, a win in Haywood!"
The email goes on to claim that "Having this costly project not be included in the budget should be seen as a big win for our community" and that "Our efforts prove that when we work together and build our power, we can and will win."
There's just one problem with that, though. The jail project will likely never appear in the budget, because that's not how local governments pay for capital projects.
"The jail project has never been in the budget. It wasn't even discussed to be in the budget, so I don't know where they were coming from with that," said Commissioner Tommy Long. "They didn't talk anybody down from putting it in a budget or voting for it or voting against it, so the statement they made was just totally inaccurate."
Large capital projects, like the jail expansion or Waynesville's new sewer plant, are usually funded through any combination of grants, fund balance allocation and/or loans — commercial or institutional — but are almost never budgeted as a line-item for the full amount.
Although the county is still very early in the process and has spent only a small sum on soil evaluation tests at the proposed site, Down Home's role in the project's progress is overstated, according to Commissioner Jennifer Best.
"When people come to the commissioners' meetings and they speak, we definitely listen to their concerns. I met with some of the Down Home group right after I was seated," said Best. "Many of them have come on different days and spoken at the commissioners' meetings and we definitely listened to them, but their efforts did not stop us from proceeding with jail expansion."
Commissioner Kirk Kirkpatrick said that there's plenty more discussion to come on the jail project and that funding mental health and substance abuse treatment won't entirely prevent the need for a new jail, but he agreed that the claims by Down Home weren't accurate.
"Yes, the email is misleading, but how many things aren't nowadays?" Kirkpatrick said.
Chairman Kevin Ensley said that at least two other media outlets asked him about the email and were under the impression the project had been mothballed.
"I said, 'Look, this was a little bit of misinformation,'" Ensley told them.
When reached for comment, Vicente Cortez, Down Home's organizing director based in its Burlington office, couldn't demonstrate an understanding of local government finance.
"I know that budgets have to be finalized by July 1 and that's what the spending will be for the next year and we were expecting the county commission to include some allocations for this jail expansion in their budget," said Cortez. "They did not, so we consider that a win."
Confronted with comments from all five commissioners who called the email misleading, Cortez refused to back down from calling the event a victory.
"We won this arc of the campaign," he said. "Commissioners passed their biggest spending package of the year, and there were no funds allocated to the jail."
The misleading statements in the June 7 email aren't the first made by Down Home, but they do contribute to a pattern of exaggerated claims of success.
In April 2018, almost 30 Down Home supporters showed up to a meeting of the Waynesville board of aldermen to ask that the town pay all its employees a living wage of at least $12.30 an hour.
They were quickly told that only seven out of 175 town employees earned less than that, and that the lowest-paid workers made $12.15 an hour, and that budget plans long in the works would soon elevate those remaining seven employees to at least $12.30 an hour.
When the group emerged from the meeting, they immediately took to Facebook, proclaiming, "Thanks to the efforts of our Haywood County chapter, the Town Council has committed to wage raises by July 1."
A dubious claim, to be sure — considering the pre-existing budgetary plans to raise those seven employees from the $12.15 level.
"I'll say I appreciate their involvement, their wanting to get involved, but when you're not factual or you're misleading, like they are, I don't know that they have the credibility that they need to make you listen to what they've got to say," Rogers said. "I'm always open to listening to what anybody has to say, but when they're misleading and it's a pattern, you take a little pause. It makes you not want to listen."
Leave a comment
3

comments
This were not the only lie about the jail project they made.

They have centered their opposition to the jail on claims that people get locked up in the county jail for minor offenses, but that isn't true. It takes a serious charges before someone gets held in Haywood County under the current pretrial release guidelines. They know this, they have been told it many time, but continue to go around giving people the impression that most of the people in the jail shouldn't be there and that people get locked up only for minor charges like possession or shoplifting.

They did their canvassing of homes and people in the county that they cherry picked (one person involved admitted that they scrubbed names and addresses off the list of people who previously told them they didn't want to hear from them) and then went around to the media claiming that the results they got were representative of what all the voters in the county believe. When you intentionally skip the people you know are not receptive to your message you can't claim the results are representative of the population at large.

They know that the county is not the source of mental health funding in a state like NC, and they know that the jail will be paid for with bonds and not with money in the budget now. Yet just like they did with this article they run around giving the false impression that somehow if the jail project gets defeated all this money will suddenly flow into other places.

They claim to be seeking better access for mental health care, but have been totally silent on a bill in the General Assembly that would actually have a positive impact by funding a new inpatient mental health care facility in WNC. When I pressed one of their paid organizers on why they are pushing all the energy into the false hope that blocking the jail would maybe get divert some money into mental health and have been totally silent on a bill that would actually provide much more real benefit- no real answer other than to say they didn't like the bill because of who sponsored it. So politics was the first consideration, not improving access to care. They don't really care about improving access to mental health care, they care about using that issue and a wedge to drive a political agenda and build power for themselves.

Just like with the dishonest self promotion about the budget vote they know in all this that they are peddling lies and distorting the truth, but they arrogantly assume that their audience isn't smart enough or well informed enough to see through their lies. The fact that the lie so freely and often on issues shows not just how little integrity they have, but also how stupid they assume their target audience is. They claim to be all about organizing and giving power to "rural voices", but in their actions they show that in reality they are about nothing more than trying to manipulate and use people who they think are not smart enough to see their lies. They are just a political organization working toward the ends directed by the folks who are funding it all.

All that money they are being given to pay their salaries and fund all this "work" doesn't come without strings attached. In this case it's clearly puppet strings, making the local "organizers" dance in the direction they are told.

Monday, 06/21/2021

You are missing the bigger story. Whois Down Home? Where did they come from? Where does the funding come from? That's what I want to know. I got involved nearly three years ago as I was intrigued by the listening project done here in Jackson County. I respect and trust the individuals I have personally met but don't know the leadership. Did you know we, local members, are currently trying to hold leadership accountable? That members have left because of actions of State leadership? Local members continue to work to be truthful, accountable, and determined. Try interviewing us next time.

Sunday, 06/20/2021

Some serious questions about this organization need to be answered, not only on Haywood County but Jackson County as well. Not just about why they are willing to be so misleading and inaccurate in their statements, but about just who is funding all this. And why.

They claim to be a 501c3 nonprofit, a charity, whenever you talk to them. The truth is much more complicated than thay. They have not just a 501c3 but also a 501c4 and a Political Action Committee all linked on their website for donations. 501c3's are tax exempt and people donations to them are tax deductible. They are actual charities and like organizations. But a 501c3 cannot, by law, do anything political or they risk losing their tax exempt status. 501c4s are political "dark money", they can hide their donors and be political but donations to them are not tax deductible. PACs are 100% political entities and must disclose donations over $100 and can't coordinate directly with candidates. The activities of the three legal entities this group runs seem to be all mixed with no separation, on the same Facebook pages and websites they mix candidate endorsements and obvious political messages and activities in with everything else they do. That would seem to violate both the spirit of a 501c3's tax exempt status and maybe even the law, among other issues.

They have used a multiple 501c3s to pay for their activities, jumping from one finding source to another. Older articles about the organization in this paper show claims that some people with them were paid by one 501c3, but now they raise money on their website under a different one, and public disclosures for all of them seem to be lacking. So we have at a minimum 2 501c3's, a 501c4 and a PAC funding the activities of this group in various ways.

Who is paying for all this? Rent for offices, utilities, IT equipment, salaries for multiple paid activists, money for the flashy websites and promotional materials? It has to be well in excess of $100,000 a year someone is funneling into Jackson and Haywood Counties to finance all this. And keeping the 501c3, 501c4 and PAC all running requires a lot of accounting and legal expenses for the accountants and lawyers in Raleigh they appear to use. That is a whole lot of money coming from somewhere.

Their credibility is already destroyed enough with their history of lies like the ones in this article. But until they are willing to be transparent about where their funding comes from no elected official should take them seriously, because not only are they spreading lies and misinformation but they are being financed to do so by someone it. That should raise all kinds of red flags with everyone regardless of political affiliation- and every person in or seeking elected office should avoid them like the plague.

Thursday, 06/17/2021