Archived Travel Guide
Coast to Coast and Carolina, too: The Rivers & Rails Tavern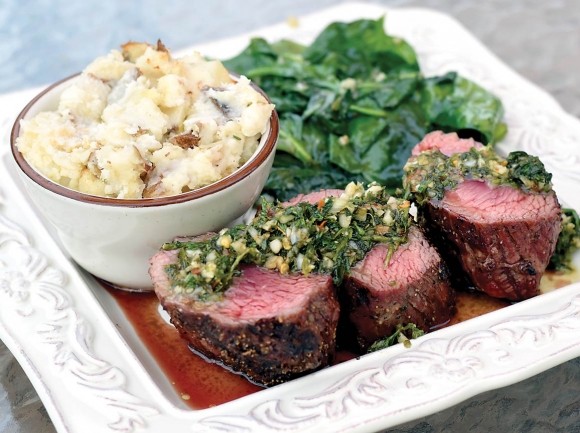 Sitting in the dining room of The Rivers & Rails Tavern in Dillsboro, Craig Szymanski looked out the window and watched a family wander down the row of shops on Front Street.
With the sun falling behind the mountains, the hungry group noticed the lights of the newly established tavern. Curiosity getting the best of them, they walked across the railroad tracks and into the restaurant.
Checking out the menu, there are surprised looks and jovial banter while discussing what to eat and where to sit. Szymanski and his crew welcomed the family before ducking back into the kitchen to prepare the meals.
"Whether they're locals or just visiting, we want to give the people who come in here something special," said Szymanski, head chef/owner of Rivers & Rails. "We want to fill those holes in our culinary scene with these great dishes that are all influenced by my travels in working in the food industry for most of my life."
Since its opening in August 2020, the business has already created a word-of-mouth buzz as a "must try" culinary destination for Jackson County and greater Western North Carolina.
Consisting of a wide-array of appetizers and entrees — steak medallions, candied Korean steak bites, tinga de pollo/carnitas tacos, pickle brined fried chicken/Cubano sandwiches — the menu is scrumptious map of where Szymanski and his family are from, where they've gone, what they specialize in, and what they want to share with their customers.
With its dining area fully operational, the newly constructed bar/taproom is also up and running, catering to troves of folks and foodies alike in search of an artisan meal right here in their own backyard.
"We focus on making everything from scratch, all the way down to the mustard and ranch dressing — it's all made onsite," Szymanski said. "We cook everything to order, which means nothing is pre-made. There's no burger sitting in juice waiting to be served. If you want a burger, we're going to prepare everything fresh the second you order it."
That attention to detail and keen awareness of his reputation being attached to every single plate that leaves his kitchen comes from Szymanski's upbringing in New York, specifically Rockland County.
Raised just outside of The Big Apple, Szymanski was a teenager in the 1980s when he started washing dishes and prepping ingredients at city eateries, gradually working his way up to becoming a chef of his own. As expected, those decades-old metropolitan restaurants were tight ships that expected quality and respect to what not only what was being served, but also who was serving it.
"I learned so much from growing up in New York, where we'd go right into the city and experience some of the greatest food you'll ever eat, everything from Italian or Chinese — you soak in all of this culture and tradition," Szymanski reminisced.
From New York, Szymanski headed for culinary work in California, working and honing his kitchen craft in authentic Mexican and Asian restaurants for the better part of 20 years. During this West Coast period, Szymanski also acquired and developed a successful catering company.
By December 2018, Szymanski and his family had decided to relocate to Western North Carolina. It was a fresh start, with Szymanski eventually becoming the chef at Balsam Falls Brewing when its kitchen opened in August 2019.
That move eventually parleyed itself into the recent opportunity for Szymanski to finally open a restaurant of his own. Cue the vision for Rivers & Rails that has now come to fruition.
"I've taken my career in New York and California restaurants, and my travels around Italy and Europe, and applied it to what we want to do in Dillsboro," Szymanski said. "We want to offer these dishes you can't find anywhere. There's so much room for growth in the food scene here, this growth you really can't find anywhere else — we love it here."